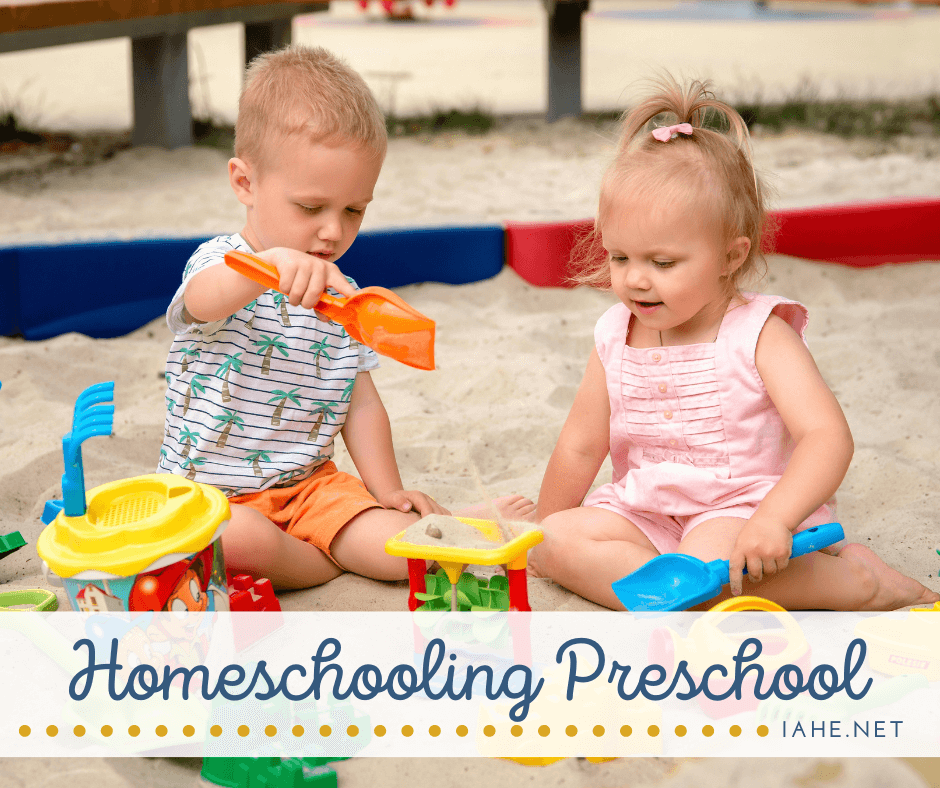 The whole world is new for preschoolers. Resist the urge to assign seat work and instead explore the outdoors, snuggle up for read alouds, play games, and learn by doing! Preschoolers are insanely curious and love to be in and around everything you're doing. Incorporate learning as you go about your day!

1) Know the Laws

Preschool is not required in Indiana. The compulsory age of education in Indiana is 7 years old. On the date of the child's 7th birthday, you must begin complying with Indiana homeschool laws.

2) Get Outside
Nature is a great teacher! Colors, patterns, shapes, textures, animals, plants…. So much to see, touch, and learn!

Check out Nature Walks 101 for tips on becoming comfortable in nature and teaching your kids the same!

run, jog, walk, bike, scooter, or tricycle around the neighborhood

"adopt" a tree and flower and bush at a local park or forest preserve, visit weekly to observe its changes through the seasons. 

creek stomp, splash in puddles, and

get muddy

(keep old towels in the car)

spin, jump, hang, swing, run, and yell at top volume at local parks (invite other pre-k homeschoolers and make some new friends!)
3) Read Aloud

Read aloud higher-language books to develop vocabulary, listening skills, and moral imagination. Don't limit yourself to easy readers! Look for kids' classics, chapter books, and beautifully-illustrated picture books (if you love reading it, your kids will love it too!)

Need some ideas for great quality books? Here are some of our favorite resources:
IAHE Summer Reading Challenge book list
Ambleside Online Year 0 reading list
Read Aloud Revival book finder
Simply Charlotte Mason book finder app

4) Get Your Game Face On!

Games teach patience, good sportsmanship, and thinking skills. Explore beyond Hi Ho Cherry-O and find new card games and old classics to share with your child!

5) Build Fine Motor Skills

Pre-K and kindergarten hands aren't fully formed enough for lengthy writing. Build dexterity while bones and tendons grow.

lacing cards

finding small coins and objects in bins of rice or sand

pouring water, sugar, or anything else from one cup to another

Play-doh

bead stringing on pipe cleaners or wooden skewers
6) Pre-Math Activities

Colors, shapes, grouping/separating, and 1-to-1 counting are all basic skills that build up to formal math instruction later.  
pick one from a "shape/number/color of the week" and build in a few activities  

count forks, knives, and spoons as your child helps unload the dishwasher

sidewalk chalk names, shapes, and colors

match socks and name colors while folding laundry
7) Pre-Reading Activities

The vast majority of children in pre-k ages are not ready for any kind of explicit phonics instruction. This age is about learning to speak, form sounds, and hear cadences of language. (Some children pick up reading naturally at early ages; never deny a child who is asking to learn, but don't force phonics lessons if the child isn't ready.)
sing rhyming songs and nursery rhymes

clap syllables as you sing (for fun, don't make it a lesson)

play silly word games swapping rhyming endings and letter sounds 

read poetry! 
8) Limit Screen Time
Studies show that screens are not healthy for young children and should be limited as much as possible. If you must use screens, limit to 30 minutes or less daily and offer quality programming. Watch the program with your child and actively engage verbally as you watch.

9) Jump In!

Helpful hints to get started:
Pre-k ages are still brand new to the world, so don't feel pressured to do formal academics. Learning through play and experience is best at this age..

Let your Pre-k child sit in for family style lessons with older siblings, if they desire. Have coloring, "worksheets" for them, or other quiet activities to allow them to participate while you teach. 

Contact your local IAHE rep

to connect with other preschool homeschoolers near you!
As Kindergarten gets closer, check out Kindergarten Foundations – Homeschooling Ages 5 & 6 to learn more!