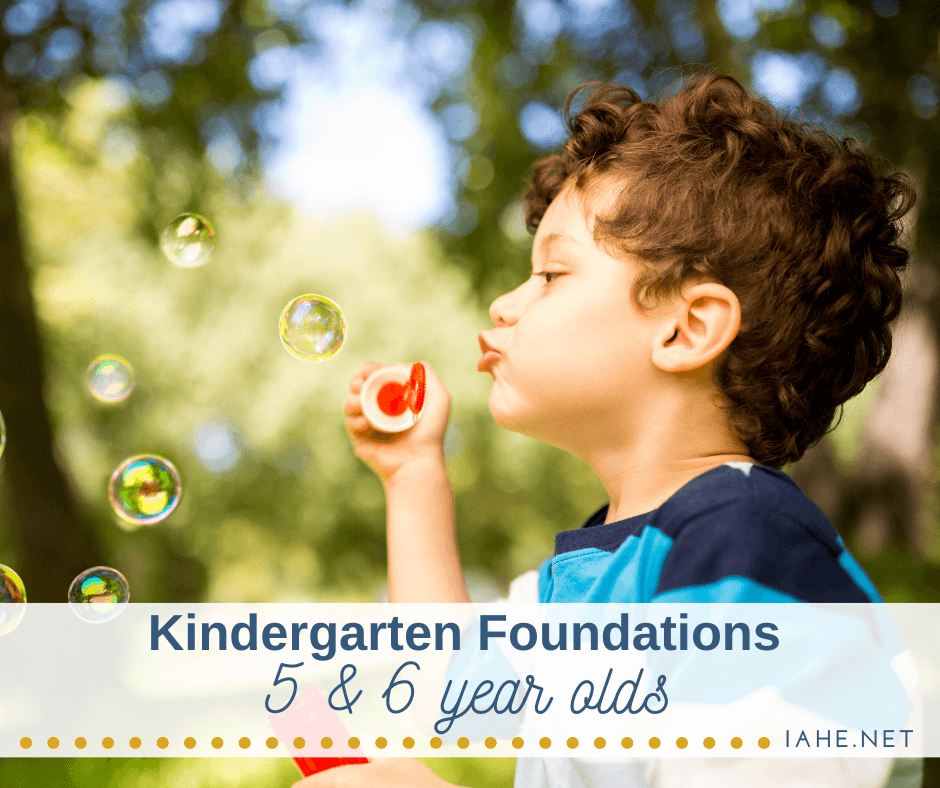 Young children do best with play-based and literature-based learning. Capitalize on their natural curiosity and desire to learn! Kindergarten can be a time of exploration, hands-on learning, great classic stories, helping with chores, and having fun. You don't need to fill days with long lessons, worksheets, or drills. Read on to find out how to start homeschooling your kindergartener with joy!
1) Know the Laws
Kindergarten is not required in Indiana. The compulsory age of education in Indiana is 7 years old. On the date of the child's 7th birthday, you must begin complying with Indiana homeschool laws. 
Indiana homeschool laws are simple and easy to follow.

Children must be educated from age 7 to 17

Keep an attendance record for the same number of days as your local public school district is in session

Provide an equivalent education to the public schools

Education must be conducted in English



If your child has never been enrolled in a public or traditional private school, you can simply start homeschooling.

If your child is currently enrolled in a public or traditional private school, you must notify the school you are withdrawing to homeschool. Keeping the child home without notifying the school may result in truancy charges and involvement of CPS. IAHE offers a form letter you can send to your school for withdrawal. There is no other required paperwork to do once you have sent in your notice. You are not required to sign the school's withdrawal form for K-8th grade withdrawal. Contact IAHE at 317-467-6244 if your school is insisting otherwise.

Indiana does not offer registration for homeschoolers

We do not notify the local district or state annually for homeschooling "permission"

We do not report anything to the state at any time

Home education is parent-funded, parent-directed; we do not receive any kind of funding or assistance from the state or local public school district

2) A New Mindset

Homeschool is not "school at home." You may have a certain image of what "school" should be (desks, worksheets, and long days), but homeschooling can actually look quite different from this. Homeschooling allows you to explore a variety of different learning environments and styles. Learn about all the different Homeschool Styles in this info-packed article!

3) Find Community

Contact your local IAHE representative to get connected to your local homeschool community.
Academic and enrichment co-ops

Sports teams

Library classes

Local businesses offering homeschool days

Playground and field trip groups
You will be encouraged as you meet other homeschoolers in your local community. Join the IAHE Discussion page on Facebook to ask questions from our 10,000+ member community!
4) Learn Through Play

Young children need plenty of time to move, explore, do hands-on activities, and interact with their world. Endless worksheets and seatwork may not be the best way to impart learning. This age doesn't have the mental or emotional maturity yet to sit and focus for long periods of time, nor do they have the developed hand bones or coordination for extended writing. Get outside as much as possible and experience the world.
Exploring Nature With Children (available for online purchase)

Playful Pioneers by Peaceful Press

Visit zoo's, museums, gardens, and local nature centers

Nature walk in your neighborhood

Explore your own backyard by

making it an elementary science center

Invite other homeschooled children in your area for playdates and make new friends

Hike and scooter on the hundreds of miles of paved trails across the state
At home, encourage free, undirected play, and involve your children with household chores.

Pretend play

Build structures with blocks, magnet tiles, Legos, etc

Crafts, painting, and art 

Chores like sweeping, picking up toys, setting/clearing tables, feeding pets, folding laundry, and putting away dishes

Bake and cook together with kits like Raddish Kids or find kid-friendly cookbooks at your local library
5) Learn Through Literature

When they need a break, grab a comfy spot on the couch and read some great children's classics. No comprehension quizzes or worksheets—just read for the joy of stories. Children are capable of comprehending very sophisticated language, even if they can't read it, so don't limit yourself to easy readers and simplified children's versions of the classics!
6) Basic Phonics and Math

Many children this age are interested in learning letters, sounds, and beginning numbers and shapes. Many are not. You can progress at your child's pace, be it slow or fast. However, if your child isn't interested, don't push. Wait a few months and introduce academics again later. Not all children are ready for reading and math concepts at 5 years old.

Phonics-based reading programs

Hands-on math programs that use manipulatives to introduce math concepts in fun, short, engaging lessons

Math U See

Right Start Mathematics
7) All-In-One

If the idea of piecing together individual topics is daunting, several companies offer kindergarten programs that are still easy and allow plenty of time for exploration, free play, and being a kid. 
My Father's World

Sonlight

WinterPromise

Heart of Dakota
Find more curriculum suggestions on the IAHE curriculum page!

8) Jump In!

Helpful hints to get started:
Don't feel pressured to do academics if your kindergartener is resistant. Set lessons aside and continue with play-based learning, then introduce one subject again in a few weeks or months.

 

Short lessons are key. For any academics, keep lessons under 10 minutes.

Keep any required seatwork to a maximum of 30 minutes daily. Use all the extra time for free play and field trips!

It's ok if your child isn't reading by 6 or 7 years old. Studies have shown that most children aren't ready to begin explicit phonics instruction before age 6. (Never deny a child who is asking to learn, but don't fret if you need to slow down and wait to begin phonics instruction until 1st grade.)

 

Get outside! Fresh air clears away bad moods as well as stinky kid feet smells. When it gets to be too much, put the books away and get out for a walk, stroll, ride, or run.

Be bored!

Boredom is the best teacher.

Kids coming from structured school environments will struggle with this. Use a visual timer and help teach them how to entertain themselves for short periods of time (and give you some quiet time!)

As 1st grade gets closer, check out

How to Choose Curriculum Part 1

&

Part 2

to learn how to evaluate curriculum and find the one you'd like to try for your family.