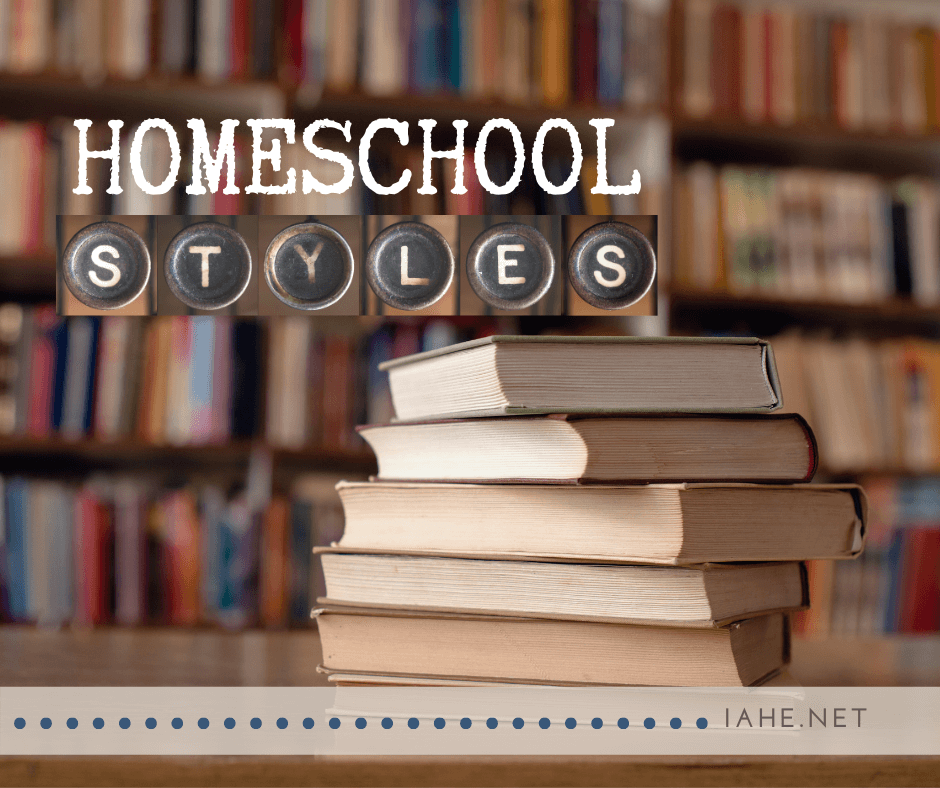 Literature-based curriculum? Classical education? All-in-one boxed programs? What in the world does all of this mean? Well, in the world of homeschooling, there are many, many different ways to go about educating our children. The terms above describe just a few of those styles of education. Read on to discover more about the major styles of homeschooling!

This article reviews the more popular styles of homeschooling. Many homeschoolers use elements from several styles to meet their family's needs. There is no right or wrong way to homeschool your child—the best method is the one that works for your child and your family.
Traditional
This style is what many of us think of when we say "school." Traditional homeschoolers might lean more towards using textbooks by major publishers, tests and exams, worksheets and workbooks. Traditional homeschool curriculum often include pre-made lesson plans, timetables, and detailed teacher's manuals to guide you minute-by-minute through your day. These kinds of curricula feel familiar to those who went through public school. They often follow national accreditation standards or federal Department of Education guidelines (but not always.) Parents will often assist with assignments, but may not be required to be engaged daily in planning and presenting lessons. 

Benefits: 
usually pre-scripted and you have to do very little prep work 

often parallels national educational standards fairly closely 

familiar style 
Challenges:
very little flexibility in timetables

may be more expensive
Classical
Classical education has its roots in the ancient Greek philosophy of the Trivium, meaning three. This style of education is divided into three major sections: Grammar (Elementary), Rhetoric (Middle School), and Logic (High School.) Classical education incorporates memorization and songs into learning for early ages to help them explore subjects, and integrates more discussion and thinking skills as students progress into older grades. An understanding of classic literature, memorization, and Latin are the hallmarks of a Classical education. 
Benefits
time-tested method that has been around for a few centuries

many large classical communities available for fellowship, co-ops, and other opportunities

rigorous style that encourages and challenges students of all ages
Challenges:
can be heavy on Latin and memorization

structure may be too rigid for families who like to pursue tangents or allow more flexibility for interest-led learning
Charlotte Mason
This style is based on the philosophy of 19th-century British educator, Charlotte Mason. The method emphasizes study of the natural world, the use of oral narration (retelling a story in your own words) and "living books" (high-quality, well-written works of literature, biography, and other writing that engages the reader in a story or narrative) over tests, comprehension questions, and workbooks. Charlotte Mason focuses on providing a wide and deep education in all subjects, with an emphasis on gentle, natural learning progression at the child's pace. This method values self-paced learning, usually delaying introduction of formal lessons until at least age 6. 
Benefits:
wide exposure to classic literature and other genres from early ages

may be appealing to children who enjoy nature study, discussion, and hands-on learning 

flexible programs can be easily altered to fit individual family and student needs
Challenges:
books in certain curricula can be hard to find or out of print

understanding the method may take time and may require some investment by the parent
Delight-Directed Learning
This style may also be called Relaxed Schooling, Child-Led Learning, Interest-Led Learning, or Unschooling. It allows the student's interest to guide the courses of study, learning at the student's pace, rather than using scripted, prescribed lessons. Delight-directed learners have the freedom to explore personal interests to the deepest degree, and in the process learn necessary math, science, history, geography, literature, and technological skills. This style may allow for service projects, unit studies, job shadowing, or other hands-on activities in greater frequency than other styles. 
Benefits:
allows child to be more invested in her education from an early age. 

promotes self-motivated learning and resourcefulness

very flexible style that can easily adapt to any family or individual child
Challenges:
making sure your child learns skills outside his personal interests may be challenging, especially for reluctant learners

may require extra preparation, research, and hands-on involvement

major learning gaps in concepts or skills can sometimes be hard to identify
Unit Studies
Unit Studies is a style that focuses all subjects around a single theme, concept, topic, or element. Unit studies are sometimes called "thematic units" and this style focuses all subjects on a theme. Unit studies use multisensory learning centered around a single theme, concept, topic, or element. The objective of unit studies is to allow students to delve deep into a topic to obtain mastery of it. Many homeschooling families find it is easier to teach different ages the same topics with this approach.
Benefits:
multi-level and multi-sensory approach

topics can come from anywhere, and child-led interests can help keep unmotivated learners engaged

allows you to go in-depth into specific topics
Challenges:
assembling supplies for any activities, books, movies, and field trips can be time-consuming

easy to burn out on a topic quickly or try to do too much

can become expensive due to purchasing supplies for activities constantly
Eclectic
Many homeschoolers find themselves in this category. Eclectic is simply using parts from many other styles to create your own customized homeschool. An "Eclectic" homeschooler might use a traditional writing and math curricula, take a classical approach to history and literature,  let their children's interests direct the science study, and top it all off with oral narration techniques from Charlotte Mason. Children are unique and having the freedom to choose how to educate for each different subject is a huge benefit of homeschooling. Gameschooling, worldschooling/travelschooling, and lapbooking/notebooking are other supplementary styles of homeschooling that can add variety to subjects and flexibility to your days. 
Benefits:
create a truly individualized education for your child that perfectly fits your family's homeschool goals

easy to change direction if a publisher or style isn't fitting your family

can purchase individual subjects across different styles
Challenges:
requires a little understanding of each major style of homeschooling in order to sort through the many curricula options (but you have that now that you've read this article!)

can feel overwhelming picking individual parts of an entire curriculum

may be challenging to ensure you have all subjects covered each year

Now that you are a newly-minted expert in the major styles of homeschooling, take some time to observe your children and think through which styles are best suited to you and your child!
---
If you are interested in learning about specific curricula that might be appropriate for different educational styles, check out our guide: Homeschool Curriculum: Making Sense of it All.
Click image below to expand.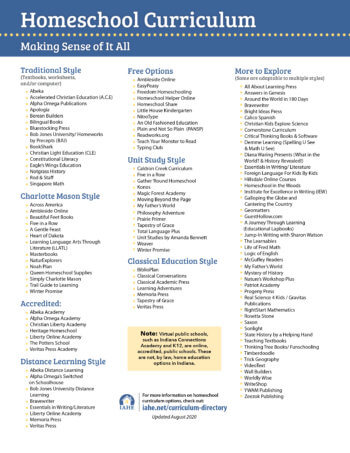 *Virtual public schools, such as Indiana Connections Academy and K-12, are online, accredited public schools. These are not, by law, home education options in Indiana.