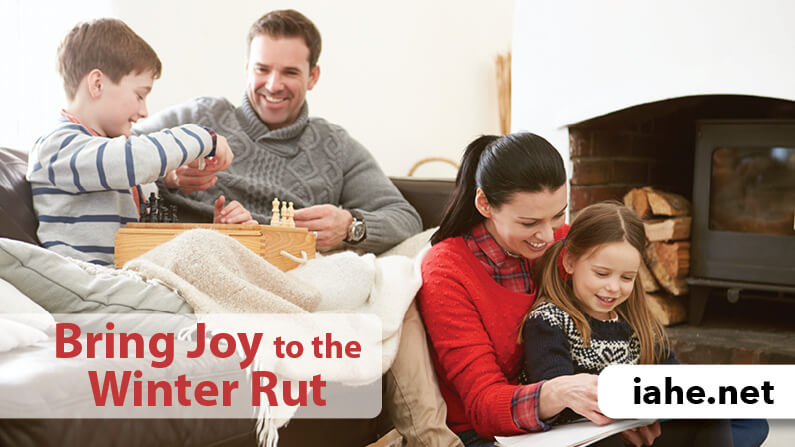 Even with all the good that comes with it, homeschooling can be hard, and there are definitely times that are lower than others. These lows seem to become more apparent in February—that halfway moment when the holiday hype has ended and the winter slump has begun. 
It's this slump where you feel like you are spending just as much time keeping your kids focused during school as you are actually doing school. This slump is where you find yourself more tired, more caffeinated, and sometimes more willing to throw in the towel. 
The pandemic has made these hurdles even more obvious—mixing the normal mid-school rut with trying to social distance, stay safe, and more than likely, have a lot of our socialization minimized. 
There is no way to completely cure these lows, but here are ways to curb the monotony that can come with homeschooling in the winter and ways to change things up.
Connect with Friends and Family
It may be more difficult for some than others, but try to interact with people outside your household. This is important for all in order to maintain sanity, and it can be done in a few different ways.
Create a group: For many of us, the pandemic has made it harder to see our friends and family in person. However, if there are one or two other families that you trust, make those the people you get to see. Play outside—do what you all feel safe doing while you get to have fun and socialize.

Use technology: These days, technology is a big part of our everyday life. Use that to interact with people—Zoom, video chat, even talk on the phone. You could also schedule virtual co-ops, classes, and playdates. This way you can

be

with people without actually

being

with them.

Find a penpal: Have your child write letters to friends and/or family members. This might be most effective if they write to people who will write them back. This will help them stay connected with others outside the home while also working on their writing skills.
Make Outside a Priority
It's winter, it's cold, and sometimes it seems pretty glum, but you can still bundle up, and spend time burning some energy outside. Do some exploring, take a hike, find some nature, or just simply run around. The good thing about being outside is that there doesn't have to be structure. You can just have a nice break from being cooped up inside.
Here are some outdoor activities you can do, and there doesn't even have to be snow on the ground.
 11 Surprising Outdoor Winter Activities – No Snow Required! 
Mix up School on February 11th
Step outside your routine and do something completely different. Do you enjoy mixing education with entertainment? 
IAHE's Homeschool Day at the Capitol virtual event will do just this! It's education and entertainment for the entire family!
Here's what you can look forward to:
Video sessions

for children and adults will be packed with engaging, educational, and entertaining content.

The Indiana Limestone unit study

is included with your free registration. Who would guess that limestone could be so fascinating or could have played such an integral role in Indiana history?

The How a Bill Becomes a Law Video Contest

will give your children and your whole family a chance to learn something, express their creativity, improve their presentation and videography skills, and maybe even win a prize. Winning videos will be shown during the event!
Find more information and register for free HERE!
Get Creative
It is likely that we all showcase some creativity during our school days, but when in a slump, try to dedicate a day each week to do something new. This can be learning a new instrument, dancing, drawing, or painting. You could cook as a family, create new recipes, or write a fun story together. This can be laid back, fun, educational, and help keep everyone interested.
Discover ways to aid creativity in your home and with your children here: 
10 tips for cultivating creativity in your kids 
9 ways to support your child's creativity
Communicate
Make sure you talk with your child. This can be hard. School can be hard, but it might be easier if you have open conversations together. Explain why things are the way they are, why you might not be doing some of your normal activities, and how this is just a season in life. Ask them what they are finding difficult while at home and in their studies. Then, together, brainstorm some ways you can make things go more smoothly. What can you change about school? What can you change about home? 
Give Yourself a Break
Remember to take time for yourself, time to reflect, and time to rest. Here are some ways to do that.
 11 Quick and Easy Ways for Moms to Take a Break 
When you are struggling, ask yourself: Are you present with your kids? Are they learning? Yes? Great! 
Even though it may feel like it, you are not alone in this. Make sure you have a support system, and remember homeschooling does not look the same for everyone. That is part of its beauty. Do what works for your family. If you need to change your routine, change it. If you need to take a break, take it. 
Give yourself some grace. You've got this.