2023 IAHE Homeschool Day at the Capitol
Thursday, January 19, 2023, 10 am – 3 pm
Join us at the Statehouse! It's a field trip day!
An unforgettable day of activities and learning experiences for all ages awaits you. Hundreds of homeschooling families will be gathering at the Capitol for a day of learning, meeting new friends, interactive presentations, and activities. It's great for you, and it's great for our legislators. Homeschool freedom matters and joining us at the Capitol is a great way to show your support for homeschool freedom.
Join us in the morning. Come in the afternoon. Pack a lunch and stay for the whole day. This can be a great educational field trip day with hands-on learning and a chance to build meaningful connections with legislators and homeschoolers from all across the state. We can't wait to see you there!
Family Registration includes:
IAHE Day at the Capitol event registration, an Event Guide (coming soon!), plus Exploring Indiana State Parks ebook (an $8 value).
Only $5
Make more of your day!
Capitol Tours and State Library Tours are also available during our event. Tours have limited space available and require adding the total number of individuals in your group to your event registration.
Note: At checkout, be sure to opt-in to our emails to receive the Event Guide and Capitol Day updates!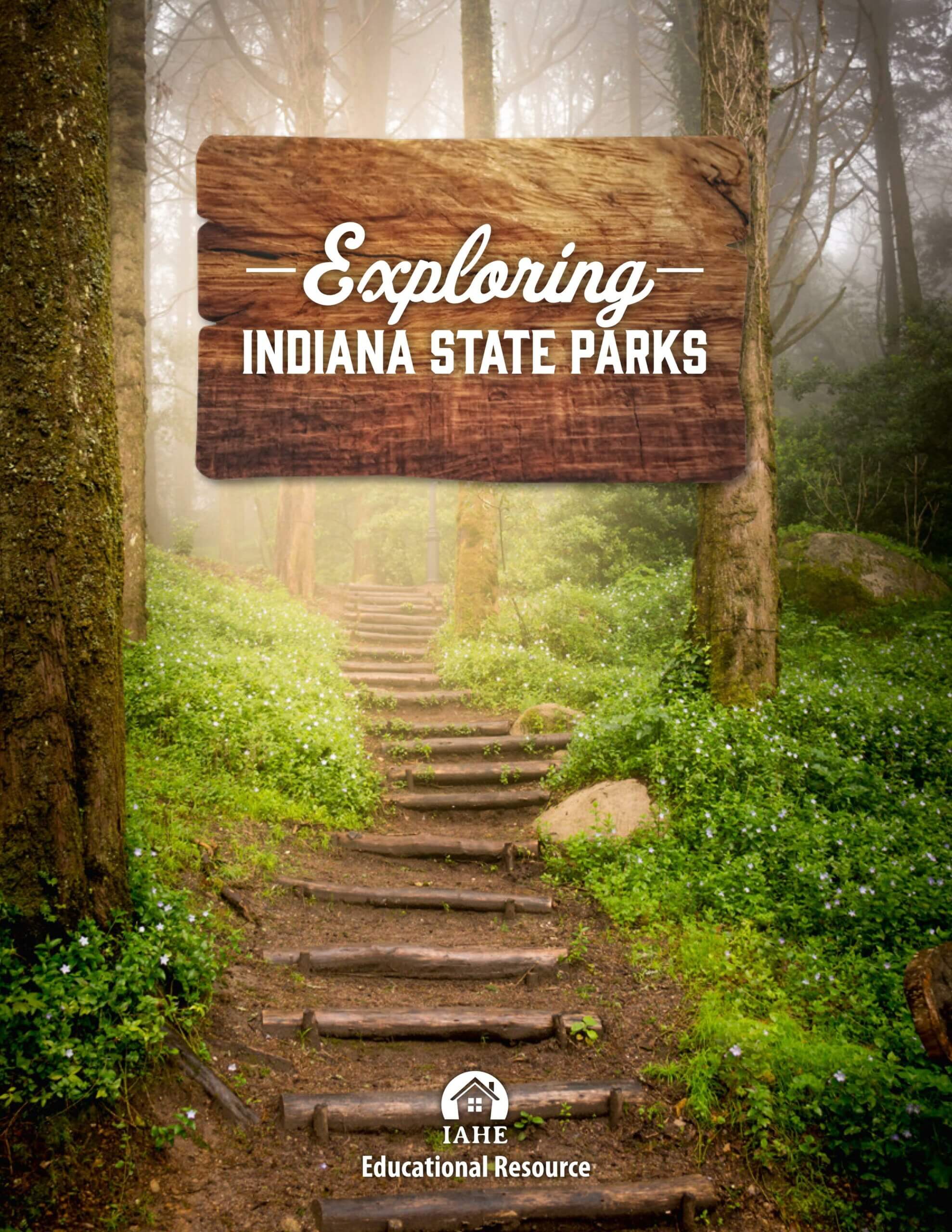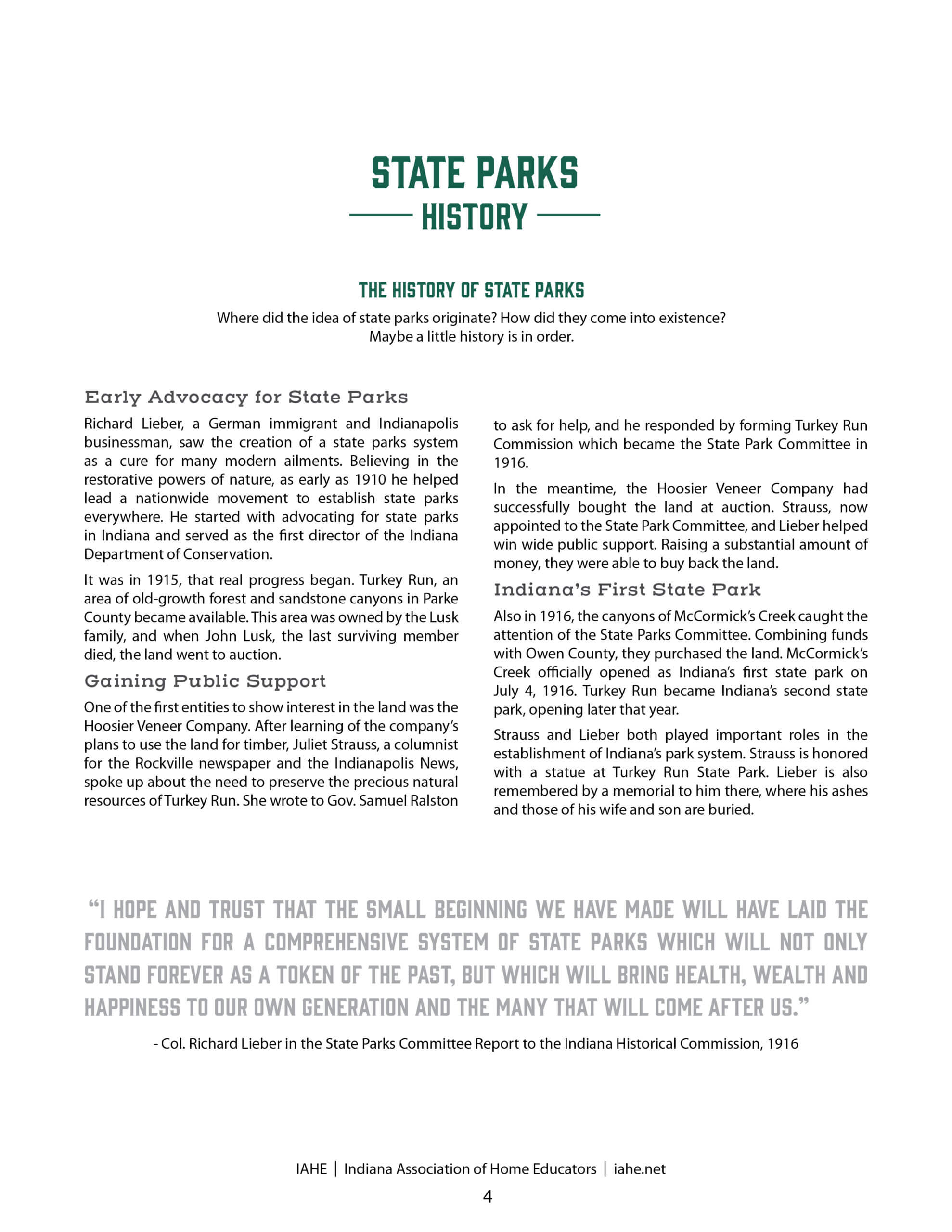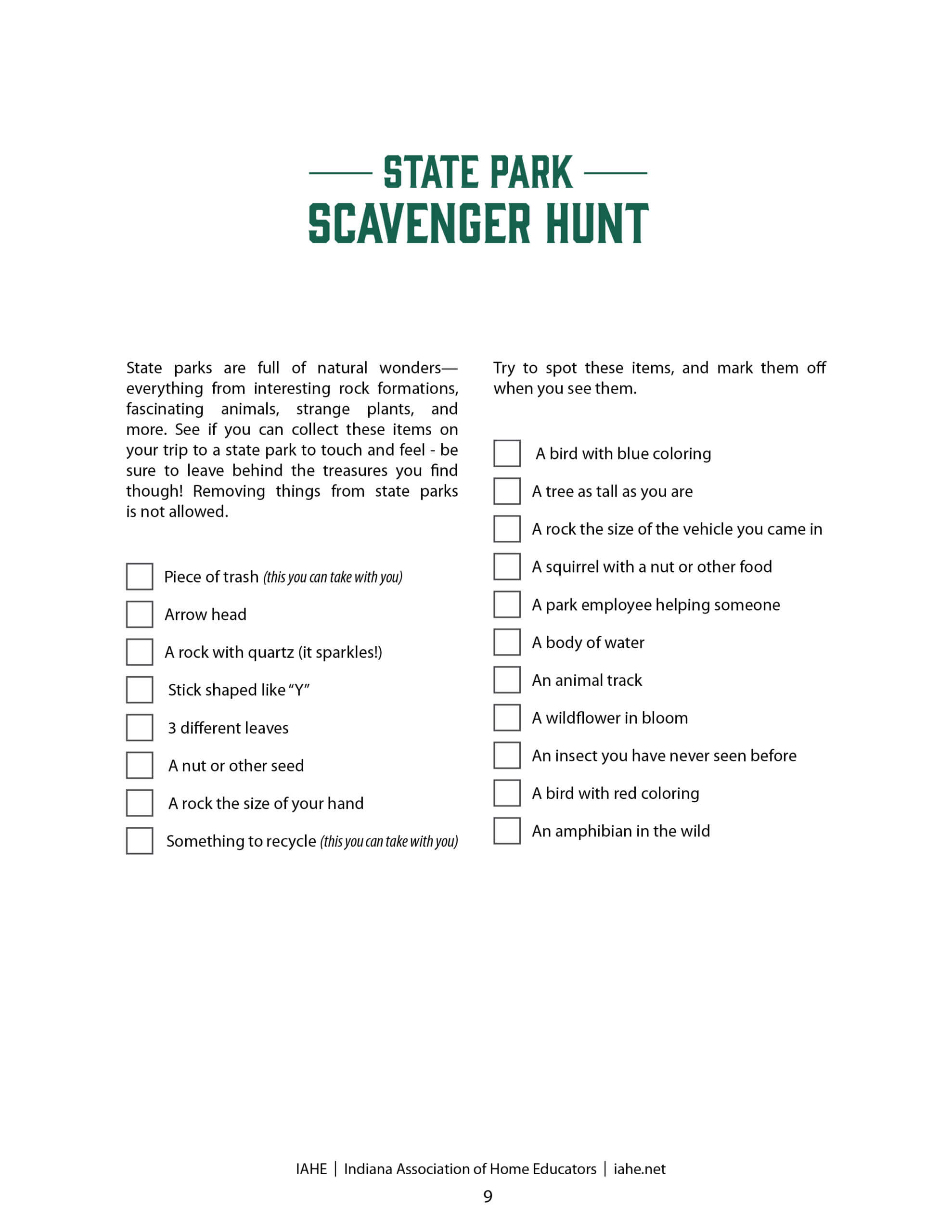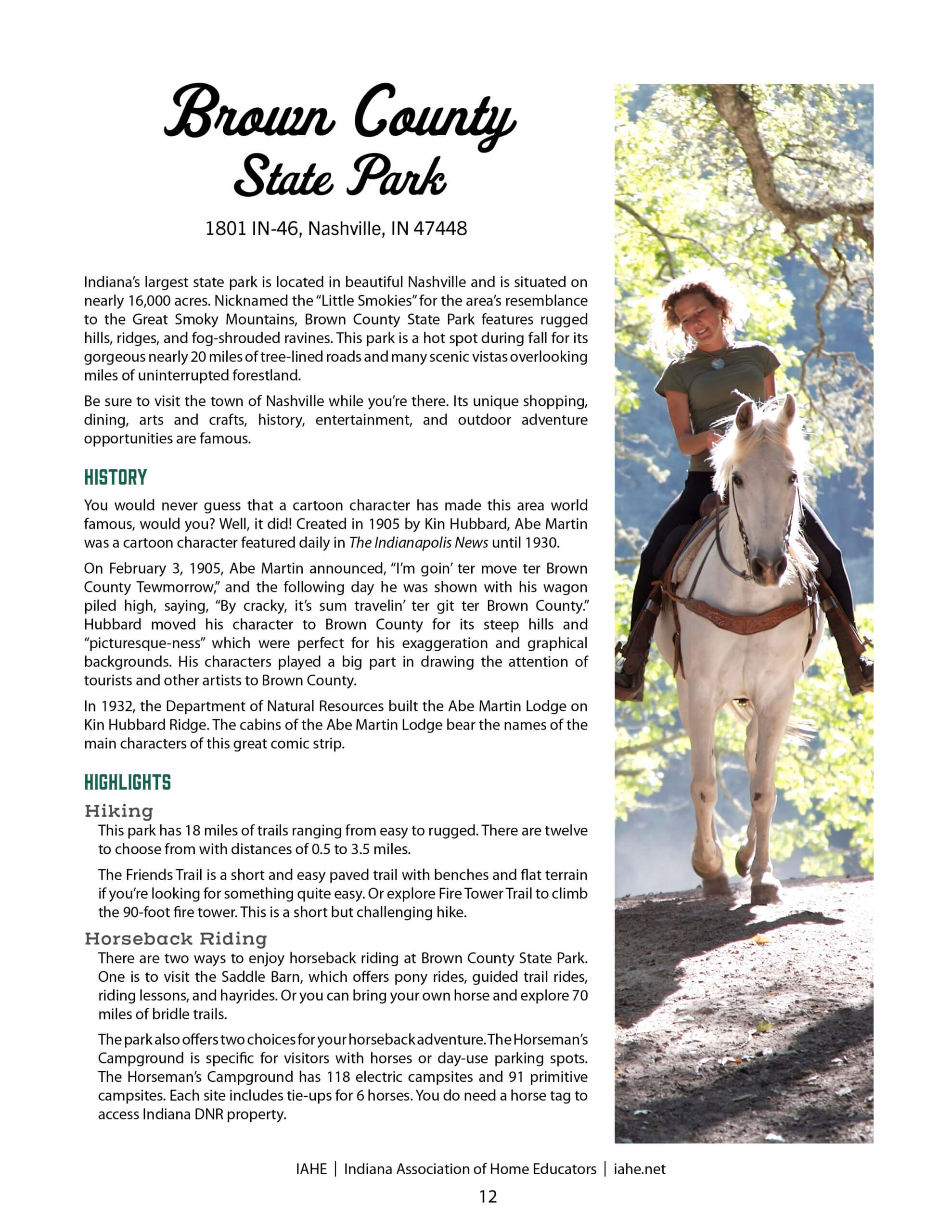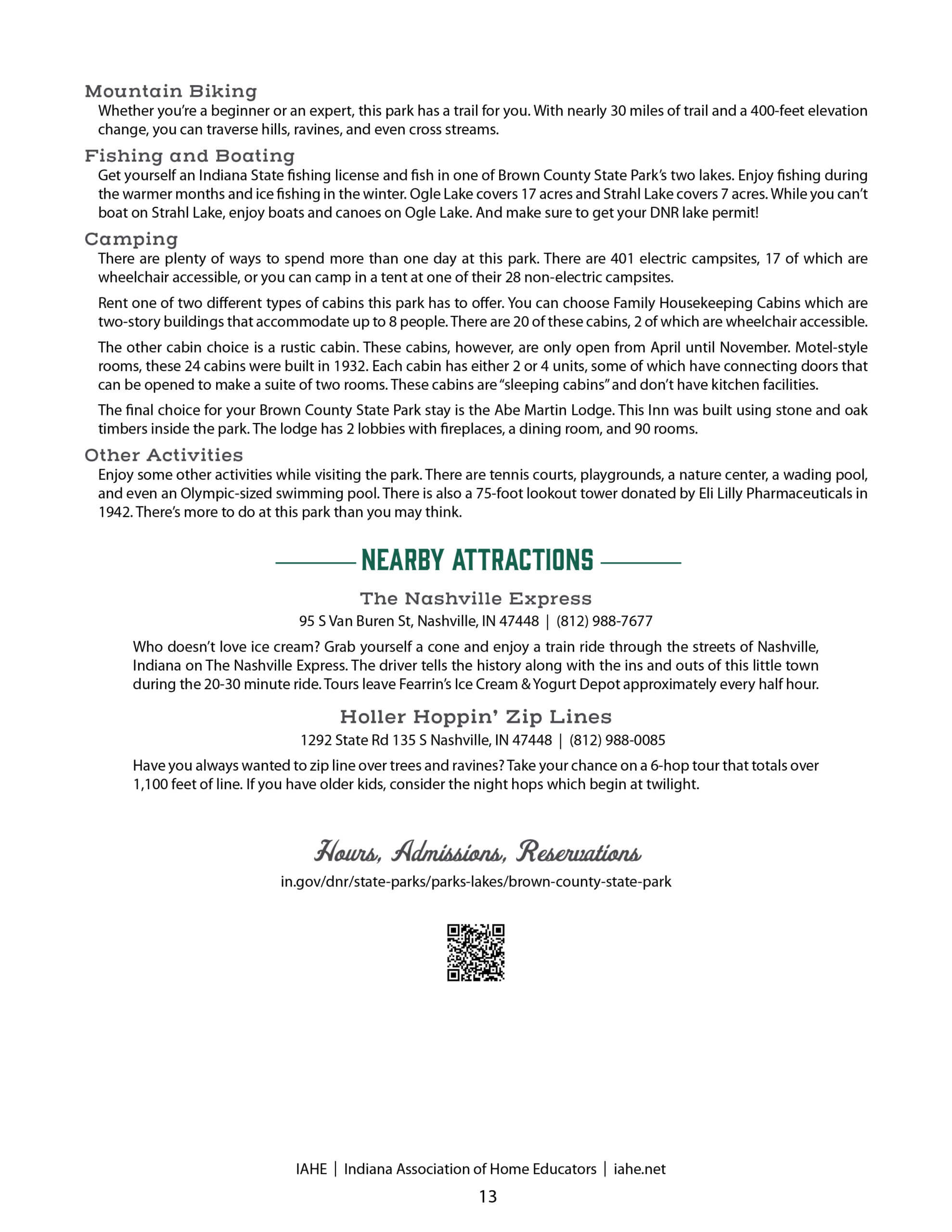 The Exploring Indiana State Parks ebook is included FREE with your IAHE Day at the Capitol registration
Gorgeous canyons. Old-growth forests. Diverse species of animals. Fascinating plant life. Indiana state parks provide a beautiful getaway into the wonder of the natural world.
We have created Exploring Indiana State Parks to help guide you through visiting one, or two, or all fifteen state parks featured in this ebook.
Check out the trivia game, scavenger hunt, and book list, along with exploring the state parks highlighted here. Even if you can't physically visit all of these state parks, learning about them will spark wonderful conversations about history and nature. You may just be inspired to go on some new adventures.
After registering for Capitol Day, go to iahe.net/my-account/downloads and download your free Exploring Indiana State Parks ebook. Your 2023 IAHE Day at the Capitol Event Guide is coming soon.
2023 Homeschool Day at the Capitol Sneak Peek
Make this day work for your entire family.
Come in the morning. Join us in the afternoon. Pack lunches and make a day of it.
General Schedule (10:00 am – 3:00 pm)
Registration/Check-in/Event Stickers
Interactive Presentations
Challenge/Drawing with Prizes
Chat with IAHE & IAHE Action
Write postcards to Legislators
Activity Tables & Trivia Game
Scavenger Hunt
Prayer Walk
Watch a Legislative Session
Statehouse & State Library Tours (pre-registration required)
Presentations*
10:15 – General Announcements
10:30 – Representative Wesco
11:15 – Cheryl Amos – DAR Madonna of the Trail
11:45 – Senator Crane
12:15 – Jesse Taggart – Vocalist
12:45 – Kylene Varner & IAHE Interns – Current State of Legislative Affairs Regarding Homeschool Freedom
1:15 – Christina Wolfe- How a Bill Becomes a Law
1:45 – Kristin Bissontz – Teaching Civic Responsibility
*These are approximate times and are subject to change
Education. Advocacy. Civics.
It's our desire that EVERY legislator meets a homeschool family from their district during our event. It sends a powerful message to know that homeschool rights are important enough to take time out of your very busy schedule to come to the Statehouse. Contact your legislator prior to the event to schedule a time to meet with them.
Locate your legislator here.
Senate Office, 800-382-9467
House of Representatives Office, 800-382-9842
Parking
There are several parking options near the Statehouse. Click the following image or visit www.downtownindy.org for more information.
Entrances
All State House visitors will be required to use one of two public entrances to access the Capitol building:
The upper level east entrance, near Capitol Ave. and Market St.
The lower level west entrance (ADA compliant), accessible via the Robert D. Orr Plaza.
These entrances will be equipped with metal detectors and screening devices that will be monitored by Indiana State Police Capitol Police.
Lunch
Option 1: You may bring a sack lunch to the Statehouse. You will need to carry it with you.
Option 2: You may purchase lunch in the cafeteria. Leave the Statehouse and take the short walk to the Government South building. The cafeteria is in the basement.
Event Guide
A link to the Event Guide has been emailed to all pre-registered attendees on our email list. If you registered but haven't received your guide, please let us know at communications@iahe.net.
Page for A Day Program
Families with a student ages 13 and older may like to be a Page that day. The Page for the Day program is an excellent way for your student to gain a first-hand glimpse of how the legislative process works at the Indiana Statehouse. During IAHE's Home School Day, the rest of the family will have other events in which to participate while your child serves. This program fills up quickly, so check the IN.gov website for details and deadlines.
Register for the page program and learn more at these links:
Senate Democrats | House Democrats | Senate Republicans | House Republicans
Want to learn more about government affairs?
Want to learn more about legislation?
Learn this and more from our 2021 Capitol Day Speakers.
Have you visited Indianapolis with your family?
Here are just a couple of sites that you may want to check out.