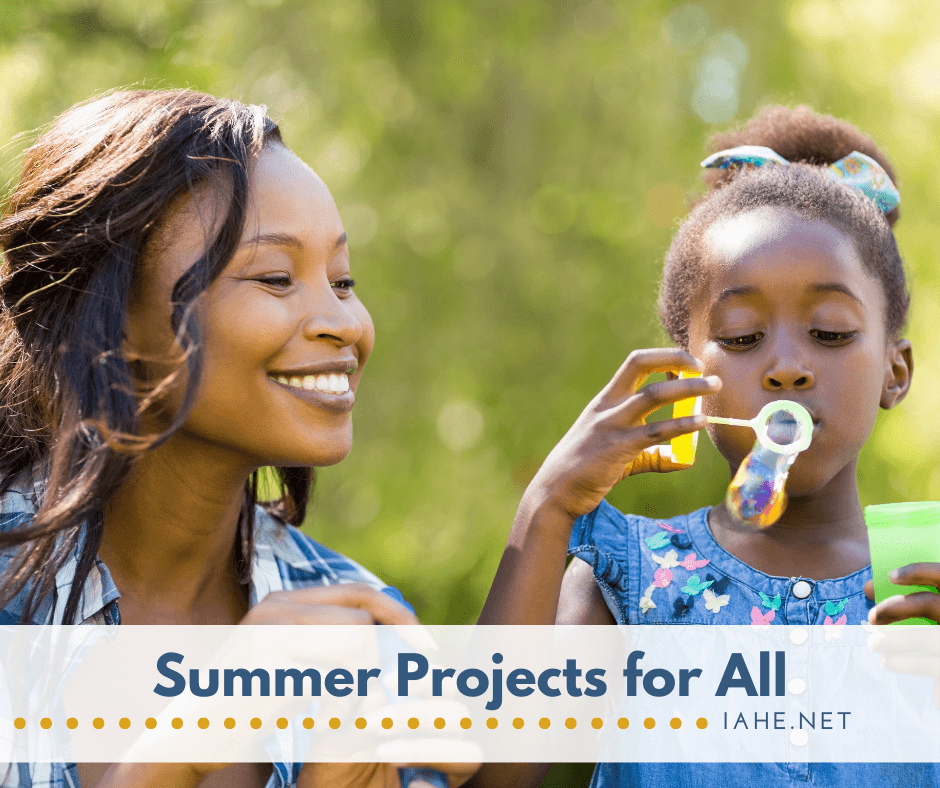 Summer means different things to different people. It can mean vacations and traveling or sports and nights out, and to some, it might just mean hot and buggy. Whatever summer means to you, the season is now upon us, and whether you are taking a study break for a couple months or are schooling all year, there are always fun activities to take part in. 
I have compiled a list of activities and projects to take part in this summer. No matter what ages of kiddos you have, there is something here for everyone. 
Art Activities
Bubbles are fun for most people, adults and kids alike. Keeping that in mind, going out and blowing bubbles can keep your little ones busy for a while. However, there are many more things you can do with this fun activity.
Spice up your bubble blowing with this bubble painting. It's not only fun, but you can make stationary, and that can make great gifts from the kids.
Running with the bubble theme, if you have a water bottle, socks, and dish soap, you and your kids can make bubble snakes. Make this even more fun by adding food coloring and dazzling up those snakes.
Summer months mean sun; sun means sunscreen. Sometimes this can seem like a tedious step when you just want to go out and play, but it is necessary. To help teach yourself and your kids why this step is so important, try painting with the stuff. You can see how it protects the paper from the sun the same way it protects your skin. Fun and learning all in one activity!
Building
Bird watching can happen at any time of the year, but during these warm months, you might be able to see some birds migrating back to their homes. This might be a great time to begin observing them, learning their calls, and finding out all about them. 
One way to get a front row seat to these creatures is to put out a bird feeder or multiple bird feeders, depending on what type of birds you and your kids are trying to attract. You can certainly buy one at a local store, but you can also make one. 
Here are several different plans for all difficulty levels. See which one might work best for you.
During these months, many people pick up gardening. Whether you are planting flowers or fruits and vegetables, gardening can be positive for anyone. You can always till a spot in your yard for a garden. However, a raised bed is also an option, and it can be a fun family build activity. The kids can learn more about gardening and building at the same time.
There are lots of different styles for these beds, from wooden rectangles, to stands, and also using tires. There is one to fit everyone's taste and style. 
Decorations
This summer, you might find yourself outside more frequently. Because of this, you might want to spice up your outdoor space. 
This does not have to be a big undertaking. Allow the kids to take the lead.
Let them make a door decoration. You might be feeling patriotic, especially in the month of July. If this interests you, check out this door decor: Patriotic Wreath
Light up your porch with some Tin Can Luminaries.
Wind chimes are always an attractive addition to your outdoor space, and they can make beautiful noises. Kids of all ages can take part in making one as they have varying degrees of difficulty. 
Water Play
Don't forget that not everything has to be creative or include crafting or building. Just enjoy the water. Turn on the hose, the sprinkler, play with water guns, or throw water balloons. It does not have to be structured, and depending on what you want to do, sensory bins are always an option.
No matter what summer means to your family: school, sports, traveling, or something different, remember family time can be great, and there are always things to do together.