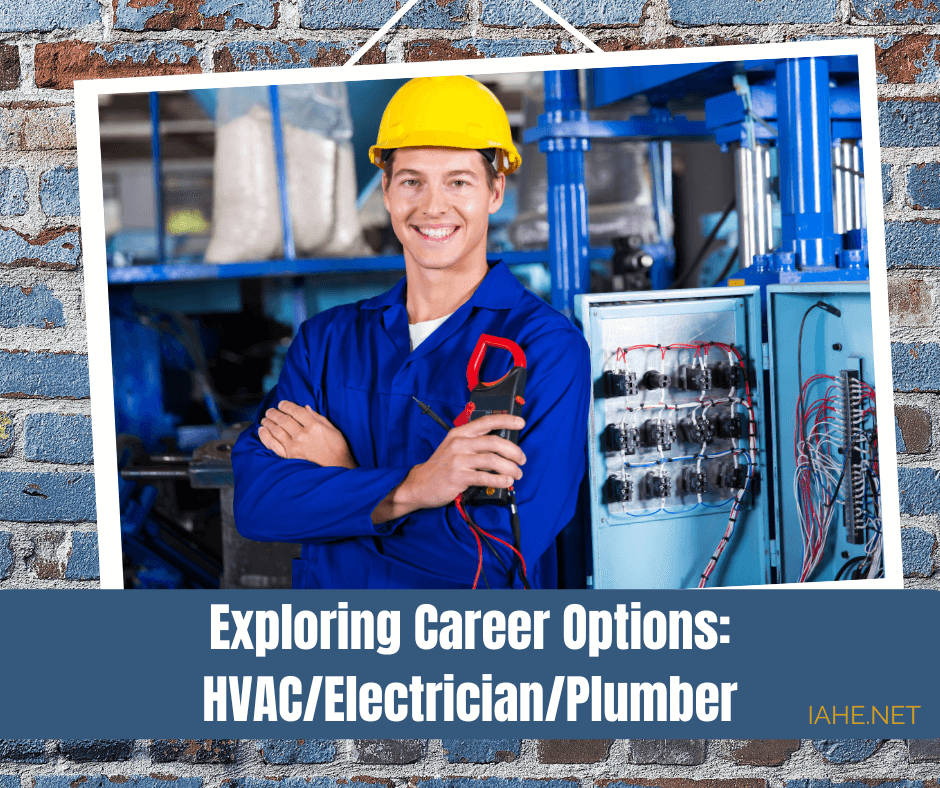 As homeschoolers, we are blessed to be able to provide our children with the opportunity to learn about and experience first-hand various career options. Preparing them to be self-sufficient adults can be a daunting task. But that is made easier by the freedom we have to tailor our children's education to their interests, especially throughout high school. This, then, can dovetail into career options.
Our first goal is to help them figure out not only who God made them to be but also what God created them to do. Our second goal is to help them discover how their skills, talents, and passions can blend together into an occupation they'll love.
We're continuing the series that will cover a few different careers in order to provide assistance as you and your child think through options.
In this post, we're covering the service industries of HVAC, electrician, and plumber.
Heating, ventilation, and air conditioning (HVAC), electrical work, and plumbing are included within the mechanical service industry. The wide range of duties includes going into private homes, businesses, or other structures to install or maintain heating, ventilation, or air conditioning equipment or systems, electrical systems, or plumbing.
What are the career options?
Technician – A technician is responsible for the service calls to homes and businesses to install equipment or to diagnose problems and complete maintenance.

Supervisor/manager – A manager assigns jobs and tasks to the technicians, making sure each employee's work is satisfactory. A manager may oversee the operation of a department with the business.

Business owner – The owner of the business has the added responsibilities of financial management and marketing as well as overseeing the managers. Ultimately, the success of the business rests with the owner.
What education is necessary?
A high school diploma – Studies should focus on math such as algebra, geometry, and consumer or business math; chemistry and physics; and practical courses such as electronics and computers.

Vocational school or training course – These studies could continue into a two-year associate's degree or a four-year bachelor's degree. In this type of program, a student will learn specific skills but could also study business administration if he wants to own his own business.

Apprenticeship – There are companies that will gladly take your high school students or graduates to train. The best way to find these is to start asking around. Contact the various service companies in your area. 
ABC CONSTRUCTION PREP ACADEMY – Associated Builders and Contractors of Indiana Kentucky is an apprenticeship program you could check out. "Students completing year two of our program are dual enrolled in the first year of their adult Department of Labor registered apprenticeship. We also have paid summer internship opportunities and hundreds of local partnered businesses looking to hire our graduates."
State license – The licensure exam is a written test, and preparatory courses are available.
What skills or interests are needed?
Communication/active listening/detail skills – At all levels of the mechanical service industry, employees need to interact with property owners and building supervisors to understand the problem, be able to ask appropriate questions, and keep complete work records and records of materials used.

Problem solving/trouble-shooting skills – When the employee or business owner has gathered enough information, he will need to diagnose the problem and then find a workable and effective solution. 

Time management – From technicians to business owners, those in a service industry may have to handle multiple calls or tasks each day and then complete them all in a satisfactory manner. To accomplish this, a technician must complete the work in an organized and effective schedule.

Attention to safety – There are many potentially dangerous situations in servicing these various systems, and they can be avoided with the proper attention paid to rules of safety. The mechanical service industry is no place for risk-takers or adrenaline junkies, especially when other people's property is at risk.

Physical strength and stamina – Positions in the mechanical service industry often involve lifting heavy equipment and parts.
How can a parent encourage a curious child?
Find people to talk to in your homeschool community or church. This could be turned into a vocation paper for a school project. Is there an HVAC technician, electrician, plumber, or business owner within your circles? With their consent, make an appointment for your student to conduct an interview. Questions could be prepared ahead of time and include inquiries such as what is your education, what do you like/not like about your job, and what are three characteristics needed to do your job.

Job shadowing. Spending a day observing someone in your child's chosen career can be a terrific way to see, up close and personal, what the job entails. Then, have your student write a reflective essay about the experience.
The mechanical services industry can be a challenging and fulfilling career choice, providing opportunities to move up to business owner as well as job security. Homeowners and businesses will always need their systems maintained. A career is a big decision, so explore the possibilities and pray for and with your child as he seeks to discover what God has planned for him.
Here are several articles where you can find more detailed information to help you and your teen explore the career fields of HVAC, Electrician, and Plumber.
How to Become an HVAC Technician 
HVAC Technician License, Certification, and Career Information