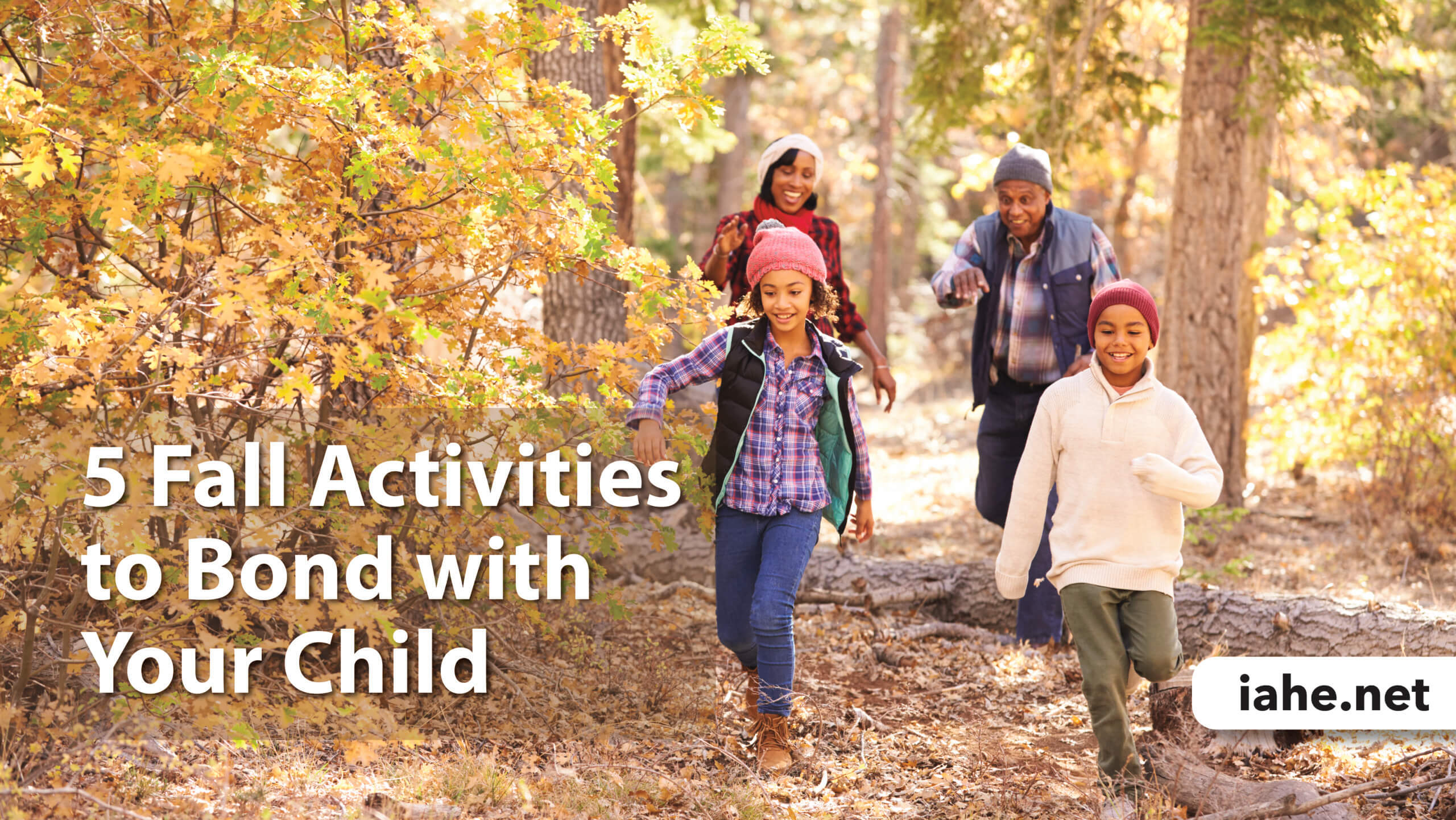 Fall is a terrific time of year. Outside is colorful, leaves are falling, and routines are setting in. Life seems calmer. However, days are getting shorter, temperatures are dropping, and even though routines are getting easier, everyone may also be ready for a break. It is easy to become trapped in the doldrums this time of year. 
Here is a short list that can either help prevent this melancholy or get rid of it, so you can enjoy some time with your family.
Take a Nature Walk
My family and I have been making it a point to go to a new trail every week. Trails are everywhere. There are so many things to explore in nature—birds, bugs, plants, trees. We like to look at everything changing and enjoy the fresh air.
You can always take a walk just for fun. Go outside, get some exercise, and enjoy the fall colors. But, you can also make these walks use more brainpower with some of the following ideas.
Bring a Nature Journal
This is something easy to create, or you can use a standard notebook. You can bring it along or fill it out when you get home. Depending on the age of your child, have them observe what they see. You can set a goal for them or let their imaginations run wild. Then, they can write or draw what they see or wait until they get home. No matter how you do it, it will help their memory. If they see something of real interest, you can always do further research on the item together at another time.
Bring Books or Guides
My kids are very interested in birds and trees. There are guides for both of these plus anything else your family may desire to learn about or identify—invasive plants, native plants, bugs, dirt, etc. Bring a guide book on your next walk, explore, find your interest, and learn while you are walking. Take your time and enjoy learning.
Scavenger Hunts
How many things can you find on your nature walks? Probably a lot! There are always things to see, touch, and discover. Create your own scavenger hunt or find one online. Look around with your kids; help them find the items on your list. Again, take your time and enjoy yourselves.
20+ Outdoor Nature Walk Checklist and Scavenger Hunt Printables  
Fun Nature Scavenger Hunt Ideas for Kids 
Play in the Leaves
I think one of the most common activities for fall is playing in the leaves. It is fun and easy. You can simply rake a pile and let the kids jump to their heart's content. If you are feeling extra creative, try some of these ideas. 
Identify Leaves
Start learning how to identify leaves. How many different leaves can you find? After you do that, make a scavenger hunt to try to find as many different types as you can. (You could always bring this on your nature walks.) 
Tree Identification Guide – Tree Types & ID Trees By Leaf Characteristics
Make Leaf Crafts
Collect some leaves together and make something with them. This can be a relatively easy task, even if you also decide to identify the leaves. Glue them on paper with other fall nature items. Trace the leaves. Make leaf rubbings, and compare how different the stems and veins are. Depending on ages, have your kids write about the similarities and differences that they see with the different leaves. Which ones do they prefer? Why? 
Make a leaf maze
If you are going to make a leaf pile, go a step further and create a leaf maze. Set a goal. What do you want to reach at the end of the maze? A pumpkin? Apples? The leaf pile that is calling to be jumped in? You can use anything, and the play can go on for hours. 
Leaf Maze and Labyrinth for Kids 
Go Camping
Pack your gear and your tent (or camper) and head to a campsite or even your backyard. Go on a walk, go fishing, turn off your media, and enjoy each other. 
At night, light a fire, roast some marshmallows, and tell some stories. You can take turns telling stories or tell a story together, taking turns adding on to it. You can write them down or just have fun telling them.
Printable Fall Stories, Short Stories for Kids about Autumn
22 kid-friendly campfire stories to spook and delight 
Visit a Pumpkin Patch
Before you go, learn how pumpkins grow. What do they need? How long does it take to prepare for a pumpkin harvest? 
Depending on your area, pumpkin patches frequently have at least some other activities, like hay rides, petting zoos, apple cider, or an orchard. There is almost always something for everyone to enjoy.
Be Creative with Your Pumpkins
When there, investigate the extra activities and definitely pick a pumpkin. You can do this as a family or let the kids each pick their own. It doesn't matter how you do it, just have fun.
Take the pumpkins home and decorate or carve them. You might prefer painting to carving, but either way, everyone gets to be creative. Then add some extra pizzazz to your yard or porch by displaying your masterpiece.
Pumpkin Pie
Whether you like it or not, pumpkin pie seems to be a staple dessert when compiling a fall or Thanksgiving meal. Pick up a pie pumpkin from the pumpkin patch or from the store, or make a pie as a family. Work on math, baking, and enjoy a tasty dessert.
Pumpkin Pie From Scratch: Food Network Recipe | Nancy Fuller 
Homemade Pumpkin Pie Recipe | How to Make Pumpkin Pie from Scratch 
Visit an Orchard
Check out this other blog post for more fun activities involving apples:
Sauce Up Your Homeschool With Apples