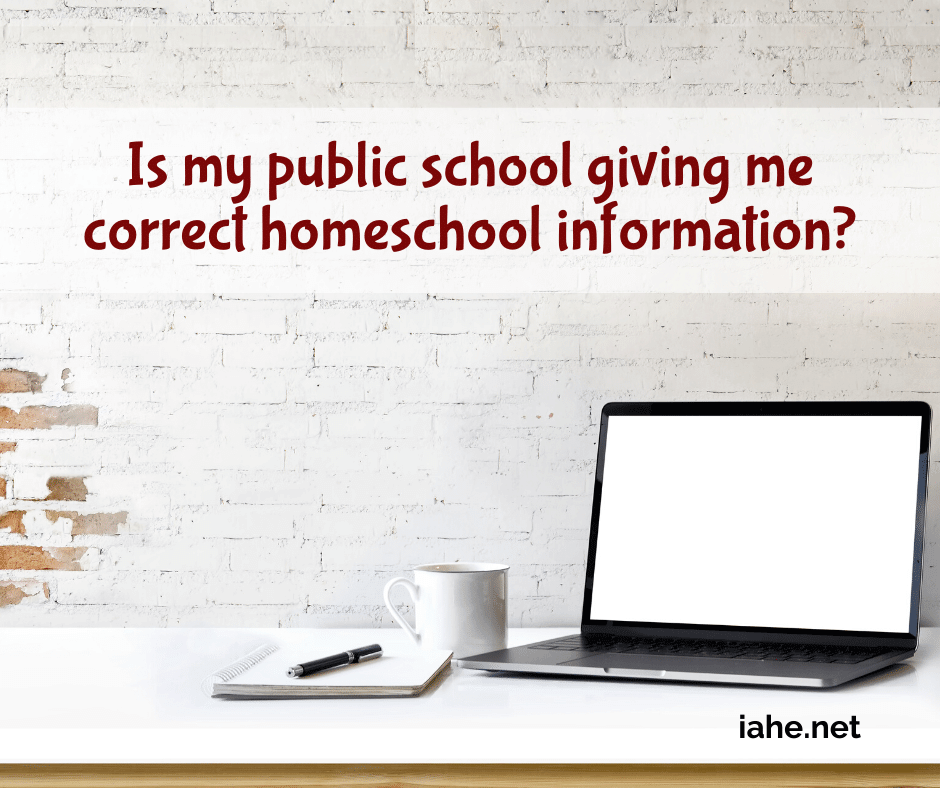 You've got homeschool questions. 
We've been answering them since 1983. 
With so many Indiana families wanting out of their modern, brick-and-mortar, schools this fall, thousands of parents are turning to home education. For families with children who have been enrolled in their local public or private school, the first step is to withdraw their child from that school. What should be a simple process can become complicated when school employees have an incorrect understanding of Indiana law regarding homeschooling. 
For years, the IAHE has attempted to work with the Department of Education to correct misleading language on their website with no result. At such a critical time when families need accurate information, it's important to clarify some of the issues at hand. 
My school is offering multiple options for the fall, including at-home elearning and they're calling it homeschooling. Is that accurate?
No. If materials and instruction are being provided by the public school, your child is still enrolled in public school, and you are accountable to the school. Legal definitions exist, separating these two options. Virtual public school options also include charter school programs like Connections Academy and K12. Homeschooling, however, is defined as nonpublic, non-accredited education by Indiana law and is not subject to regulation by the public school. 
Can the school stop me from withdrawing my child to homeschool? 
No. The Indiana Appellate Court, State v. Peterman (1904), affirmed that the Indiana law allows for the operation of homeschools. And, a federal district court, Mazanec v. North Judson-San Pierre School Corporation (1985), recognized that parents have the constitutional right to educate their children in a home environment. A school has no authority to stop a parent from exercising their right to educate their child at home. 
But the school is telling me they won't approve my withdrawal from school? They're telling me that I have to register with the state and that they have to see my homeschool curriculum? 
These requests from school administrators and personnel are NOT legal and have no basis in Indiana law. Overwhelmingly, this confusion can be traced back to bad information and misleading language directly from the Indiana Department of Education's website. Some of the pieces that we have asked to be corrected for years:
In the face of extensive,

fraudulent reporting of dropout students as homeschoolers

, the DOE issued a memo in December of 2019 instructing school administrators titled

Student Transfers to Homeschool

. The memo correctly cites a piece of Indiana code (

IC 20-33-2-28.6

) that applies ONLY to high school and a state-mandated withdrawal form for the school to keep on file. However, this memo also states:

"The homeschool program pursued by the student must meet attendance and instructional requirements in order to be considered a legitimate homeschool program."

Indiana law does NOT grant school employees the authority to approve homeschool programs or curriculum. There is no legal authority for schools to evaluate and consider what is a "legitimate" program. Any request of this type is well beyond the legal authority of the school and a gross overstep.


In addition to this misleading memo's directive, many schools have begun incorrectly using the memo and the cited code,

which only applies to high school students

, to force families to complete the state-provided withdrawal form. 

Many parents are being told that they must register with the Indiana Department of Education and then provide the school with a "homeschool number" before they can withdraw their child. Again, this confusion upon the school's part can be traced back to misleading language on the

DOE's website

: "

REGISTER YOUR HOMESCHOOL

" which includes a link to a "

HOMESCHOOL ENROLLMENT FORM

".

Registration of homeschools does not exist in Indiana law.

This particular form offers the option to report the information, the data, of students enrolled in a homeschool. It

does not

enroll a homeschool with the state. Families who complete the enrollment reporting form are assigned a "homeschool number", a number which serves no purpose and does not have any basis in Indiana code. Because this form has no legal standing, the option to report unenrolling a student from home education does not exist.



Earlier this week, HSLDA attorney Tj Schmidt weighed in on the issue of the misleading information and enrollment form on the DOE's website. 
This (form) is something that both IAHE and HSLDA have opposed as long as I can remember. While the form is not exactly illegal, it does not, in our opinion, meet the true meaning of Indiana law. Indiana Code § 20-33-2-21 states that "each principal or school administrator in a nonpublic school that is attended by a student how is subject to the compulsory school attendance law under this chapter shall furnish, on request of the state superintendent, the number of student(s) by grade level attending the school." Indiana Code § 20-33-2-20 is very similar as it requires a nonpublic school to keep "an accurate daily record of the attendance of each student two is subject to compulsory school attendance" which is required to be kept solely "to verify the enrollment and attendance of a student upon request of the (1) state superintendent; or (2) superintendent of the school corporation in which the nonpublic school is located." Making a "request" online that all homeschool families report their school attendance does not meet the standard in either of these provisions. In our opinion, the law requires an individual request, not a general and continuous one.
The IAHE recognizes school personnel and the Indiana Department of Education (IDOE) are overwhelmed given the current state of affairs, but this unlawful governmental overreach is not new. For years, we have made multiple requests of the IDOE to correct their misleading language and provide accurate information for local school employees regarding a family's right to educate their child at home, and a parent's right to withdraw their child without an administrator's approval. This year alone, we have made numerous requests since January of 2020 for the IDOE to address the unlawful statement in the Student Transfers to Homeschool Memo (December 2019).  
Now, more than ever, the IAHE wants all families, and school personnel, to have timely, accurate, and clear information. We want families to understand their freedom, under Indiana law, to homeschool their children without being prone to false information and overreach through unlawful department policies. While we will continue to submit our requests for the removal of incorrect information on the IDOE's website, we also encourage all parents to know and exercise their parental rights. 
Any family dealing with unlawful requests and misinformation from their local school district is encouraged to submit their information using the form below. 
You can help keep Indiana #homeschoolstrong when you join the IAHE. 
Did your child's school give you misinformation? 
Submit your experiences below.