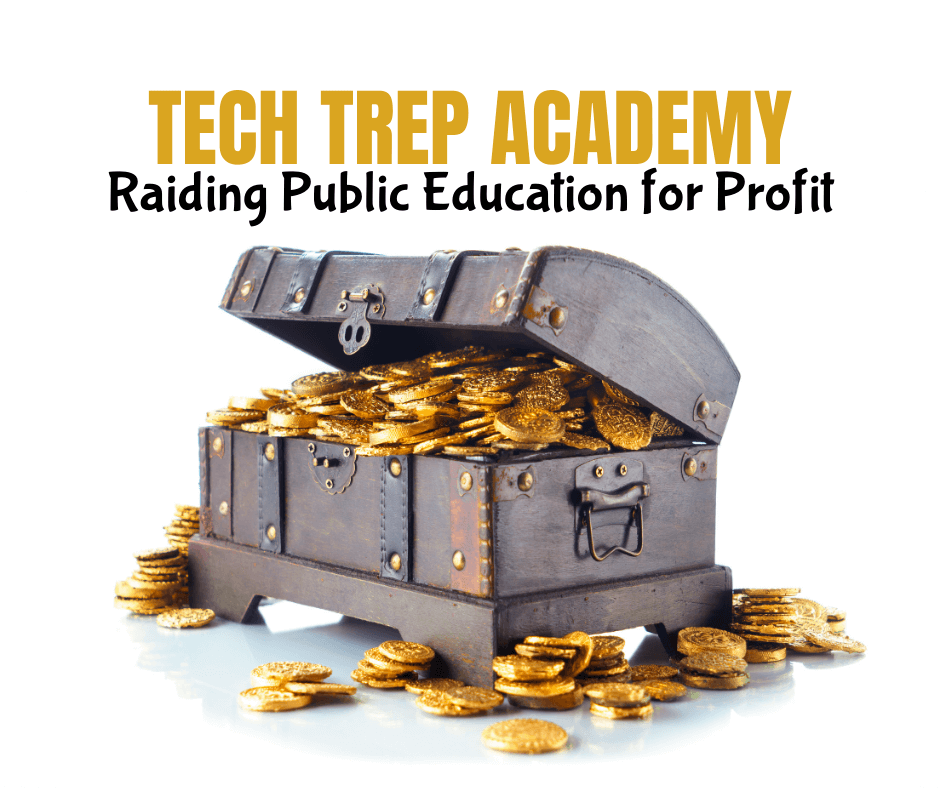 On July 27, 2020, the Indiana Association of Home Educators (IAHE) became aware of an effort to recruit "homeschool" families into a new program that promised $1,700 per child in reimbursements for "educational resources" through a new-to-Indiana virtual school named Tech Trep Academy (TTA). A long-time Indiana homeschooling parent exploring the program reached out through a private message, imploring me to investigate it more. I put on my observational lenses and dug in. 
If it sounds too good to be true, chances are that it is.
Upon a quick Google search, it was discovered TTA was a virtual public school, per their own website. While virtual public schools (VPS) are valid options for some families, they are legally different and distinct from home education in Indiana. To many families, these distinctions may seem unimportant; however, the law takes a very different view. Definitions are crucial for both accountability and for public discourse and using the same definitions in public policy is necessary.

Legal definitions exist to separate code-recognized options for education. Specifically, Indiana code offers three classifications for education: public schools, accredited nonpublic, and unaccredited nonpublic. The first option is state-accredited, public schools. These are maintained by the local school corporation and include all brick-and-mortar public schools, charter schools, and virtual public schools. These schools must follow state standards and are funded by local, state, and federal tax dollars. The second option is accredited nonpublic schools. These schools have either been state-accredited or have petitioned the state to recognize the school's third-party accreditation These schools are not overseen by their local school corporation but must follow state standards. They are considered "private" schools and include some parochial schools. Qualifying accredited nonpublic schools may receive public funding in the form of the Choice Scholarship Program (also known as "vouchers") or may be funded through private means. The third and final educational option defined under Indiana law is nonaccredited nonpublic schools. These schools are not maintained by the local school corporation, and are considered "private" schools and include some parochial schools. They are privately funded and are not beholden to state curriculum or content requirements, a.k.a the state standards. Indiana homeschools fall into this category of nonaccredited nonpublic and are prohibited from receiving public education dollars of any kind.

When I discovered TTA was a virtual public school (VPS), at first I thought of it in the same light as other existing virtual public schools. But, Tech Trep Academy is a Utah-based nonaccredited public school aggressively marketing itself to Indiana homeschooling families as a "homeschool-public school bridge program." This program disburses state education dollars to families to purchase any secular curricula, resources, or educational experiences they'd like. By our own state's code, this is neither a virtual public school nor a nonaccredited nonpublic school. Dr. Robby Goodman, Assistant Superintendent of Middlebury Community Schools (MCS), formally introduced Tech Trep Academy to the MCS school board during the July 7, 2020, MCS school board meeting stating:
Tech Trep Academy is a bridge between homeschool families or families who choose to educate their children at home at school districts. They work in partnership with the district to help families receive resources and support to help them to better educate their students by accessing state education funding and additional resources that they would not have access to otherwise.
You'll remember, based on the Indiana code, all virtual public schools must be accredited. Because TTA is nonaccredited, it has partnered with Middlebury Community Schools located in Middlebury, Indiana to bring its program to this state under the accreditation of MCS. Students participating in the TTA program are not students of TTA, but of Middlebury Community Schools. This program is open to all Indiana students, not just those living within the Middlebury school district. 
What is the MCS/TTA program offering to their enrolled students? 
Each student is offered $1,700 in "supplemental learning resources", in the form of reimbursements. Where do these supplemental learning resources come from? The answer is a convoluted sleight-of-hand requiring more explanation. Middlebury Community Schools receives local, state, and federal funding for each student enrolled in its school. The state tax dollars are called the Average Daily Membership, or ADM. According to a recent Chalkbeat article, MCS receives over $4900 in ADM funding per student. It then sends 80% of that funding to Tech Trep Academy, amounting to just under $4000. MCS keeps any local dollars, all federal tax dollars, and the remaining 20% of the ADM, roughly $998 per enrolled student. So, the money is transferred from the state to an Indiana school. Then, funds are transferred to a Utah-based company, and just under 43% of the sum received by TTA is transferred back to the parents in Indiana in the form of reimbursements. 
TTA supplies parents with a curriculum guidebook complete with lists of many popular homeschool curricula, but tells families they may purchase any secular curriculum, resources, or educational experiences they'd like for their children. Items can be purchased from religious-based companies, but scripture cannot be woven through it. TTA parents are encouraged to purchase supplemental resources with their state-provided funds such as Legos, family zoo memberships, family museum memberships, Netflix, Amazon Prime, Disney +, Hulu, sporting goods, athletic equipment up to $150, internet services, and more.
Janet Cox, Tech Trep Academy Indiana Program Director, had this to offer in a July 2020 recorded Zoom call:

In my case, many of the books and educational games and resources that I purchase with the supplemental learning funds, are given to my kids at Christmas time, birthdays, or as rewards for completing what they see as their more boring school work.
During a July 31, 2020 phone call, Lauren Bailey, self-described as employed by both Middlebury Community School as their Blended Learning Coordinator and by Tech Trep Academy as the Liaison at Middlebury Community Schools, shared that Middlebury was hiring Tech Trep to manage these kids and to disperse educational resource funds that MCS can't as the public sector.
Since 1983, the IAHE has been on the front lines of promoting and defending home education in Indiana.
Public education funds disbursed to individual families through a private business masquerading as a nonaccredited public school contracted by a public school corporation is not a legal education option in the state of Indiana. Furthermore, these actions and false promises jeopardize homeschool freedom for our entire community.
This post is the first in a series. Stay tuned for more information.