Have you ever wondered why homeschoolers need a state organization?

[UPDATED 3.2019] Years ago homeschoolers were few and far between, curriculum resources were less abundant, and connecting with other like-minded families was difficult. In those days, state homeschool organizations were the hub of all things homeschooling. Today, homeschoolers are much easier to find, curriculum vendors seem to pop up everywhere, and many networking opportunities exist, making the need for a state organization seem less obvious. 
The freedom to educate our children at home is a blessing and a constitutional right. Did you know this right is something the IAHE has actively fought to protect for over thirty years?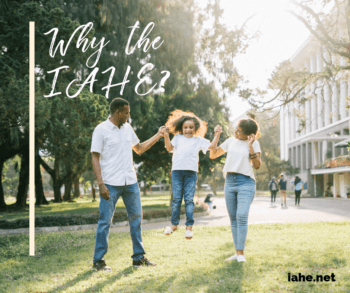 The board members of the IAHE and countless volunteers have worked faithfully behind the scenes in big and little ways to provide many "hidden" benefits to homeschoolers across the state. The Indiana Association of Home Educators (IAHE) was founded by Judge Ken and Joyce Johnson in 1983, the same year as the Homeschool Legal Defense Association (HSLDA), making it one of the earliest state home education organizations in the nation. The IAHE has been lobbying the legislature on behalf of home educators since its inception. When bills are discovered that have the potential to negatively affect homeschool rights, the IAHE contacts HSLDA for their legal opinion. If the proposed legislation has the potential to negatively affect our home educators' freedoms, IAHE heads to the State House and work to prevent it from becoming law.
The IAHE board also works closely with national organizations to stay informed about issues that homeschooling families in other states are facing in an effort to avoid those challenges here at home. IAHE also works with Dr. Brian Ray of the National Home Education Research Institute (NHERI). As a member of the National Alliance of Christian Home Education Leadership, the IAHE networks with other state leaders in the home education movement. These types of relationships provide mutual encouragement, idea sharing, and benefits to homeschooling families statewide.
To more effectively reach local communities, the IAHE provides a volunteer network of Regional Representative couples located in seventeen regions across the state. Along with the board members, these Representatives answer emails, field calls, and counsel individuals in their regions regarding home education. They work to connect and encourage families and assist in founding new support groups if there is a need. They also assist at the annual IAHE Home Educators' Convention and speak at local events. If you haven't met your Reps, please introduce yourself. Perhaps the most well-known function of the IAHE is its annual Home Educators' Convention with nationally recognized speakers and a large vendor hall. This is a great time of fellowship, encouragement, learning, and exploration for new and veteran parents. Many moms and dads count this weekend as a special time to focus on the Lord's calling to train and disciple their children. Convention proceeds sustain the year-round efforts of the IAHE and help fund community-building events for homeschooling families such as the annual State Capitol Day, Support Group Leader events, and more. Proceeds also support Homeschool Indiana and help home education related entities such as HSLDA Compassion and NHERI.
Homeschoolers can also get connected with the IAHE through the IAHE Facebook page and IAHE Discussion Group. It is easier than ever to stay connected and contribute to the Indiana homeschooling community. Today's homeschool families have more choices and opportunities than ever before. State organizations play a vital role in helping families navigate choices and make connections while supporting the very foundations of our legal right to homeschool. In Indiana, the IAHE continues to work hard on your behalf in these areas. With so many areas of impact, today, more than ever, state organizations are needed to encourage, protect, and support you as you home educate your children.
---
This article originally appeared in the Summer 2013 issue of The Informer magazine.