In Indiana, we are blessed to have laws that allow us to freely home educate our children.
The law requires that our children be in school from 7-17 years of age and that they attend school for the number of days that the local school corporation is in session, which is generally around 180 days each year.  Parents must also keep attendance records.  It is highly recommended that you join the Home School Legal Defense Association.
We are not attorneys, so we can not give you legal advice. However, Indiana law doesn't require online registration. We are aware that the Indiana Department of Education strongly encourages online registration. To get specific advice on whether your family should register you can contact HSLDA and they can provide you with your legal rights and responsibilities as far as registration with the Indiana Department of Education.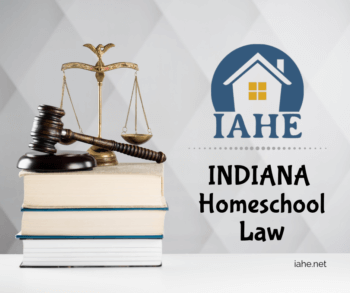 A new law below is an attempt to solve the problem of high school dropouts who are being categorized by the public school as homeschoolers. THIS APPLIES TO HIGH SCHOOLS ONLY.
Effective July 1, 2013, Section 10 of House Enrolled Act 1005, added I.C. 20-33-2-28.6, a new section, to law. I.C. 20-33-2-28.6 provides the following:
(a) This section applies to a high school student who is transferring to a nonaccredited nonpublic school. (b) Before a student withdraws from a public school, the principal of the student's school shall provide to the student and to the student's parent information on a form developed by the department and approved by the state board that explains the legal requirements of attending a nonaccredited nonpublic school located in Indiana. The principal and a parent of the student shall both sign the form to acknowledge that the parent understands the content of the form. (c) If the parent of the student refuses to sign the form provided by the principal under subsection (b), the student is considered a dropout and the principal shall report the student to the bureau of motor vehicles for action under section 28.5(g) of this chapter. The student is considered a dropout for purposes of calculating a high school's graduation rate under IC 20-26-13-10.
Legal problems in Indiana are infrequent, but membership in HSLDA insures proper legal counsel if necessary.  To see a legal analysis of Indiana law, see the Home School Legal Defense Association website.