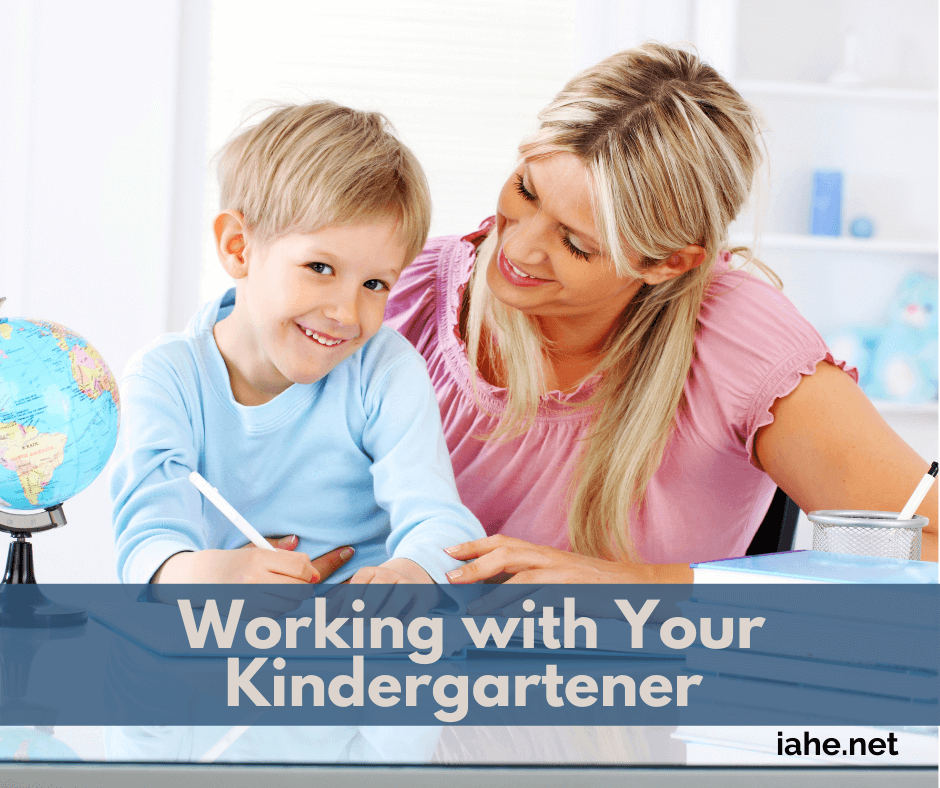 Starting kindergarten with your child is an exciting time, not just for them but for you too. At this time, you get the opportunity to build a foundation for how school will work in your family and to start shaping the perspective your child will have about learning. 
Kindergarten, as with school in general, can look different for all homeschooling families. Not all children at this age can or want to sit for an extended period of time. Some families use a formal curriculum at this age; some don't. 
Many say that while teaching kindergarten, the main focus academically should be math and reading. Every homeschool is different though, and you can incorporate whatever you think is necessary. Sandwiching in academics with play or reading is also a great way to keep things interesting and productive while schooling.
While there are many different teaching techniques that are acceptable and productive, here are a few other things that homeschool parents might want to think about before or during their year of teaching kindergarten.
Teach Independence
One thing that is good to focus on with this age range is teaching your child independence. This can be done in many different ways. For starters, it is important for your child to begin to learn basic life skills. Make a schedule or a daily routine. Let them take the lead in starting the day. 
A kindergarten-aged child is able to get dressed, help prepare food, and complete basic household chores. If you are unsure which chores you could assign, you can find a nice list of age-appropriate chores at Focus on the Family.
When your child begins to gain independence, they will also gain a sense of belonging. Their self-esteem will grow, which will benefit many things they do in life. 
Encourage Play
Just as with younger ages, play is also extremely important for kids in kindergarten. Not only does play improve children's creativity, but it also helps with brain development.
Importance of Play in Early Childhood (9 Benefits & Infographic) 
While having time to play freely, children can improve their social skills as well as their vocabulary. When getting to play with others, empathy can frequently be taught and practiced, which will help them with real-world situations. 
You don't always have to be a part of your child's playtime. In fact, it can be good to give them some time to play on their own, but when you do play with your child, it gives you extra time to bond as well as learn new things about your child's interests. 
These are just a few reasons why play is so important for children. However, there are lots more to consider when encouraging your child to play. Read some of them here: The Importance of Play.
Read
Reading is important for people of all ages, infant to adult. The majority of kindergarten-aged children are not reading all books on their own, but reading aloud to your child is just as important. Reading and listening to read alouds not only builds vocabulary and comprehension skills, but it also can teach other subjects, like math, history, and science.
Some people want to incorporate a science and/or history curriculum into their schooling schedule with their kindergarten child; however, some parents do not feel that it is necessary. That is a personal choice, but no matter what you decide, reading can teach your child all about these topics and much more. 
As mentioned, reading improves vocabulary and comprehension skills, can teach many different aspects of academic work, which is great, but reading can also teach about friendships, kindness, empathy, etc. There are books on just about every topic you can think of.
If you are stumped on what books to read aloud to your child, check these out. 
Read-Aloud Revival Book Recommendations
Along with having frequent read-alouds with your child, you might decide it is time to begin teaching your child how to read. All children are different, and some might not be quite ready to begin this venture, so you will have to do what is appropriate for your child. 
You might begin by teaching your child their letters, letter sounds, and having them begin to write. Go from there, and advance the curriculum when you think it is time. Even though it can be difficult, it is important to move at your child's pace and not yours. This will help limit the frustration for all parties involved.
Wondering where to start? Check out these links for some ideas on where to begin.
The Guide to Kindergarten: Reading and Writing
Kindergarten Reading Activities & Curriculum Standards
Phonics & Reading curricula reviews for homeschooling
Introduce Math Concepts
Math can be taught in many different ways when it comes to kindergarten. There are different curricula that go over all of the concepts needed for this age. Some of those are mentioned here: Math curricula reviews for homeschooling.
If a kindergarten math curriculum doesn't seem like a great fit for you, you have options. There are workbook possibilities if that is what works best for your schooling style. You can also practice counting, skip counting, and basic addition and subtraction with things you have around the home. Blocks are great for this type of instruction, but actually almost anything can work—beads, cheerios, pencils, stuffed animals, etc. 
Find fun activities to try with your child here:
10 Fun Math Activities for Kindergarteners
Math Activities for Kindergarten at Home
20 Kindergarten Math Games That Make Numbers Fun from Day One
Arts and Crafts
Don't forget arts and crafts. These activities do not have to be structured, but they are very important to include. Art helps develop fine motor skills, boosts creativity, and allows children to practice things like shapes, colors, and cutting.
You can give your child a specific craft to do, have them draw a specific picture, let them do what they want, or do a little bit of both. Crafting allows children to make their own decisions on how they want to be creative, and that can then improve their overall demeanor in all things. 
Art can be as simple as coloring in a coloring book or doing a free draw on a blank sheet of paper. Bring read alouds to life by drawing a picture of them. Allow your child to draw a picture of what happened in the story or draw a picture of what might happen next in the story if it kept going. 
This can be a fun activity for everyone. Here are some great resources for projects your child can do.
Art For Kids Hub – Art Lessons – How To Draw For Kids 
50 Kindergarten Art Projects Your Students Will Absolutely Love
16 Arts and Crafts Projects for Kindergartners
All homeschooling families are different, all children are different, and all parents have to do what is best for their homeschool and their child(ren). Kindergarten is just the beginning of your schooling adventures. It might sound daunting when you are planning, but just remember to have fun, play, and enjoy this first year of schooling with your child.