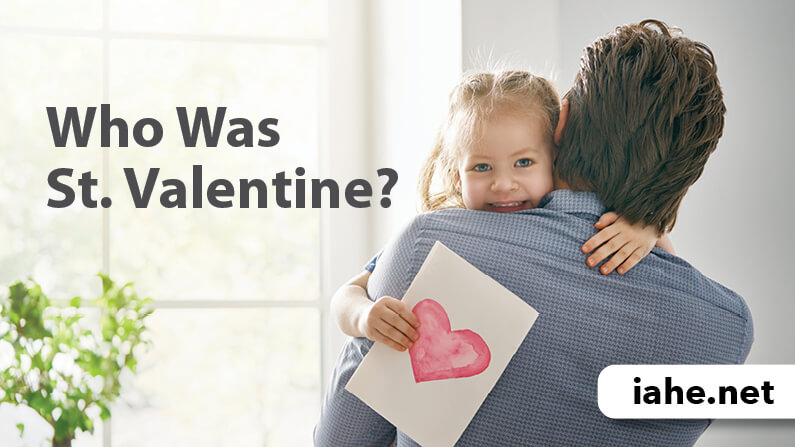 Many event days on our calendar seem to be worldly, but they actually have origins in Christian history.
Much of the history of Saint Valentine's Day remains unconfirmed, but do you know the traditional Christian origins of Saint Valentine's Day?
The Christian History of Saint Valentine's Day
By the third century A.D., Rome had conquered much of Europe, Asia, and quite a bit of Africa. But Emperor Claudius II Gothicus was determined to keep his army strong, and he decided that when soldiers got married it only weakened them in their military service to Rome. Since unmarried men made better soldiers than those with families, Emperor Claudius II made marriage illegal.
However, a Christian priest named Bishop Valentine saw how unjust this decree was. In secret, he defied the new law and continued to perform marriage ceremonies for couples.
Eventually, he was discovered and jailed. While he was awaiting his fate in prison, the jailer's daughter who was blind would visit him. They quickly became friends. And as they spent many hours talking, Valentine and the girl fell in love. According to Christian tradition, one day he reached through the bars of his cell, touched her eyes, and healed her of her blindness.
On the day of his death, he wrote a letter to his love, the jailer's daughter, and signed it, "From your Valentine." Bishop Valentine was martyred on February 14 around 270 A.D. by Emperor Claudius II. 
Marriage was ultimately restored to the Roman soldiers, but in those difficult days of the Emperor's rule, Saint Valentine was a source of hope and Christian love, determined to carry out God's commandments rather than the emperor's.
Healthy Ways to Talk About Love on Valentine's Day
If you have teenagers, Saint Valentine's Day is a terrific opportunity to talk about marriage as a Biblical concept and a gift from God. As the article from Focus on the Family below points out, signs of affection such as cards or chocolates are appealing, but love, as defined in the Bible, includes sacrificial love—a love that puts others first.
Keeping Valentine's Day Positive for Kids
Online Valentine's Day Resources for Children
The following link is the story of Saint Valentine's Day, animated for children.
Saint Valentine's Day Animated History
This video from Homeschool Pop gives some fascinating facts about the number of valentines sent each year, who receives the most valentines, and the number of boxes of chocolates given each year, plus some history of Valentine's Day.
Valentine's Day Facts for Kids
If you like Adventures in Odyssey, the radio drama from Focus on the Family, the episode titled "The Last 'I Do'" tells the story about Valentine's defiance of the third-century Roman emperor who outlawed marriage. (This resource would need to be purchased.)
Valentine's Day Crafts and Recipes
Saint Valentine's Day is also a good opportunity to talk with your children about both God's love and your love for them. Fun activities, including craft ideas such as bookmarks, door hangers, cards, and hearts, can convey the message of God's love while you add some extra creativity and fun to your day. Since Valentine's Day falls on a Sunday this year, you could make the Friday before or the Monday after a special homeschool day of fun and crafts or simply work them into your weekend.
Fun and Easy Valentine's Day Crafts for Your Kids' Ministry
46 Christian Valentine's Day Ideas for Children's Ministry
Of course, Saint Valentine's Day is a good reason to bake some special treats. The links below provide many, many ideas and recipes, from dipped pretzels to Rice Krispy treats to pink cookies to homemade gumdrops.
25 easy Valentine's Day treats to make with your kids
40+ Cutest Valentine's Day Recipes for Kids
Whatever you choose to do in your homeschool for Saint Valentine's Day and whenever you choose to celebrate, it's a perfect day to be creative, to learn something new, and to remember with your children that God loves you.