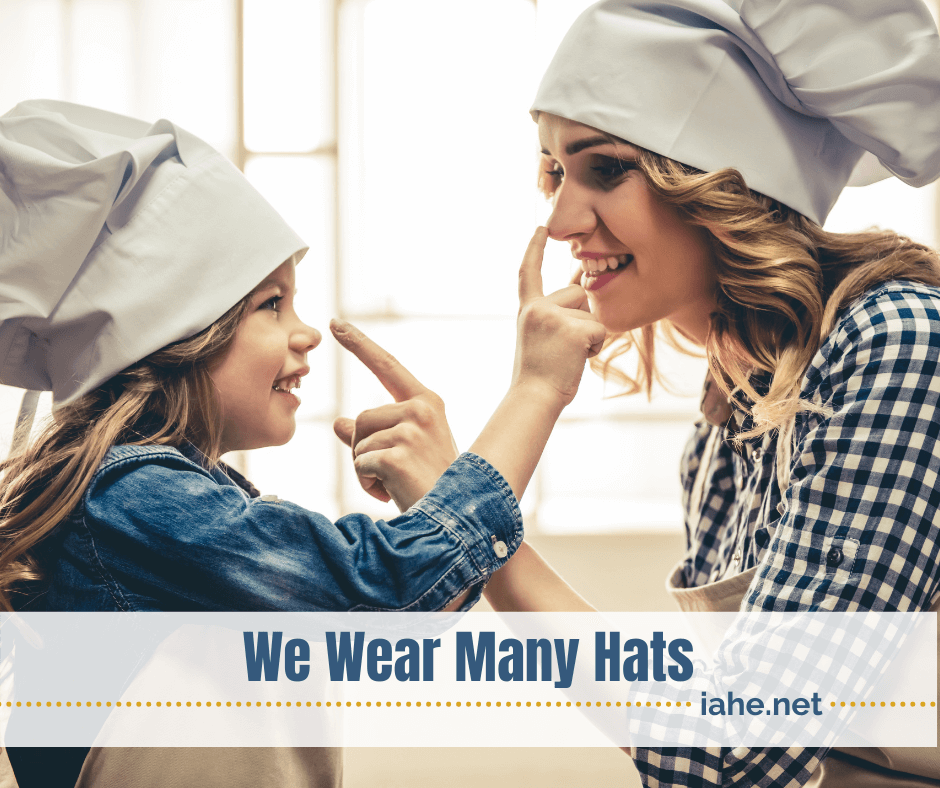 Mother's Day is just around the corner. Are you excited? Are you thankful to be a mom? A homeschooling mom? Most of us are wearing many hats—wife, mom, teacher, guidance counselor, chauffeur, referee, chief cook… When we homeschool, there may not even be a summer break from these responsibilities. That's a tall order to fill. 
Whether you are the type of mom who jumps into each school day with a smile and a syllabus a mile long or the type who fearfully tiptoes into it still wondering if you are going to be able to handle the workload, we all need to acknowledge our need for times of refueling, and I'm not talking about another cup of caffeine. Let's face it. We're holding down multiple full-time and part-time jobs, and none of us can thrive for long without regular refueling stops along the way.
Are you a mom with toddlers or babies at home right now? It's a beautiful time full of sweet moments, but it can be physically exhausting to care for young ones all day long every day. Do you have preteens or teenagers? The relationship you develop now can be a blessing for the rest of your life, but you may never have dreamed it would require superhuman amounts of stamina to deal with their emotional needs while preparing them for high school graduation. Everyone, at some point, is in need of times of refreshment.
Have you seen the marathon runners who crash and burn because they refused the refreshments offered throughout the race, not wanting to lose time? We can relate to this, right? Do you find yourself yelling at the kids more or half-forgetting that your husband even lives in the same house? Have you said more than three words to your teenager this last week? Maybe your tanks are empty.
If this sounds like a past school year or a potential future school year for you, then consider making some changes. And no guilt is allowed! Even Jesus chose to leave the crowds and seek rejuvenation upon occasion. 
Here are some ideas to bring some balance back into your life and allow you to serve your family without crashing.
Daily 
Try to spend time alone with God. You may only be able to fit in five minutes some days. That's okay. In Jeremiah 6:16, we find the Lord's people being told to walk in the way of faithfulness and obedience. Thank your Creator for the day ahead of you and ask Him for the strength to walk in His will.
Weekly
Try to spend time doing something you enjoy (without your kids). This may sound selfish, but it is not. Remember, you need time to recharge your energy reserves so that you can better serve your family. Not only that, but when your kids see you taking time to do something you care about, they will be inspired. So take that walk, brush up on your painting skills, read a book, play your instrument, work on a project. Model healthy habits for your children.
Monthly
Try to spend a larger chunk of time organizing your life and preparing for the month ahead. Whether you are a very organized person in general or a fly-by-the-seat-of-your-pants type of homeschooling mom, you've most likely noticed that even a little organization and planning can reduce the levels of stress in your home. This time can be used in a variety of ways: plan meals, review your kids' chore schedule, plan lessons, find resources you want to use, research any school projects you have in mind, fill in your calendar, and of course, figure out when you are going to take that weekly time for yourself.  
Mom, you are beautiful and needed, even if you don't feel it all of the time. I know your many hats can get heavy, but you are playing an incredibly important role in shaping who your children will become. Take time to refuel, and stay hopeful. 
Here are two articles to encourage you further.
Mom, Do You Know How Amazing You Are?