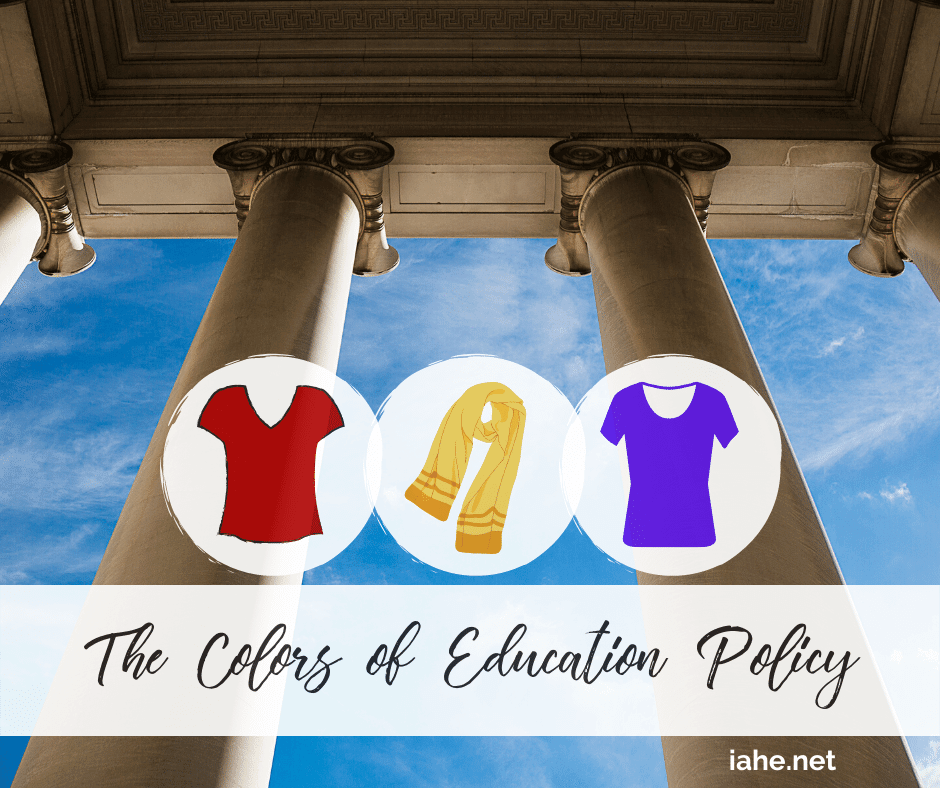 Originally written in January 2020. Updated for the COVID era. 
With scores of families seeking to escape the drastic social restrictions upon students at brick and mortar schools, it's more important than ever for all parents to understand the philosophy of emerging organizations and movements advocating for educational reform today. Homeschoolers usually do not have a vested interest in general reform recommendations, but it would be prudent to familiarize ourselves with the ideology behind these movements and their positions, lest we raise a banner we do not intend to raise at such a critical time in the history of the homeschool movement. 
The three major reform movements are: RedforEd, clad in red; Purple for Parents presenting in purple; and, School Choice which dons yellow. 
RedforEd
The RedforEd campaign became an instant media sensation in 2019 due to the massive teacher walkouts across the nation. On November 19, 2019, thousands of teachers descended upon the Indiana State House in Indianapolis. The protest was organized by two teachers' unions, the Indiana Chapter of the American Federation of Teachers (AFT) and the Indiana State Teachers Association (ISTA). RedforEd is also backed by the National Education Association (NEA). 
ISTA and NEA pass resolutions each year in their platforms stating home education cannot provide children with a robust education, affirming free student access to contraceptives, transgender bathroom policies, and other more left-leaning positions. The stated motivation for the RedforEd rally in Indiana was: increasing teacher pay, smaller class sizes, and protesting the 15-hour workplace-based professional development mandated by the General Assembly. 
In general, many people do not object to increased wages for teachers or smaller class sizes. However, it is concerning that the legislature has increased education spending every single year (2.5% increase was passed just last spring), yet the teachers and classrooms see little improvement. Based on charts at the State House that day, school administrative overhead has enjoyed 31% growth from 2007-2016, while students saw -3% and teachers -3.5%. The data seems to indicate the problem may not entirely lie at the State House. 
As the spouse of a teacher, I am certainly sympathetic with teachers on wages and class sizes, but the answer to these issues needs to come from a combination of local school administrations, school boards, and the General Assembly. A campaign just aimed at one entity to solve these multi-level problems has a whiff of the NEA's former consultant, Saul Alinsky. His famous rule to, "Pick the target, freeze it, personalize it, and polarize it," seems to have been in full play. 
Purple for Parents
Purple for Parents began in Arizona in response to RedforEd and advocates for parental rights. Many people involved in the Purple for Parents movement, particularly parents, are pro-public school, pro-school choice, and pro-teachers. They are invested in their communities and have grave concerns about the direction RedforEd is pushing education policies. Overall, Purple for Parents rejects the liberal policies unions have supported such as transgender bathrooms, abortion on demand, Common Core, social-emotional learning, and political activism in the classroom. 
Homeschoolers are likely to stand with Purple for Parents on many issues. While homeschoolers may not have children in public schools today, we may have future family members occupying seats in those schools. As such, we have a keen interest in following what Purple for Parents advocates for. 
An Indiana chapter of Purple for Parents was founded in 2019 by a former public school teacher seeking to give parents a voice in the public/charter/private school landscape. As a parental-rights advocate for homeschoolers in Indiana for the last several years, I applaud this new voice for parents and children in traditional school settings. It is a voice that needs to be heard. 
Many Purple for Parents members have questions about homeschooling or are considering it as an option. They may be pro-school choice and advocate for homeschool vouchers or education saving accounts (ESAs), not understanding how this position can actually have a negative impact on freedom. 
School Choice
While the words school choice are often used generically, the School Choice movement is also a powerful national lobby, and individuals across the country flood individual state houses every January clad in yellow scarves to promote their cause. Far beyond a benign cry for individual choice, the School Choice movement primarily advocates for tax dollars to follow the child, either through voucher programs used to fund charter and/or private schools or through Educational Savings Accounts (ESAs) for individual families.
The School Choice movement has been alive and well in Indiana for many years and is the oldest educational reform organization operating in Indiana. Often Indiana is ten to fifteen years further down the track on school choice policies than most states. While the most common area for School Choice support comes from public online and charter schools, supporters come from all walks of educational life: public, public innovation, public online, private, charter, and even homeschool. 
Certainly, parents should have the authority to send their children to the schools they think best for their unique child. Homeschoolers have exercised this right to the fullest extent by choosing to opt-out of the government school system. On the other hand, a popular school choice legislative model from the American Legislative Exchange Council (ALEC) called the "Indiana" plan pushed by school choice advocates, incorporated homeschoolers into their voucher/ESA programs. The rub comes when the topic of taxpayer money is discussed.
Pandora's Box of Government Money
Accepting taxpayer dollars to assist with homeschooling is the same as asking the government to enter your home. Many homeschool families left government schools to avoid regulation, high-stakes exam culture, and one-size-fits-all instruction. Accepting taxpayer money is an agreement to allow those problems back into your child's life. A former senior policy advisor at the US Department of Education, Charlotte Iserbyte once said, "What the government funds, the government controls." Those words are still true today. 
A prevalent false belief is that it is expensive to homeschool. People imagine hefty curriculum bills, but that doesn't have to be the case. There are many free or nearly free curricula for families to utilize. For decades now, one and two-income families have managed to successfully home educate their children. Homeschoolers use creativity and resourcefulness when it comes to their children's education and their budgets. 
The larger financial impact can often be the loss of income if one parent decides to be a dedicated home educator. To my knowledge, vouchers and ESAs cannot be used to make up family budget shortfalls and government money will do nothing to make home education more feasible. The wealth of non-traditional curriculum options that have developed over recent decades makes it possible for parents to act as a learning facilitator vs. a full-time educator, allowing many to continue working while homeschooling their children.
When asked if opening Pandora's Box of government dollars for home education would lead to increased regulation, School Choice advocate Corey DeAngelis recently stated "…the threat of regulation is always there. It's a potential cost." He also states that it's worth the cost. 
But, is it worth the cost in Indiana?
The problem with comparing national educational policy recommendations is they are often viewed without consideration of the vast amount of homeschool freedom we currently have. Indiana is among the top five best states to homeschool in the entire country, and our laws recognize and respect parents' right to direct the education of their children. The use and promotion of taxpayer dollars for homeschool families in more regulated states does not cost them more freedom than what they have already been forced to give up.
Applying national policy platforms to a free state is similar to asking a doctor to treat an unfamiliar patient for an unknown ailment. While a standardized treatment protocol may not be problematic for 90% of the population, it can be harmful or even deadly for some. As a free state, advocating for tax-payer money in Indiana will cost dearly. These rights, once forfeited, may be gone forever. Is this a price worth paying for generations to come?
When the lines between the home and government are blurred, the ability for the government to remove parental rights, in the home, or in our schools, through regulation increases dramatically. It is much harder, if not impossible, to remove government regulation from a home than to keep it out from the beginning. If we buy into the falsehood that education cannot be done successfully without government money and involvement, we will see more employers refusing to recognize legally granted diplomas of non-government-funded homeschools. Ironically, we know education can be done to a higher standard without any government red tape entangling us. 
Giving vouchers or ESAs to homeschool students allows schools to continue to push poor-performing students out to protect their A-F school grade with the state. Given the recent investigative reporting published by Chalkbeat on this very problem, taxpayer money entering homeschools would be a Pandora's box of new unintended consequences. 
2020 Challenges
In the face of much uncertainty in 2020, we can be certain that government money leads to strings. With so many families across the country looking for options this year, there is a lot at stake for the future of both public education and home education. Parents looking for a temporary solution can not grasp the long-term potential of how easily government money can and will deprive homeschooler families of the liberties they currently enjoy. 
We can never forget that there are national organizations actively advocating for increased homeschool regulation, and school choice is the backdoor used to coerce regulation. It's vital that new homeschool parents understand the incredible homeschool freedom we have in Indiana, how hard we have worked to maintain it, and yet how quickly it can be lost. 
LEARN MORE