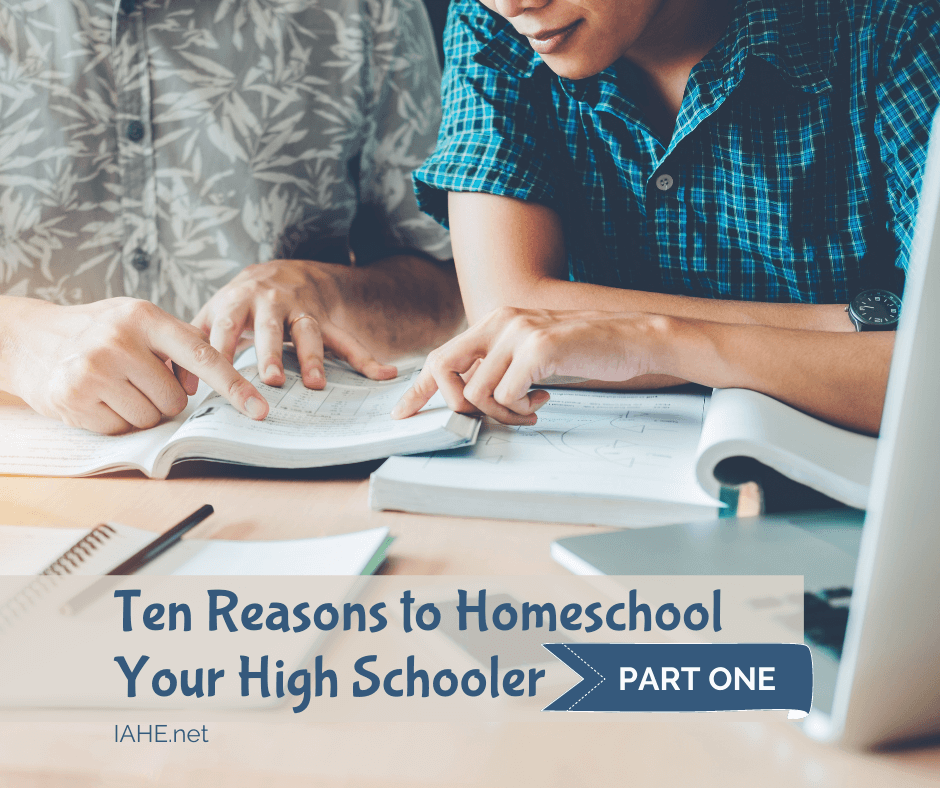 Part 1 of a 2-Part Series
When I was in high school, eons ago, the common saying was that high school would be the best four years of your life. Many homeschool parents balk at the idea of tackling high school subjects and activities for their teen children, but homeschooling your high school children can be the best four years of your life as well as theirs.
I have graduated two who were exclusively homeschooled; both are now in college and on the Dean's List each semester. I am currently homeschooling two more in high school, and I have two younger ones who will be in high school in just a few years. Quite frankly, the high school years have been the most rewarding and most exhilarating of all my homeschooling years. I wouldn't trade those years for any job or amount of free time. 
Let me give you ten reasons why.
You Can Continue to Influence Your Teenager
If your teenager is in school, a huge chunk of their time is spent there, being influenced by teachers, peers, curriculum, and activity choices. You may or may not agree with all that is being taught and caught at their school. Even if you are passing on your faith and values at home, the sheer number of hours spent under the influence of the school will have a powerful effect on your teen. 
However, if you homeschool your child, the primary influence can continue to be you. You (not teachers or peers) can nurture and guide in matters of faith, morals, values, relationships, and family devotions, as well as encourage your child to seek the Lord for future direction. Simply having extra time together opens up innumerable opportunities for talking and relationship-building, with some guidance and advice woven in.
You Can Continue to Teach History (and Every Subject) as You See Fit
It's no secret that the teaching of both United States history and world history is being eroded in the public school system. Some parents may have a problem with what is being removed from or added to history courses in schools. With homeschooling, whether you create the curriculum yourself or buy a boxed curriculum, you can be sure to include the truth. 
In fact, you can teach every subject as you think is best, in a way that fits your family's worldview and that is appropriate to your child's learning style. For example, to study science,  my children have all used a Christian science curriculum. It teaches creation as the true origin of our world but also includes information about evolution so they will know what others are taught. I chose that curriculum to fit my family's science goals, but I would not have had that choice if my teenagers were in school.
What our teens are taught during these formative years can and will have a tremendous impact on their view of our society and the world and will shape them into the type of citizen they will become.
You Can Provide Vocational Guidance
High school is the perfect time to guide a child into decisions about what to do with their future, and no one is more fit to help him or her than you, the parent who knows them best.
 Perhaps your child is feeling led toward a skilled trade. Apprenticeship programs can begin in the high school years. A friend's son was a working electrician upon graduating high school.
 High school can also be a terrific time to develop a bent toward an entrepreneurial endeavor. A business that is started in high school can continue to be developed into a family-supporting career. At the very least, your child will learn skills that could benefit them far into the future.
 All of these options can be completed alongside the valuable counseling of godly parents or grandparents or a pastor.
Career assessment tests can provide some guidance for you and your teen and can even include helpful information about what classes to take in high school, possible career options, and suggestions for further research about the field.
Career Test Free for Students in High School, College, Teens, and Adults
Top 11 Career Aptitude Tests For High School Students
Life Purpose Planning is a ten-lesson program designed to help teens discover their God-given purpose.
Apprentice University provides both in-person classes and apprenticeships that provide on-the-job training and a connection to experienced professionals.
You Can Ensure That They Have Time to Pursue Their Passions
Activities or projects can build their knowledge and skills in areas they are passionate about. The flexibility of homeschooling can provide ample time to pursue these passions. These might not count as core academics but can be just as important in your child becoming who God made them to be. They can also develop skills that can be used in the future in an entrepreneurial endeavor, a career, or raising a family. And many projects and pursuits can be counted as elective courses.
 All six of my children have been involved in Taekwondo and have earned the rank of black belt. Soon, the oldest three will earn their Instructor's Certificate and are contemplating opening their own school. We did count TKD as a P.E. credit, but the skills they have developed could be used in an entrepreneurial endeavor should they so choose. 
Maybe your child wants to develop their artistic skills through entering art competitions. Maybe you have a child who loves books and can help build a library at your church. Maybe your teen is technology-minded and could develop an app for the church or a local ministry. If you homeschool them, time abounds for interest-led pursuits.
You Can Help Your Teenager Become a Motivated, Independent Learner
We want our sons and daughters to grow up to be creative, innovative, problem-solving, self-motivated individuals who do and learn so much more than just what they are told. Homeschooling our high schoolers gives us the chance to gradually put more and more responsibility in their hands and guide them to become independent and life-long learners—a skill that will benefit them greatly throughout the rest of their lives.
 Schools have, at times, been known for squelching creativity and curiosity, and some colleges are trying to make up for that deficiency. My oldest's college freshman English class included practice sessions and sections of reading on how to practice curiosity and creativity. Her classmates seemed to be in awe of these new ideas and somewhat uncertain of writing an essay that didn't include the standard five paragraphs of introduction, body, and conclusion. My homeschool graduate, though, who had been nurtured and encouraged to be creative and a free-thinker, found the exercises somewhat boring and relished the freedom of form in writing her paper.
Discuss and plan goals for the month or the year, and involve your child in planning their courses. If there is a subject that interests them, take a trip to the library or the book store or find a knowledgeable mentor, a class, or a workshop. Creativity and curiosity are also found in moments of quiet contemplation, and limiting their use of electronic devices can increase focus and inquisitiveness. 
If you found these first five points helpful or thought-provoking, be sure to read next week's blog post for five more suggestions in Part 2 of this series of Ten Reasons to Homeschool Your High Schooler.