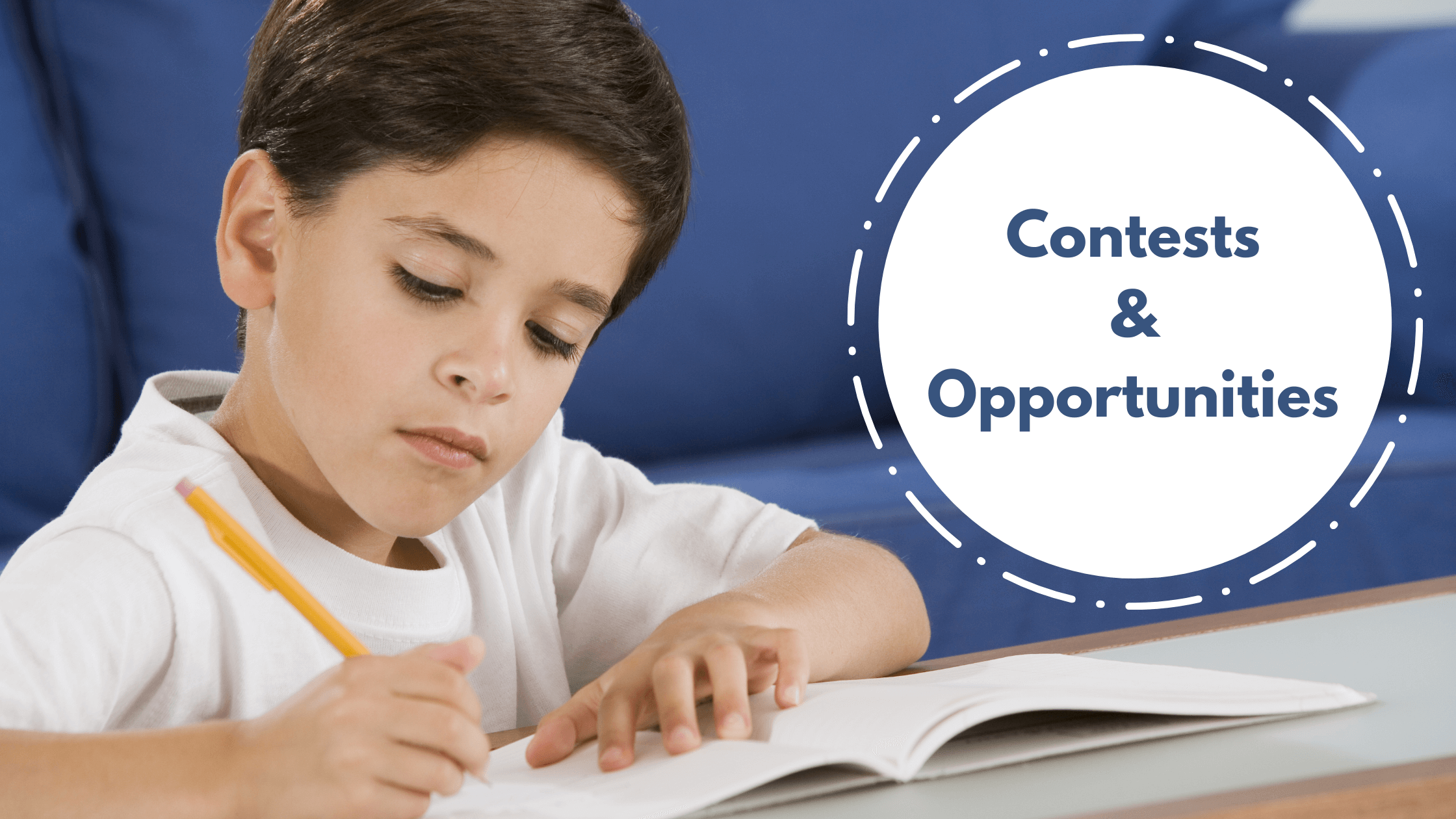 Contests can provide a healthy opportunity to motivate our students to do their best work. With their varied topics, they offer your student a chance to explore and learn about a subject, person, part of history, or field they may not be as familiar with. It can also give them insight into their strengths, and likes and dislikes, even if they don't win. Winning is not everything, and the knowledge and confidence gained from trying something new can benefit them throughout their lifetime.
This page is provided as a service to our families looking for this type of enrichment.
Do you have a contest or opportunity to share? Email us.
The IAHE does not endorse the organizations or contests below, and the content provided is for information only.
Contest
Description
The Statehood Day Essay Contest
The Statehood Day Essay Contest is an annual contest that is open to all Indiana fourth graders.
For more information, visit Indiana State Library: Statehood Day Essay Contest
American History Essay Contest
This contest is open to students in grades 5-8. Guidelines are listed here: Essay Contests | Daughters of the American Revolution
Indiana Junior Duck Stamp Program
A student must make an original 9" x 12" stamp featuring a native duck, goose, or swan in the correct habitat. More information can be found here: Indiana Junior Duck Stamp Program – Muscatatuck
The Greenberg Playwright Competition
The Greenberg Playwright Competition is an annual script writing competition. The winning scripts will then be practiced and performed the following year.
The Congressional Award
The Congressional Award Program allows participants, ages 14-24 to earn bronze, silver, or gold certificates or medals based on goals set in four different areas.
Miniplay Playwriting Contest
3rd-12th grade students are called to participate in this long standing event. The Miniplay Contest awards 1st, 2nd, and 3rd place winners.
Indiana Science Olympiad
Indiana Science Olympiad – Indiana Science Olympiad works to celebrate science education with students. In doing so, regional tournaments are held yearly for grades 6-12.
Bill of Rights Student Contest
With a deadline of October 31, the Bill of Rights Day contest encourages students in grades 3-12 to send in writing and/or art showing the importance of the Bill of Rights.
HSLDA Essay Contest
HSLDA Essay Contest is sponsored by the Institute for Excellence of Writing and is open for students ages 7-19. There are three different writing themes, depending on student age, and submissions are due by November 1.
The National Society of the Sons of the American Revolution (SAR) Awards and Contests
National Society Sons of the American Revolution has a list of several different contest opportunities. Check out their list to see if one interests you.
Voice of Democracy Audio-Essay Program
The Voice of Democracy is a VFW sponsored audio-essay program, and it awards the student winner with scholarship prizes.
Bennington College Young Writers Award
The Young Writers Awards are given out annually through Bennington College. Students in grades 9-12 are invited to submit writing in either a poetry, fiction, or nonfiction category. Awards are given out to 1st, 2nd, a 3rd place winners.
Scholastic Art and Writing Awards
Scholastic Art and Writing has a list of several contests where they offer rewards for teens in grades 7-12 or ages 13 and up.
River of Woods Contest
Saint Mary's College holds an annual art and writing contest. River of Words Contest invites students from grades K-12 (ages 5-20) to share their work.
Patriots of the American Revolution Essay Contest
The Patriots of the American Revolution Essay Contest is for high school students and is hosted by Daughters of the American Revolution.
Virtual Art and Photography Fair
Now accepting entries for the SchoolhouseTeachers.com PreK–12 Virtual Art and Photography Fair. Visit the Activity Calendar section of your Member Dashboard to learn how to submit your child's artwork. Accepting original paintings, drawings, sketches, photography, sculptures, etc. submitted via clear digital photo for website display. Award certificates presented for first, second, and third places!