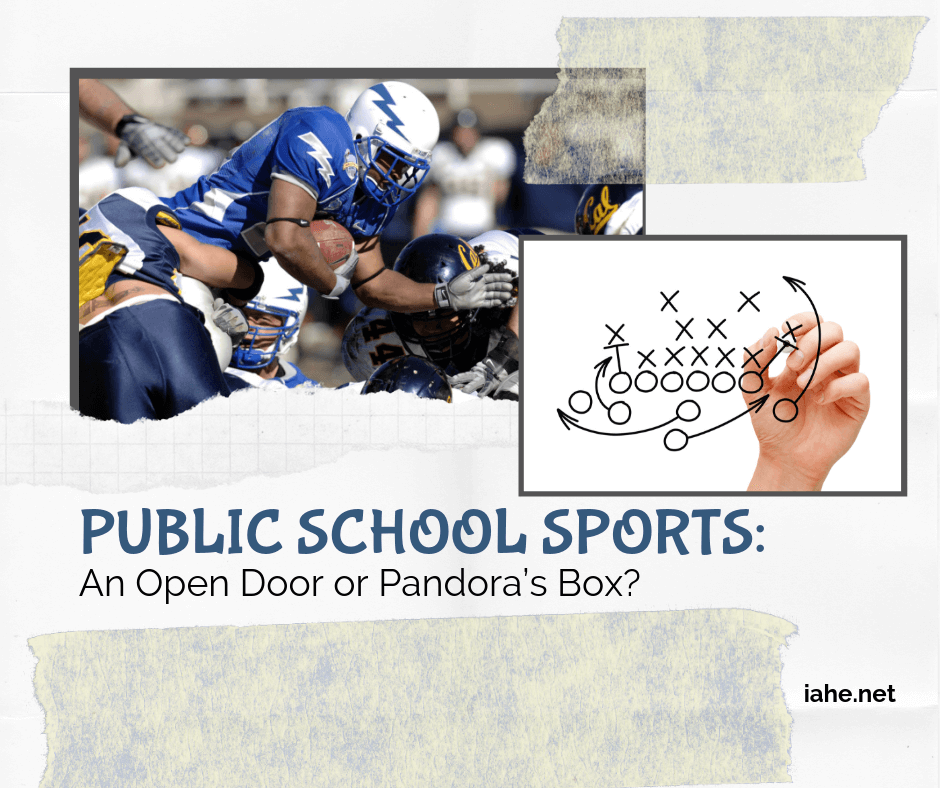 In 2013, public sports programs were open for the first time to homeschool families. Each school district was given the authority to set their own participation guidelines. Since that time, many families and school districts have navigated these rocky waters. The following article was first published in the Fall 2013.
This fall winds of change will blow over high school practice fields and through gymnasiums in many Indiana public high schools. A new breed of athlete is looking to leave a mark on the field of play, but these are not the freshmen who annually seek to fill the cleats of those who have graduated. Instead, this is a new student altogether. Home educated athletes now have the opportunity to compete on school teams, according to a recent decision, "at the Indiana public school serving the student's residence."
In April, the Indiana High School Athletic Association (IHSAA) Board of Directors thrilled many by unanimously approving students from "non-public, non-accredited" schools for participation on public high school athletic teams, but with conditions. Is this a wide-open door of opportunity? Or, will this lead to unintended consequences for Indiana home schooling families?
Some will point to the international fame of homeschooled athletes Tim Tebow, Bode Miller and Michelle Kwan and claim there is a place at the highest levels of competition for those who are independently educated. They are correct. However, for every Tebow, Miller and Kwan, there will be scores of students who could suffer unnecessary disappointment, and even pain, for choosing this new route before careful consideration. Time will reveal both the opportunities and risk. Cautious steps are needed for families choosing to test the waters of public high school sports. 
Before you rush to your local high school's Athletic Office, here are five questions to consider:
What are the educational values and goals for your family?
Why did you choose to homeschool and will this partial integration with a public school compromise your educational purpose? When asked to comment, IHSAA Commissioner, Bobby Cox, suggested those families who are "staunch believers in not being dictated to" should proceed with extreme caution before enrolling a student in one class simply for access to a certain team. Whether that describes your family or not, it is wise to revisit your purpose for homeschooling to evaluate any risks such a decision may invite.
What benefits are you looking to gain—and can these be found through other avenues?
There was a day when scholarships, or any opportunity to play at the collegiate level, were nearly impossible without the showcase of school teams. That day is past. But, for some, especially those in remote areas, there may not be other viable options. For most, though, opportunities do exist through various homeschool teams (soccer, football, cross country, etc.), AAU teams, and club sports.
Still, the skilled coaches at some public schools may offer training your young athlete may not easily find elsewhere.   
Have you investigated the public school experience?
Commissioner Cox warns of the importance of this step. If you have had other children attend a public high school, you may grasp well what your current student is likely to experience. If you have not, as Mr. Cox said, "Investigate the school experience thoroughly. Understand what your child may face."
Who will influence your son or daughter?
Meet with and hear from the coach who would influence and shape your son or daughter. As best as you can, make sure he/she, because of solid character and enduring integrity, is worthy of the privilege of coaching your child. Not everyone in a leadership role is worthy of being followed. There are some, like Lance Sheib, Head Football Coach at Noblesville High School, and Cary Chandler, Head Basketball Coach at Triton Central, who stand apart because of their character and faith. While many parents would welcome coaches like these influencing their children, they are more the exception than the rule.
Is your child a Daniel or an Esther?
Granting that character formation is an on-going training process—and one most of us engage in with diligence—the culture of the classroom (and more so the locker room) presents a real challenge even for the mature.
Before you make any decision, honestly assess: Is your son a Daniel who will, in the midst of incredible pressure, stand by his convictions? Is your daughter an Esther who will not yield?
We all desire the answer to be "Yes!"—and not only for the sake of sport. Is this the strength of character he/she possesses now? While many students will be able to play for their local high school, not everyone should. Some do not yet know how to guard their hearts and stand alone for that which truly matters.
While it may appear otherwise, the purpose of this article is not to oppose families testing these new and mysterious waters. It does seem clear the open doors, now available for many, will lead to opportunity. Still, Commissioner Cox's warning must be remembered: This isn't for every family. This isn't for every student. For many families this would amount to lifting the lid to a Pandora's Box of unintended consequences.
Some will consider these questions and join the ranks of public school competitors. Others will answer and determine to stay the course they are on. As a homeschooling community, with eclectic purposes and needs, we are called to unity within our diversity, to support each other as we are linked by many common bonds, but also to encourage one another as our individual callings and pioneering send us to new, unexplored opportunities.
Proceed in unity—and with caution.
IHSAA Criteria for Athletic Participation
The student, in conjunction with his/her home school teacher(s) and the public school serving the student's residence, pledges to the IHSAA that the spirit of the eligibility rules will not be compromised.

The student has been home educated for the previous three years in succession.

The student completes any state-wide examinations authorized by the Indiana Department of Education (e.g. ISTEP, if the student is enrolled as a sophomore)

 

The homeschool agent provides proof of meeting the provisions of Rule 18‐1 of the IHSAA by‐laws (which can be found at www.ihsaa.org).

The student must be enrolled and attending a minimum of one full credit subject offered within the member school building.
Ken Snyder, and his wife Chris, have homeschooled their two children for ten years. Ken is the co-founder of the Indianapolis Crimson Knights, a Middle and High School football program for homeschool students. He is dedicated to partnering with parents to grow current and future leaders.