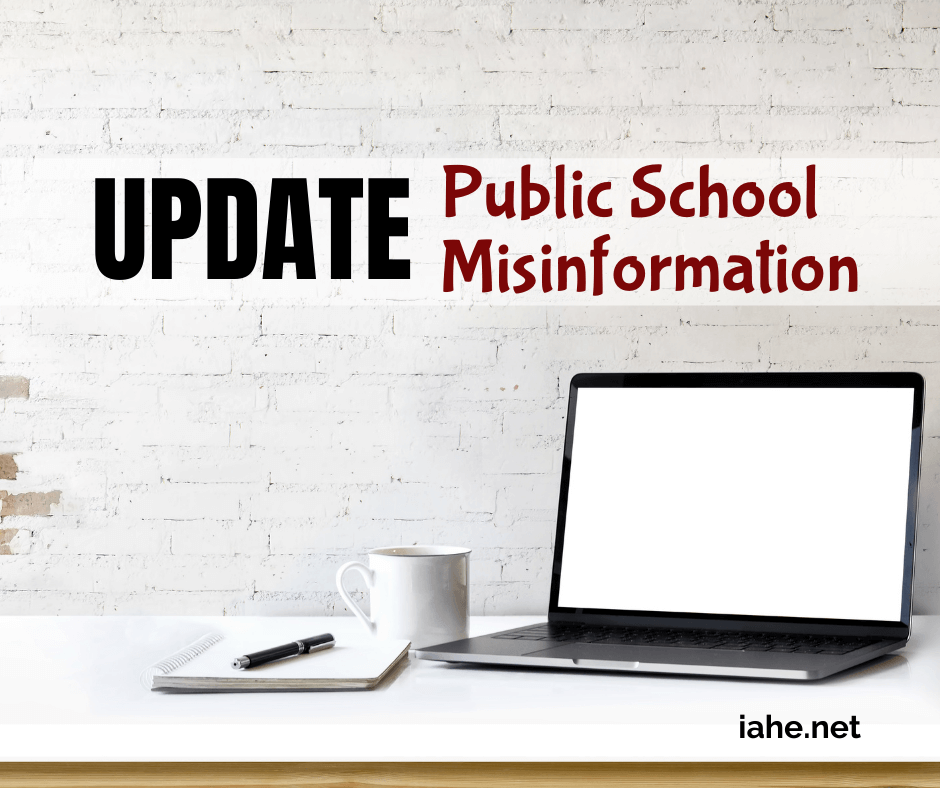 Since that time, our team has continued to receive inquiries from parents being pushed by their student's public school to complete a homeschool "registration", even though no such registration exists in Indiana law. Public school principals are telling the parents to "register" their homeschool prior to the school "approving" the parent's "request" to homeschool, even though they have no authority to approve a parent's right to homeschool. In some cases, the principals are reporting the enrollment of the children on behalf of the parent, even though the enrollment reporting form states "Only parents and legal guardians may complete this form".
Some schools have even threatened parents with being turned over to the Indiana Department of Child Services for exercising their right to NOT report enrollment to the state.
Other families have reported persistent phone calls from school employees pushing them toward the school's virtual learning options instead of homeschooling. Some school districts have even turned over the names and addresses of families that have withdrawn their child to homeschool to 3rd-party service providers, only to have a Virtual Public School employee show up at their door in a recruitment effort.
Why the large surge in overreach this week?
Today is the final day for schools to "count" students in order to keep as much funding as possible.
Today is "count day," the day in which schools count the number of students they're serving in the fall semester – a figure used to determine their funding for the first six months of the school year.
As we stated back in July, we recognize that schools are overwhelmed with meeting the needs of families in the face of the current pandemic. But, there is no justification for the continued overreach resulting from inaccurate information from the Indiana Department of Education. 
Do you want to help?
The IAHE works year-round to provide correct information for parents and school employees. Below is just a handful of the reports that we've received in the past couple of months. You can help support the work of our organization through membership and donations.
After turning in my withdrawal letter to the school last week, I have received an email from doe.in.gov confirming my HomeSchool verification. I HAVE NOT personally filled out anything to register my homeschool. I am assuming that the school took it upon themselves to do so. Since it is not a requirement in the state of Indiana, I had no plan to register.
They had me sign a form that was only intended for high school students. My children are in elementary. I am aware this is a standard form that all (WYZ) County schools have parents sign. I just want schools to be informed that this form is not required by Indiana law unless you have a high school student. These forms should not even be given to schools that are not high schools. Public schools deal with enough paper work. They should not be forced to give out more paperwork than they need to. They work hard enough. (Our elementry school) is an AMAZING school and I applaud and appreciate all they have done for me and my family. I just want all of the staff aware that this extra paperwork is not required for elementary schools on Indiana.
The secretary called me asking how my son was doing with homeschooling. Then she said they are offering virtual school again for 2nd semester. I feel like I'm being checked up on, like I'm not to be trusted with my son's education.
Sent notice of withdrawl for incoming 8th grade student. Vice Principal emailed form to fill out for "withdrawl to non-public, non-accredited school" that indicated withdrawl would not be processed until it was returned. Form states Indiana Code 20-33-2-28.6 which applies ONLY to high school student withdrawl.
My son was a student at (ABC) Elementary School. I had already planned to homeschool before all of the covid stuff happened. I used the withdraw form from IAHE website to withdraw him, but the school is telling me that I have to fill out and send in the form from the state which is a form for a high school student. My son has never been in or enrolled high school, he is special needs, he is 13, but he only finished 6th grade this past year. I decided on homeschooling because he was falling so far behind in school and having horrible behaviors, he absolutely thriving so much since being out of school! They have told me that if I don't send in the high school form that they would have to contact tbe truant officer and that they didn't want to do that. I took that as a threat and it made me really uncomfortable to try to defend myself as to why I didn't feel it necessary to send in a form for a high school student. I don't want to send the high school form in because I feel that it could possibly be used against me as being invalid since my son isn't a high school student.
The school asked me to fill out and return a form for withdrawal for high school students. If I do not fill out the form it says they can notify the BMV so she will not be able to receive a drivers license when she is older. It also states that homeschool is not an appropriate curriculum even though they know that homeschool laws state there is no specific curriculum you have to follow. Along with stating that homeschooled students will not receive a diploma. This is an elementary school, my daughter is only seven years old, and I have already given them my withdrawal letter.
A week and a half ago the principal wouldn't allow me to pick my son up from school. I had sent a notice of withdrawal and he then refused it and continued to mark my child absent until I came in to fill out forms. I went in 2 days after notification was submitted to retrieve my sons items and they enforced that I have to fill out the papers or he would still be a truant student. I informed them I was aware of the law and the state procedure as I've already withdrawn my daughter to homeschool her and I didn't have to fill out anything but they kept coming at me telling me I had to.
When I called to tell them I was taking my kids out of homeschool the principal was like a car salesman trying to get me to stay with their school anyway he could. He even went as far as to lie and act like he knew both of my kids, which he has never officially met or talked to either child personally. He said how sweet they were, and how sad he was to see them go. Then when he realized I was serious he was trying to intimidate and scare me by saying I have to choose an accredited homeschool, he said, because some families just act like they're homeschooling but do it for the money which I didn't even know you got money for homeschool. I'm pretty sure we're going to be having to pay a good amount of money, but we can't really afford, but we are going to do anyways because my kids deserve a better education, and not to be indoctrinated by the government public schools. But he was just pretty much trying to insinuate that is what I was going to do & acting like I would be neglecting my kids. They have never been easy to work with and they don't even try to help my daughter with special needs. They got the funding to give her the special help for it but then all they did was cut back her work so she wasn't learning as much, and they still got their funding. This along with him treating me like I was at a timeshare and had to buy my part in the school because they "cared" so much, which was really just about the money, is why I am saying this report. As for accredited homeschool, I found out is not even possible unless it's through public schooling. He was blatantly lying to me trying to get me to stay there. To me that is wrong and definitely over-reaching.