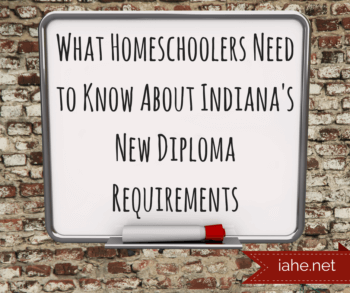 IAHE wants homeschoolers to be aware of the recent State of Indiana diploma requirement changes that were voted on by the State Board of Education. To be clear, homeschoolers are not bound by these requirements, but we believe you need to know how they could indirectly affect your homeschool student with college entrance or employment.  Read more here and here.
As of October 2015, issues related to legislation that affect your homeschool liberty have been posted on the blog of our sister organization, IAHE Action. This organization was formed to enhance IAHE's work of protecting homeschool liberty.
Be informed about important issues that affect your home school by signing up for legislative updates here.
See the new Indiana diploma requirements here.