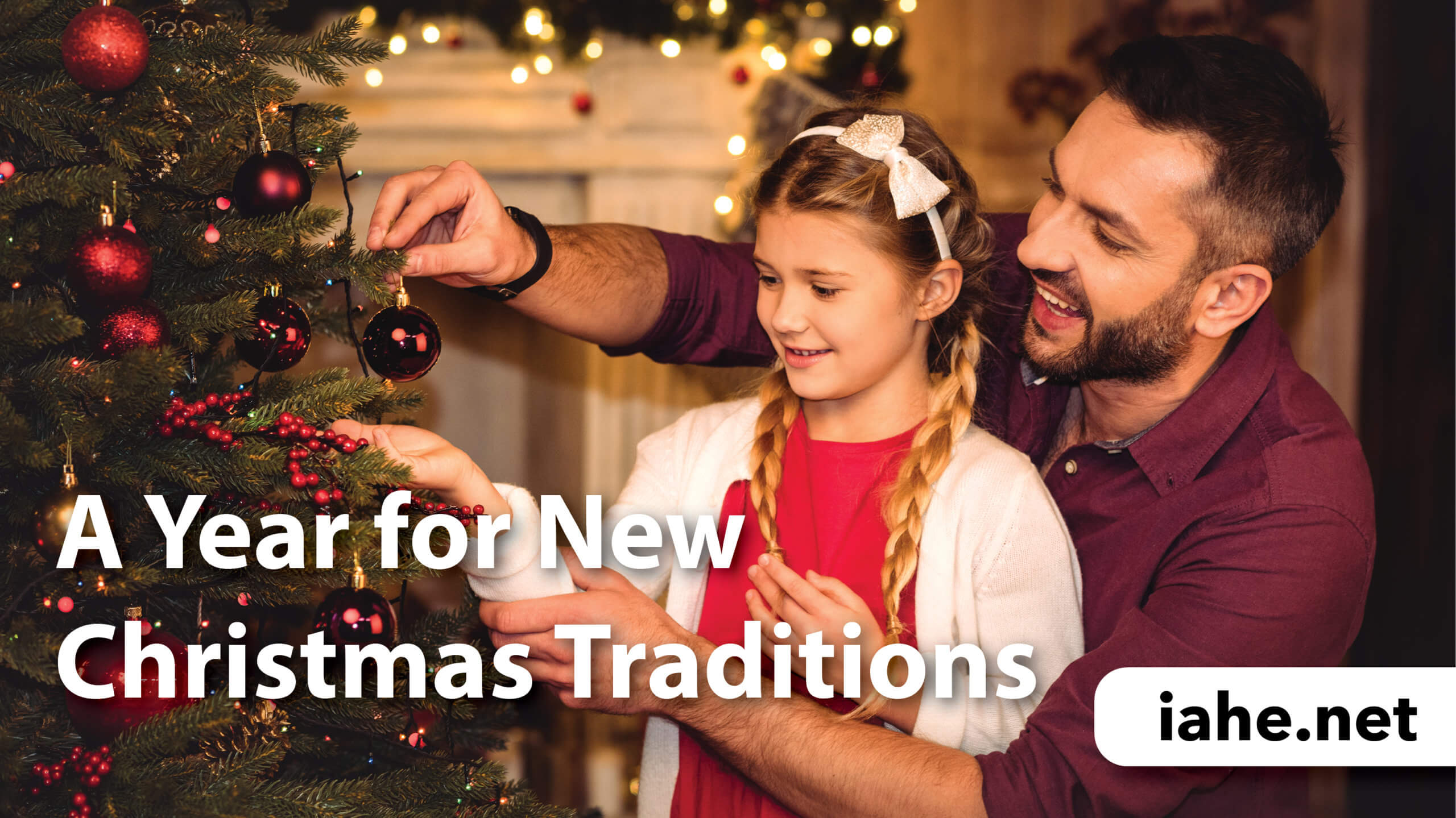 Are you on Plan A, B, or C for Christmas celebrations this year?
For many of us, our hopes for big family gatherings will not be happening. However, that does not mean we cannot still have a beautiful, warm, memorable time celebrating the birth of Jesus with our children. 
Have you wished that you had stronger, more meaningful Christmas traditions in your family? This could be your year. Homeschooling for my family is not just about the academics—it is about developing deep, warm relationships between all of us. Christmas traditions help us do that.
Traditions are beliefs or customs that are passed on from one generation to the next. Meaningful traditions can add depth to your celebrations and bring your family closer together. They also bring stability to your children's lives. When everything else in the world seems off, your children can find comfort in the routines and traditions you establish. They will look forward year after year to these traditions and can carry them into their own future families.
Christmas tradition possibilities are endless, but here are a few to get you started thinking.
Read Luke 2 on Christmas Eve—with a twist.
This is a special time for our family. Each Christmas Eve, we snuggle up with our kids by our Christmas tree and read Luke chapter 2 aloud. Now here is the twist. Read through Luke 2 again, but this time stop at certain points and see if your children can fill in the next few words or the next phrase. Each year, our children get better and better at this, and the older ones pretty much have the chapter memorized. It's a fun game that also hides God's word in their hearts.
Play "Name That Tune."
This is a sure way to inject some laughter into your holiday time. Print the list of Christmas carols below. Divide into teams or play individually. Take turns humming the beginning of a Christmas carol while the others try to guess the name as quickly as they can. Some will probably be pretty easy, but if your family is at all like mine, your children will try to pick the most obscure Christmas carols that hardly anyone would recognize. Each year they dig a little further into obscurity. Good luck!
Here is a list of Christmas carols to get you started.
Bake a treat they can count on every year.
We bake many different foods throughout the year, but cinnamon rolls—cinnamon rolls are our special Christmas treat. They only happen once a year (ok, a couple of times we have made them when it's not Christmas). My children look forward to these for months ahead of time. They specifically associate baking cinnamon rolls with Christmas. 
This is a tradition that goes deeper than just the food. Don't get me wrong. We love food, but this is more than that. The baking and the eating are full of memories for our family. 
On Christmas Eve, we turn on the Christmas music, make the dough, roll it out, fill it with all the good stuff, roll it up and slice it. The rolls go into pans in the fridge overnight. On Christmas morning, after the dough has warmed, we bake them and slather them with cream cheese frosting. We enjoy the fruit of our labor until we are stuffed! My children never tire of this tradition. It carries memories with it, and each new year we add to those memories.
Here is the cinnamon roll recipe that we have enjoyed for years.
Maybe your special treat tradition will be roll-out Christmas cookies, or popcorn balls, or candy cane cookies. . .
Play a Christmas trivia game.
Many of us are familiar with the general story of Jesus' birth and Christmas in general, but do we know all the details? Are the "facts" we think we know really facts, or do they come from stories shared every year that may or may not be completely accurate? This is a great way to get some "wows" from your family as they hear some unexpected answers to some of these questions. Here are 20 questions to get you started.
Christmas Bible Quiz: 20 Good Questions
Make homemade ornaments.

 
Each year make homemade ornaments that follow a different theme. Your children will eagerly anticipate "Ornament-Making Day" each year. You can write the date and each child's name on the back of their ornament so they can enjoy looking back each year on what they have created.
Here are two ornament ideas to consider.
Names of Jesus Advent Ornaments
You can print these in color and use pipe cleaners or string to hang them. Alternatively, you can print them in black and white and enjoy coloring them in and then hanging them. You can use this resource to help you look up the Bible verse where each name is found. My children enjoyed choosing which names they would color and then finding the appropriate Bible verse and reading it aloud to everyone.
Names of Jesus Advent Ornaments
Popsicle Stick Nativity Ornament
All you need are some popsicle sticks, cardstock, something to color with, and string to hang the ornament. Your children can be creative in how they color their popsicle sticks so they always know which creation is theirs.
Popsicle Stick Nativity Ornament
This is a difficult year for many of us as we try to decide how to handle our gatherings and activities. For some of us, this means we have to be extra creative in making our Christmas celebrations meaningful and memorable for our family. However, it's definitely not impossible. 
This is a perfect year to start traditions that can last for years and that your children can carry with them into their future families. With a little imagination and forethought, this Christmas season can be full to the brim with love, laughter, and memorable moments.
Merry Christmas!