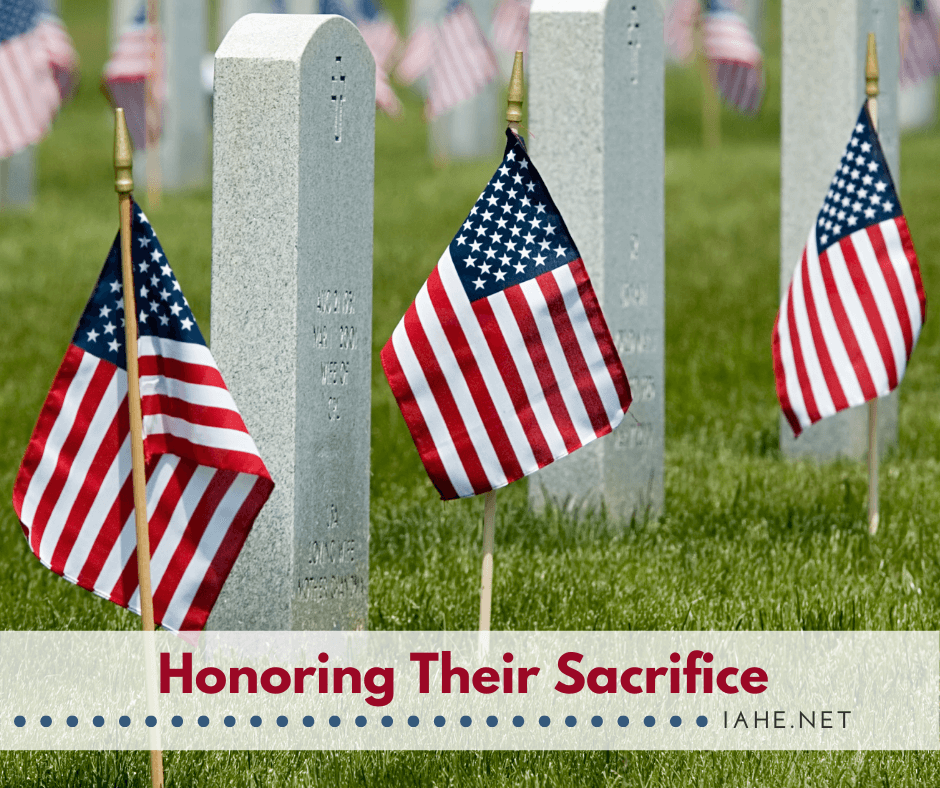 It's Quiz Time! How much do you and your children know about Memorial Day?
What was Memorial Day's original name?

Memorial ceremonies originated after which war?

Why do we not "celebrate" Memorial Day?
Memorial Day is a day set aside to remember men and women of the U.S. military who fought and died for the freedom of Americans and people all over the world. It is a day where you can share with your children about the great sacrifice that so many made so that your family could live in freedom. There are many things you can do as a family to remember those who fought, but first…a history lesson for you and your family.
Learning the History
In the years following the Civil War, many towns and cities set aside days to remember those who had died in the war. People would gather together to hold memorial ceremonies. It is unclear when Memorial Day officially began since different states and cities held memorial services on different days. It is clear that it came about from a desire to honor those who fought in the service of our country. 
In 1968, General John Logan, who led an organization for Northern Civil War veterans, designated May 30th as a day to decorate the graves of the fallen with flowers. On the first Decoration Day, as Memorial Day was first called, General James Garfield gave a speech in Arlington Cemetery and 20,000 graves of Civil War soldiers were decorated. 
After World War I, Memorial Day became a day to remember all those who had fought for our country, not just those who fought in the Civil War. In 1968, Congress established the last Monday in May as Memorial Day. 
Celebrating or Remembering?
Do you ever ask your friends how they are celebrating Memorial Day? Oops! Memorial Day is actually a day of remembrance, not of celebration. So the next time you are tempted to ask a friend how they celebrated Memorial Day, instead ask them what they did to remember?
Today, Memorial Day traditions are broad and varied. Some people visit cemeteries and memorials, while some towns and cities hold Memorial Day parades. Often, families get together for a cookout or a meal and spend time together. Here are some other ideas to do with your kids to remind them of those many American men and women who sacrificed their lives so we can be free. 
Visit a veterans cemetery if you have any near you. Even if you don't have relatives or people you know buried in the cemetery, it is still a sobering and memorable experience. You can also take flowers and/or flags to lay at graves. 

Observe the National Moment of Remembrance. It takes place at 3:00 pm on Memorial Day for Americans to take a minute of silence to remember those who have died in service to the United States. You can read more about this

HERE

.

Research and discuss the different medals that are awarded to courageous soldiers. Some are awarded to soldiers who return from battle, while others are awarded to those who have sacrificed their lives while on duty. You can read about some medals

HERE

.
Honoring Their Sacrifice
Remembering is important, but maybe that is not enough. How can we truly honor the sacrifice these men and women made? Perhaps remembering their sacrifice should spur us on to fight for what they were fighting for. Here are some suggestions for you to consider:
Do some genealogical research. Do you have any relatives who fought and died serving our country? Talk to grandparents, aunts, or uncles about any family history they may know. You can also do some genealogy research online or through local historical societies.

Learn about these freedoms that these men and women sacrificed their lives for by reading the Declaration of Independence and the United States Constitution with your children. 

Get involved with actively protecting our freedom by writing letters to and calling your legislators. Most legislators love hearing from children who care about our country.

Help prepare your children, the next generation, to take their place in society and be actively engaged in preserving freedom for all Americans. Consider studying government and civics frequently and working those principles and ideas into everyday life.

Teenpact

and

Patriot Academy

are two organizations that have excellent programs and camps that are great for homeschoolers. 
I am so thankful for the people who made the ultimate sacrifice so that I could live free from tyranny and oppression. Yes, even today, we are still the freest country there is. I hope you have a meaningful Memorial Day remembering those who gave their lives for us and wake up the next morning resolved to honor their sacrifice.
Emma Sager is a 17-year-old homeschooled high schooler who loves to speak and write about everything having to do with homeschooling, American freedom, and the Christian faith. She cares deeply about America's founding principles and the preservation of our freedoms and rights and wants to encourage other homeschoolers to be active citizens who stay informed and engage with legislators on important issues.