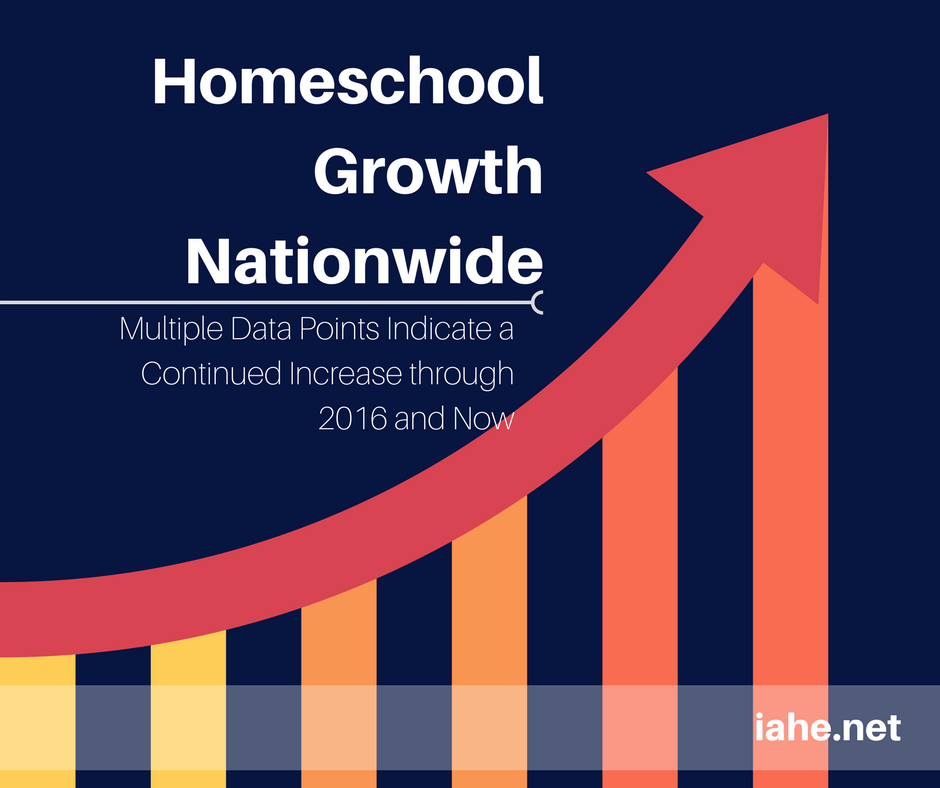 The Context
Is the homeschool population and movement growing, or not? Is it rising or not? One recent study found that the growth of the homeschool population tapered off for the four years ending in 2016.[1] But what do other current sources of data say?
Image
Movements come and movements go. Policymakers, educators, parents, and the general public have wondered for 30 years whether homeschooling would be a quickly passing fad or trend. It has not been so. Does empirical evidence suggest that the population size is, however, experiencing a flattening or leveling of growth? People want to know: How many homeschoolers are there in the United States?
One Recent Study
Researchers for the U.S. Department of Education recently reported on data gathered from the National Household Education Surveys program of 2016. It is another careful and thoughtful attempt by the federal department to understand some things about the homeschool population. The investigators mailed printed questionnaires to most of the 206,000 households that they selected and ended up with a sample of 13,523 school-enrolled and 552 homeschooled children. From data on these students, the investigators estimated the U.S. homeschool population size and its demographic characteristics and reasons that parents gave for homeschooling.
McQuiggan and her fellow researchers estimated that there were 1,689,726 students of ages 5–17 being homeschooled during the spring of 2016. That is, they estimated 1.69 million.[2] They also reported that this number represented 3.3 percent of all school-age children that year.
Some people are comparing the U.S. Department of Education's 2016 estimate with the same department's estimate for 2012, which was 1,773,000 homeschooled students (i.e., 1.77 million),[3] that was 3.4 percent of the school-age population.[4] Looking at these two estimates, some are concluding that homeschooling showed no growth, or perhaps a slight decrease (e.g., about 3 percent) from spring 2012 to spring 2016. Many are wondering, Is this an accurate conclusion?
Read more here.

Your donations help NHERI and Dr. Ray (1) keep up with new research to give you the facts on what is happening in the United States and around the world regarding homeschooling research, freedoms, and insights and (2) be ready to speak to scholars, journalists, courts, policymakers, and parents.
P.P.S. NHERI is receiving no tax dollars to do its work and serve the public.
Two ways to help NHERI:
1. Send a check to: NHERI, PO Box 13939, Salem OR 97309 (using a check puts the largest percent of your gift to work at NHERI)
NHERI is a 501(c)(3) nonprofit organization.
Contributions are tax-deductible per law.
Copyright © 2017 by Brian D. Ray