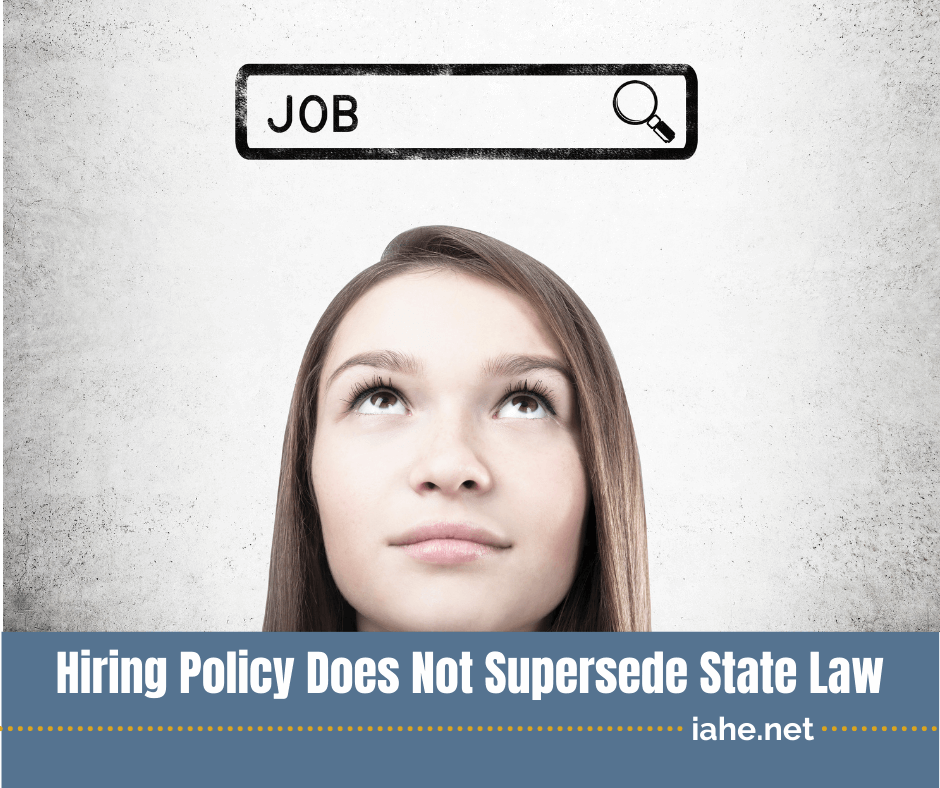 On May 24, 2021, IAHE became aware of an Indiana homeschooler attempting to gain employment at a large retailer. The minor and her mother did their due diligence in providing the parental permission form and the most up-to-date Indiana Department of Labor (IDOL) Youth Employment law when the teen turned in her application. Excited to be gainfully employed, the youth's enthusiasm was quickly dashed due to the fact a Human Resources (HR) representative rejected her application citing company policy. Regardless of Indiana law, company policy required a work permit.

During Indiana's 2020 legislative session, the law regarding youth employment was overhauled. The responsibility shifted from schools to the employer. Defined as nonaccredited, nonpublic schools with less than one employee, Indiana homeschooled students are now independent of their local public school when it comes to employment eligibility.. State leaders recognized this fundamental right belonged in the hands of the parents. As such, beginning April 1, 2020, Indiana homeschoolers were no longer required to receive a work permit from their local public school. Indiana homeschooling parents are the administrators of their school and validate their minor's eligibility for employment. 
Furthermore, July 1, 2021 will bring additional changes for all minors seeking employment in Indiana. Armed with knowledge provided by the IAHE, the mom returned to the HR representative to discuss the matter. Again, the application and accompanying information was rejected citing corporate hiring policy.

IAHE was asked by the family to intervene. An IAHE representative was able to have a fruitful conversation with the company's HR employee on June 3, 2021. 
HR once again cited company hiring policy; although, hiring policies cannot supersede state law. The IAHE took the opportunity to have an open conversation with the HR representative regarding the most recent changes to youth labor law. The large retailer was asking public schools and homeschools to do something that is not required by law. Additionally, as of July 1, 2021, work permits will no longer be issued for any minor child in the state of Indiana by their local public school. Indiana law, IC 22-2-18.1-26, requires all employers to utilize the IDOL's Youth Employment System if they have five (5) or more minor employees. If employers do not utilize the system, they could face fines of up to $400 per infraction. Unaware of these new changes, the large retailer's HR representative committed to informing the corporate office of the new laws regarding youth employment in Indiana.
IAHE applauds this mother for knowing what is required of her by law and for taking a stand not just for Indiana homeschoolers but assisting all minors seeking employment in Indiana.

IAHE has been serving homeschool families in Indiana since 1983. It is our pleasure to bring 38 years of knowledge to help Hoosier homeschoolers.
You've got questions. We've got answers.