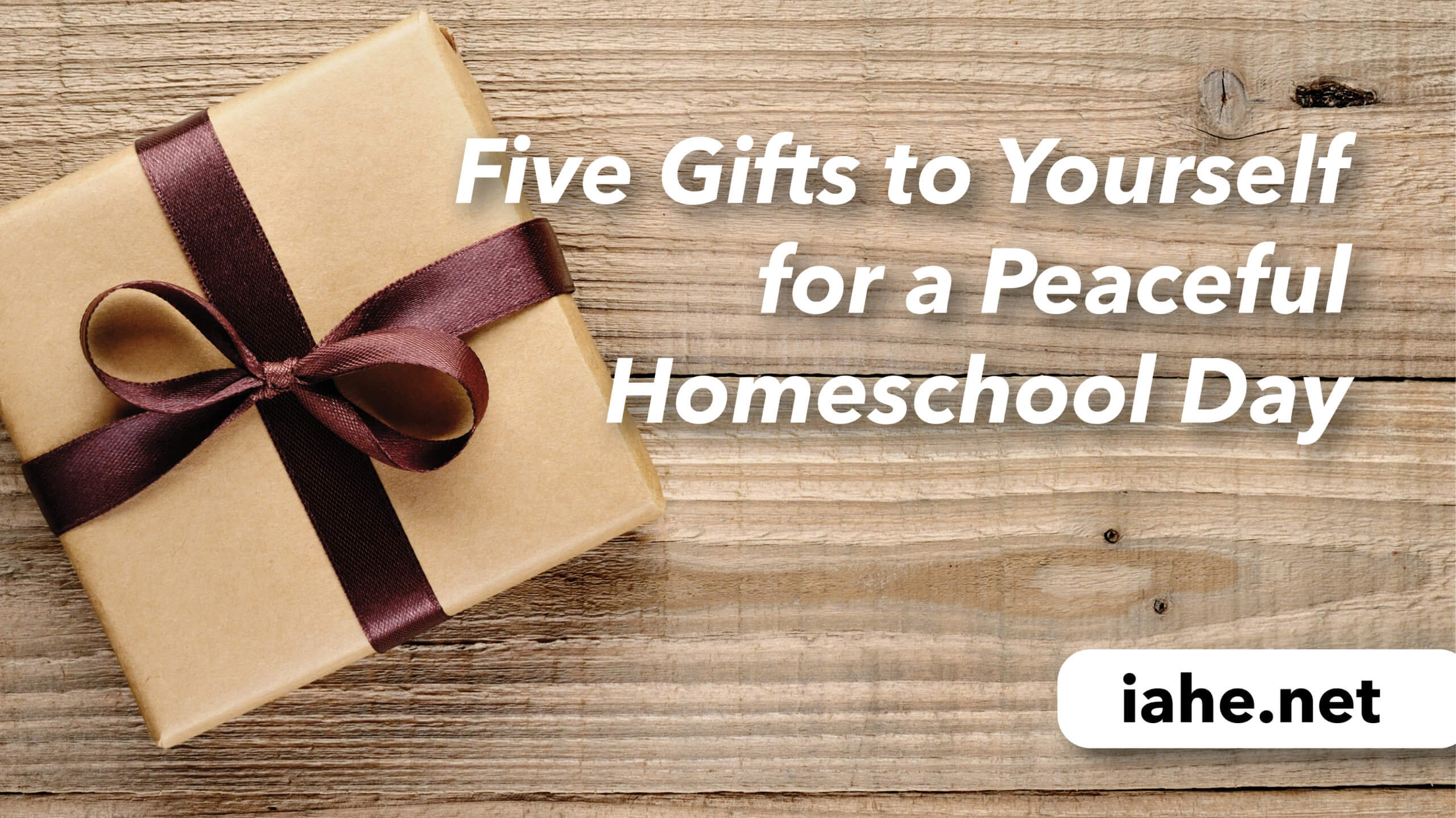 Have you ever noticed that your homeschool day is often dictated by how it starts? Some days start out calmly and quietly and the day blissfully continues in that direction and other days seem like a train wreck before 10 a.m.? 
While there are no guarantees to every day being a peaceful homeschool day, there are some tried and true gifts that you can give yourself and your children. Here are five fantastic suggestions you can give yourself and your children to start your days peacefully.
GIVE YOURSELF TIME TO WAKE UP PEACEFULLY
A peaceful start to any day begins differently for each of us. Some people prefer to strap on running shoes and wake up to the sound of their feet pounding the pavement. Others, like me, are a little slower to rise. Whether it's a quiet shower first thing in the morning or a few minutes over a steamy cup of coffee, schedule yourself the time to wake up peacefully before you need to be a parent and homeschool teacher. More than likely, you'll need to get up before your children awaken, but the rewards of a peaceful start to your day will be worth it! Likewise, your children will appreciate a gentle approach to waking that allows time for their brains and emotions to prepare for the school day.
GIVE YOURSELF A GLASS OF WATER
Have you ever considered the health benefits of starting your day with a glass of water? After a good night's sleep, your body needs the rehydration. The same is true with your children. Their bodies and brains need rehydration to take on a new day of learning and growing. The Berkey Company has a great list of other health benefits here. 
GIVE YOURSELF A HEALTHY BREAKFAST
It's no secret that breakfast is the most important meal of the day and a healthy breakfast refuels your body for a new day. Studies have shown that students perform better when they have been given the fuel they need to learn and retain information. In fact, this fascinating study of medical students in Ghana shows the importance of breakfast and school performance. A healthy breakfast doesn't have to be overwhelming. Here are 60 healthy breakfast ideas to get you started. 
GIVE YOURSELF SOME FRESH AIR
The benefits of fresh air, sunshine, and exercise are well documented. However, finding time to incorporate large blocks of time for outside play and exercise can be overwhelming. Instead, consider a quick ten-minute recess to observe the morning dew or the songs of your neighborhood birds. A quick walk around your home or through your neighborhood before you sit down to start your homeschool studies will help everyone get the wiggles out before sitting down to learn. 
GIVE YOURSELF A PRAYERFUL START
Starting out each day with prayer individually and as a family allows you to ask for God to grant a peaceful and calm homeschool day. Praying together as a family each day teaches your children that they can go to God in prayer at any time and for any reason. You may be surprised at how quickly the habit of daily prayer becomes part of your children's routines too. 
What other gifts do you give yourself to start each day peacefully? Let us know in the comments. We'd love to hear other tried and true daily practices.