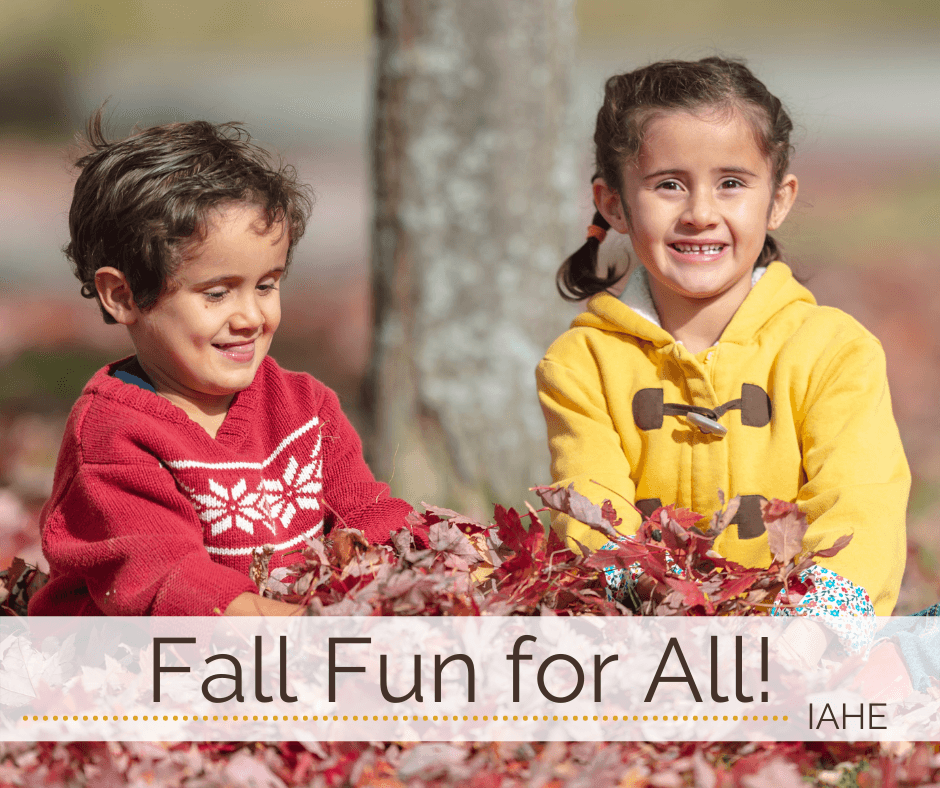 It's fall! School is in full swing, the leaves have been changing colors, and you're probably wondering what fall-specific activities you could convince your kids to do. As a homeschooled high schooler with a little brother, I can tell you what fall activities are appealing to both younger and older children.
Here are some ideas!
Bake something!

I'm probably biased because I LOVE baking and my brother sometimes helps out in the kitchen, but I really do think it's a great family activity for fall! 
Younger kids can help with easier steps while older kids can take charge of more difficult tasks. For example, if you were to bake pumpkin muffins from a cake mix, the younger children can line the muffin pans with paper liners while the older ones do the actual mixing of the ingredients and distribute the batter among the pans. (Or, if you're not afraid of a potential big mess, you can have the younger kids do that latter step too!) 
After baking a sweet treat like that, everyone can enjoy it and see how their hard work paid off!
Take walks in nature!

Where I live, in Northwest Indiana, there are a good number of nature trails, both within the state and across the border in Illinois. If you don't have many nature trails where you live, parks work just as well! You can research field trip opportunities, including nature trails, in your area by clicking on this link:

Indiana Field Trips by Region

. 
There are several possible benefits of taking such walks. Taking walks on nature trails or parks is a great way to integrate physical activity into your day while admiring the beauty of God's creation. If the whole family goes on a nature walk, you could also take the opportunity to take family photos (see below)! 
Take fall pictures!

There's no better time than fall to take family photos! The leaves are in brilliant shades of scarlet, orange, gold, and beige, creating a gorgeous, natural background for your photos. 
The weather is nice too! It's not sweltering hot or freezing cold, so being outdoors for photos won't be as potentially excruciating as it could be during the summer or winter. Besides, taking pictures at this time of year is perfect timing if you want to send photo cards to loved ones for Christmas. 
BONUS: Thanksgiving-specific activity!

This is a tradition in my family, so I thought I'd share it here in case you want to start one like it. 
Every year on Thanksgiving evening, after we finish dinner, my family will gather around the table with a basket, markers, pens, and index-card-sized pieces of paper. Each of us will take some paper and write/draw something that we are thankful for on each piece. When we are all done, we put all our pieces of paper into the basket and stir them around. Then we go around the table one by one, drawing out a piece of paper at random and trying to guess who wrote/drew it.
This is a fun activity because we always end up laughing at each other's funny drawings. It is also an enjoyable way to count everything we have been blessed with in the past year.
I hope these ideas help you and your family integrate some quality bonding time into this wonderful season! Happy fall!
Tiffany Chou is an IAHE intern this year. She is a high school senior who has been homeschooled since second grade. She plays violin and piano and enjoys baking, reading, and watching YouTube in her free time. Tiffany plans to major in psychology when she attends college next fall.
Are you curious about the IAHE Internship Program? See HERE for more information.