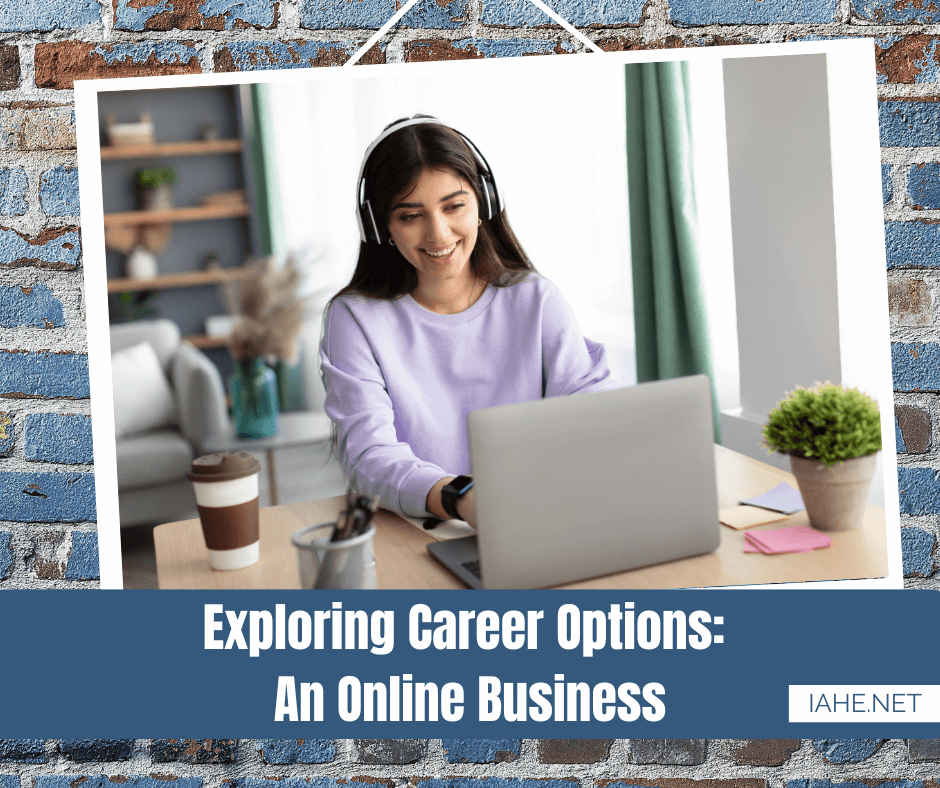 As homeschoolers, we are blessed to be able to provide our children with the opportunity to learn about and experience a variety of first-hand career options. Preparing them to be self-sufficient adults can be a daunting task, but that is made easier by the freedom we have to tailor our children's education to their interests, especially throughout high school. This can then dovetail into career options.
We're continuing the series that will cover a few different careers in order to provide assistance as you and your child think through options.
In this post, we're covering online businesses, such as print-on-demand, e-commerce, and blogging. A unique feature to this particular career option is that your student can begin their business part-time while still in high school and then grow it as much as they want upon graduation.
What are the career options?
Online businesses have a significant range of opportunities—many more than can be covered here. Encourage your child to use his imagination.
Blogger: A blogger writes articles on a regular basis, ranging anywhere from every day to once a month, on a particular topic and posts them on her website for the public. Blogs can make money in many ways, including advertising, affiliate marketing, and direct selling of items.
E-commerce: In this business, the online store/website collects orders for particular items. The manufacturer or distributor then ships the items directly to the customer.
Print-on-demand: This opportunity typically involves creating designs for t-shirts, coffee mugs, tote bags, etc., on custom product websites such as GearBubble or Printful. Those items are then listed on a website such as Amazon or Etsy. When an order is placed, the item is created and shipped by the custom product manufacturer.
Etsy or Shopify store: Although Etsy can be used to sell print-on-demand products, it started as a marketplace for handmade art and craft items. These stores may also sell personalized items and vintage or retro items found at thrift stores or rummage sales. 
Virtual assistant: This is just as it sounds—an assistant that works virtually. Responsibilities can include managing email, answering the telephone, web design, social media management, newsletter creation, etc.
19 Best Online Businesses to Start in 2022 with Little to No Money 
How to Start Christian Faith Based Products Online on Shopify 
What education is necessary?
No formal education is necessary to run an online business.
However, some education beyond high school could be valuable in establishing and maintaining a successful business.
Classes in business, accounting, or marketing could be completed at a vocational school or community college and could even culminate in an associate's or bachelor's degree. 
There are also numerous informal, online courses that specifically teach how to run the various online businesses. Paid courses can be found on beginning your own print-on-demand business, how to start an e-commerce store, how to open and monetize an Etsy shop, how to begin your own blog, and many, many other possibilities.
How to Start a Christian T-Shirt Business 
If your child wishes to sell art or a particular craft, courses are available both online and in-person to develop it. Whether it be making goat's milk soap, sewing, or something else entirely, your student can find lots of free learning available on sites like YouTube.
What skills or interests are needed?
Communication: Skill in writing is particularly necessary in blogging, but it is also helpful when writing product descriptions and communicating with customers.
Self-starter: With no boss requiring your student to be at work at a particular time, self-motivation is crucial. If the work doesn't get done, the business doesn't succeed, and the business owner doesn't get paid.
Time management: Related to being a self-starter, an e-commerce business owner must manage time wisely and not let distraction (such as social media or long lunches with friends) creep in.
Detail-oriented: Websites, whether they be for the business or for product creation, have procedures to follow. Your child will need to understand and follow them so that the business will run smoothly.
Creativity: Some e-commerce options, such as blogging or designing products, involve a certain amount of idea generation and creativity.  
How can a parent encourage a curious child?
Find people to talk to in your homeschool community or church who have an online business. Set up  an appointment for your student to conduct an interview. Questions could be prepared ahead of time and include inquiries such as: What is your education? What do you like/not like about your job? What are three characteristics needed to do your job?
Job shadowing or spending a day observing someone in your child's chosen career can be a terrific way to see, up close and personal, what the job entails. Then, have your student write a reflective essay about the experience. 
Research online for course offerings on how to make arts and crafts in which your student may be interested. Watch some free online videos that share snippets of the process and work involved in an online business. (Always use discretion when online.)
https://www.indeed.com/hire/c/info/online-business 
How To Start an Ecommerce Business From Scratch – 2022 [Free Guide]
An online business can be a challenging and fulfilling career choice, providing opportunities to work a little or a lot, making, selling, or doing something your student loves. A career is a big decision, so explore the possibilities and pray for and with your child as he seeks to discover what God has planned for him.