What:  Fall Homeschool Jamboree – students attend 4 environmental education classes
Where:  Eagle Creek Earth Discovery Center within Eagle Creek Park
When:  Friday, November 3, 2017; 10am-2:35pm
Ages:  8-14 years
Cost:  $15/student due at time of registration.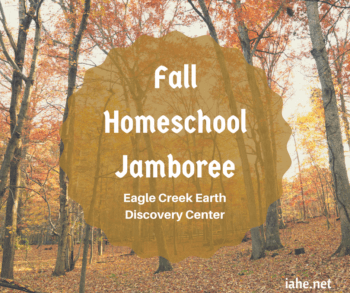 Registration: Course Code 13435, begins on Monday, October 9th at 9am and will end October 20th at 5pm.  Online registration will not be available until Monday at 9am, but we encourage you to set up your Indy Parks account ahead of time, as the process can take several minutes, and you may need to call customer service.
Online registration instructions:
1)      Go to www.indyparks.org
2)      Click the grey "sign-in" button in the upper right hand corner if you already have an Indy Parks account, or click "create an account" to create a new account. If you have registered for programs at Indy Parks before (including previous Homeschool Jamborees), and you get the error message: "Login name 'email@email.com' is being used by another account" you will need to sign in with your email address and click "forgot password."  A temporary password will then be emailed to you. If you need additional help please call customer service at 317-327-7275.
3)      Enter information in your account for all students you will be registering by clicking "Change Information about Family/Friends."
4)      Once you have created your account, click "Register for Programs / Activities" under Online Services.  Next to the green "Search" button enter course code 13435
5)      Click the green "add to cart" button
6)      Select the family member you would like to register from the drop down menu (if your student's name is not there, you will need to go back and edit your account to add that name).
7)      Answer course prompts by selecting your six class choices.  If you would like your student to stay in the same classes with a sibling or friend, please enter those names at the prompt.  If some of the class topics do not show up on the prompt list, it means that class topic is full.
8)      If you are registering more than 1 student, click "Register Another Participant for this Activity"
9)      Once you have registered all of your students, click "checkout" and enter your payment information.
Phone registration:
You may also register by phone by calling the Earth Discovery Center at 317-327-7148 or Indy Parks Customer Service at 317-327-7275(customer service can enter registrations, but will not be able to answer specific questions about the program).
Please Note:  leaving a message on the answering machine will not reserve your spot in the Jamboree, and it is possible the program could fill before we can return your call.
Information to have handy before you register:
Complete names and birthdays of students
Address and phone number
Email address – this will allow us to send your students their class schedules before the actual day of the event, as well as notify you of any last minute changes due to weather, etc.
Six class choices for each student (see below for topics) ranked in order from 1 (first choice) to 6 (last choice).  Students will be assigned four of their six choices.  If there is a class your student particularly wishes to attend be sure to designate it as their #1 or #2 choice.
Payment information – we accept Master Card, VISA, Discovery, and American Express over the phone or online.
Schedule of the day:
 

9am-10am

Students may begin arriving for check in. All parents need to come inside with their students for check in.
 

10am

 All students should be present for final check in
 

10:20am

 Students gather in front of building for welcome and instructions
 

10:30am-11:15am

 CLASS #1
 

11:25am-12:10pm

 CLASS #2
 

12:10pm-12:55pm

 LUNCH (outside or EDC hallways – please bring a sack lunch)
 

12:55pm-1:40pm

 CLASS #3
 

1:50pm-2:35pm

 CLASS #4
 

2:40pm

 Student pick up.
Archery – Outside Maximum 12 students per session. No prior shooting experience necessary, learn the basics of archery in this intro archery class. We will go over safety, terms to know, and then get to try our hand at shooting! *Due to the popularity of this class, please do not choose this topic if you've already done Archery in a previous Jamboree, so everyone can get a chance to participate.
 Bird Hike – Outside Fall migration is always an exciting time of year in Eagle Creek Park. Warblers, cranes, herons, ducks and many more birds can be found this time of year. Check out the trails and local birds with Indy Parks Naturalist Miranda Sears.
 Creepy, Crawly, Creatures – Inside Come learn about some of the common creepy, crawly creatures that are found in central Indiana from a local master naturalist. While these critters may cause fear, disgust, or anxiety to some, they actually do serve a valuable role in nature. Come discover how they fit into our world and help maintain the balance of nature.
Forgotten Animals: Extirpated Animals of Indiana – Inside Many animals have come and gone from Indiana. Do you remember their names? Do you remember their stories? Join Holliday Park Naturalist, Amanda Roche in an interactive session on the Extirpated (locally extinct) animals of Indiana. Get up-close and personal with animal artifacts such as furs, skulls, horns, and teeth. Discover why these animals vanished from the Indiana landscape and how we can learn from their stories to protect other at-risk animals.
 Insect Hotels – Inside We all appreciate a little TLC. With the world becoming a harsher place for many beneficial insects, they may feel the same way. Learn to love a few of our unassuming garden friends, and then construct a simple shelter to attract and keep them in your own yard.
 Leave No Trace – Outside Camptown will teach participants the 7 Leave No Trace principals. You will learn how to enjoy the outdoors responsibly through games and hands on learning. Leave No Trace refers to a set of outdoor ethics promoting conservation and positive recreation decision making.
Nature Scavenger Hunt – Outside Ready! Set! Search! Join a park volunteer on a nature scavenger hunt in the area around the EDC. You will use your observation skills and previous knowledge to search for treasures in nature that might otherwise be missed. Be prepared to get your hands dirty and explore (rain or shine)!
Nature Sketching and Journaling – Inside A Nature Journaling workshop will be provided by members of Sigma Lambda Alpha, an honors society of Ball State landscape architecture students. Looking critically at nature and accurately recording observations through sketching is a critical part of landscape architecture. Participants will be supplied with a sketchbook and guided through the basics of sketching what they see in their surroundings, a skill which can be furthered for the rest of their lives.
Orienteering – Outside Learn to use a compass and navigate a scavenger hunt. It is helpful if students are able to read or have a parent with them. This lesson is outside, so dress for the weather. Taught by a former homeschool student.
 Owls – Inside Learn all about our favorite nighttime hunters! Owls have amazing adaptions that make them incredible hunters. Join a naturalist as we get up close and personal with live owls to see what makes them so special.
Tree Climbing – Outside Maximum 12 students per session. Get a bird's eye view of the park while getting to know your trees. Join us "up a tree without a paddle." Learn to climb a tree using arborist equipment. *Due to the popularity of this class, please do not choose this topic if you've already done Tree Climbing in previous Jamborees, so everyone can get a chance to participate.
 Tree ID and Hike – Outside Do you know how to tell trees apart? In this class, we will be hiking and looking at the bark, leaves, and seeds of IN tree species along the trail. We will also discuss the importance of certain trees and what they were used for by Indiana's early settlers. Please dress for the weather and wear sturdy shoes for this class!
What is so Special About a Honey Bee? – Inside We will discuss why Honey Bees are so important and what their daily life is like (it is hard). There will be new info about why the bees are in trouble. We will taste some honey and even help you make your own Buzzin' Bee to take home.