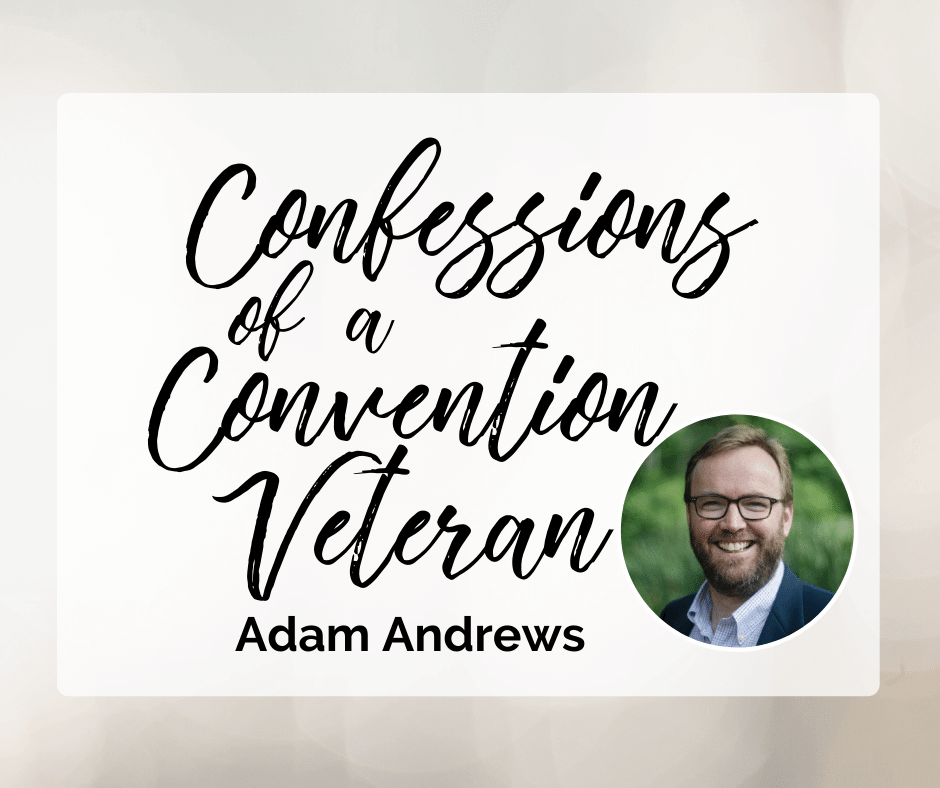 I first noticed them sitting in the audience as I presented my English Literature curriculum in all its glory. A young husband and wife with a couple of preschoolers in tow, they sat on the edge of their seats, eyes wide, rapt with attention. I was laying it on thick about how our curriculum solves all of your problems, and how all you need to do is follow our simple instructions. It must have worked, too, because directly after the talk, they made a beeline for my book table. 
"Hooked 'em good," I thought smugly to myself.
As they approached, however, I was unnerved to notice that the young woman had an all-too-familiar furrow in her brow. Her face did not betray the wide-eyed look of pleasure and gratitude she should have had for the savior of her homeschool, the one who had just shown her the shining way of certain success for only $89. Instead, she bore the look my wife Missy gives me when she succumbs to doubt, despair, and discouragement at the thought of taking on another burden.
"We are very discouraged," her husband said to me—as if he needed to. "We can see that your curriculum is just what we need, but we are afraid it will not work for us. You see, we cannot teach English literature in English, because English is not our mother tongue. In fact, it's our third language. While you have convinced us that your program is essential to success, it's also clear that we can't do what you require. You have therefore also convinced us of our inevitable failure."
This was not exactly the conversation I was expecting. I didn't mean to threaten you with failure, I thought. I was only trying to encourage you with the prospects for success if you follow my instructions. I opened my mouth to defend myself with words to this effect, but something stopped me. 
It was a little voice in my head, posing uncomfortable questions: Was encouragement really your only goal? Didn't you also have selfish reasons for threatening her with failure? Were you completely honest about the absolute necessity of your little curriculum to the success of their homeschool? Who are you really trying to help—them, or yourself? 
The true answers to these questions pierced me to the heart. Of course, my convention talks are designed to encourage people to consider our curriculum. But if they also imply that our curriculum is the only way to do it right, I'm generally not too concerned about it. I think English Literature, taught the way we teach it, is the heart and soul of any good homeschool education, and I don't mind twisting people's arms into agreeing with me. In an even darker corner of my heart lurks the conviction that anything I imply is fair as long as it results in a sale.
I would like to say that I had already repented of these sinful and mercenary assumptions before the young couple approached me, but the truth is I couldn't even see them. It was the husband's question, and the look of discouragement on his wife's face, that finally gave me a clear view of myself.
I realized I was part of a problem faced by many homeschool moms who struggle with doubt and discouragement, especially during convention season. I was one of the experts who gather each year in the vendor hall to tell them they are doing it wrong. I realized that in hawking my materials, the louder I shout "Better than ever!" the more they hear "Better start over!"
I thanked the man and his wife for being gracious enough to come to my table instead of walking away in disgust. I apologized for contributing to their discouragement and asked for another chance to say what is really true about their situation.
"How many languages did you say you speak?" I asked.
"Four," the husband said. "And we are teaching them all to our kids."
"You should not buy any of my materials," I said. "You don't need them. In fact, you shouldn't teach English literature at all unless you just want to. It is clear that the Lord has given your family its own homeschooling identity that centers around something else. Go in peace and be the language family. Our literature family will be praying for your great success."
I think they went away encouraged because as they left I overheard the husband say, "Did you hear that, honey? It's OK for us to be the language people!" I also caught a glimpse of his wife's forehead, smooth with relief and peace.

That little voice in my head spoke up again, but this time it sounded like a reminder from the Lord: I give all of my children exactly what they need. I am their provider as I am your provider. Nothing remains for any of you but to be who you really are, to rejoice in what I have given you, and to speak out loud from the gratitude in your heart.
As this lesson began to sink in, another one followed close on its heels. That young man had taken his wife's part completely and had treated her concerns as his very own. Even when trying to explain her doubt and discouragement, he identified with her. "We are discouraged," he had said. "We are the language people." I found myself wondering whether I treat Missy with the same respect and encouragement. Do I identify with her in my heart when it comes to our homeschool project? Is it really our project, or does Missy feel that she is on her own?
Once again, the answers made me squirm. Despite the time and energy I give to homeschooling in general, when it comes to my own wife and my own kids, I am often disengaged and aloof. She's a smart lady, I think to myself. She can figure it out. Sometimes I forget that she doesn't need help figuring it out. What she needs is to know that we are in this together, that it is as important to me as it is to her. For that reminder, I have the young man and his wife to thank – though I never even got their names.
 I will attend many conventions this year as a teacher and an expert, but really I will be a learner. The moms and dads I will meet this year have been appointed by the Lord to encourage me and remind me of my dependence on His attention.
I can hardly wait!
Adam Andrews is the director of the Center for Literary Education and a home schooling father of six. Since 2003, he has traveled throughout the United States and Canada presenting an innovative method for teaching the crucial skills of literary analysis. Adam's dynamic presentations enable students to enjoy great literature as never before, while his fresh insights inspire parents and teachers with new vision for their task as educators.