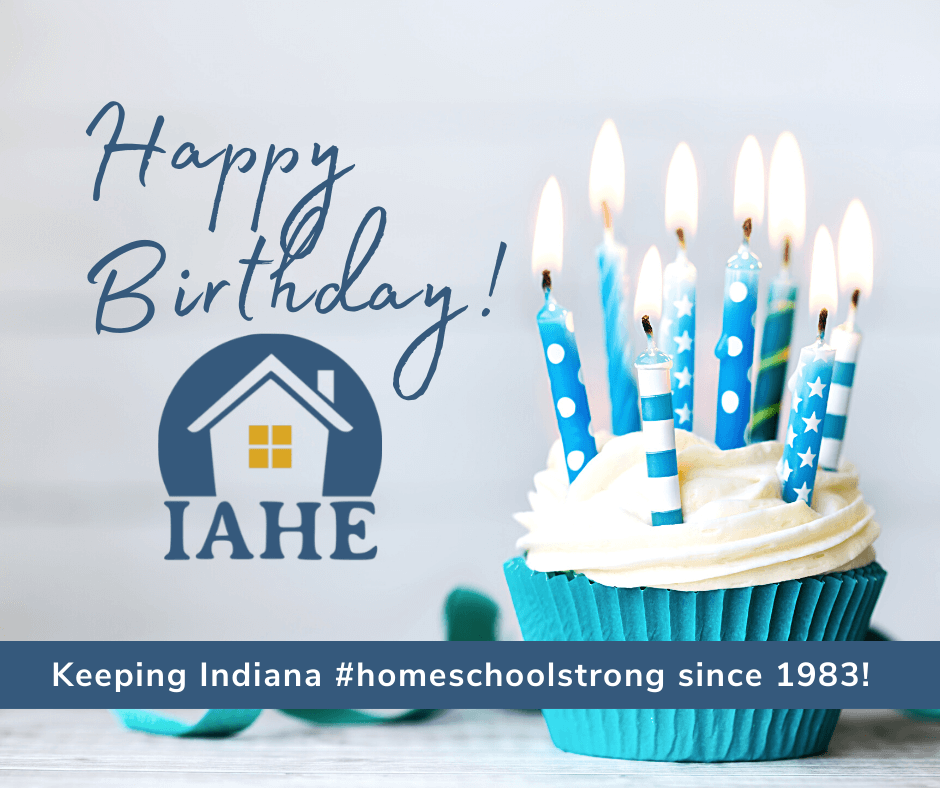 It's time to celebrate the IAHE's 38th birthday! We want to thank you for your support and encouragement.
Don't miss these great deals below!
Did you know that the IAHE is one of the oldest homeschool organizations in the country?
Founded June 27, 1983, the IAHE has been serving Indiana homeschool families just like yours since the early days of the modern homeschool movement. The past year has been full of many ups and downs for the homeschool world, and yet we're still standing and blessed to serve.
Did you know that the annual convention traditionally provides the majority of operating funds for our organization?
While we've missed seeing so many of your smiling faces at our annual convention in both 2020 and 2021, we remain committed to serving Indiana families all year long. The loss of convention income for the IAHE could have been devastating, but God is gracious! Through your donations and membership we're still able to keep our virtual doors open!
Did you know that IAHE Membership launched for the first time in June 2019?
While the IAHE has served families for many decades, membership was only offered TWO years ago. Now you can be a part of supporting our work while earning discounts and benefits along the way.
Did you know that the IAHE only has one staff member? 
The IAHE is blessed with the amazing talents and dedication of dozens of volunteers from across the state. Together they work all year long to provide encouragement, connections, helpful articles, and a magazine. We have volunteers that read bills, organize our annual Capitol Day event, and monitor threats to homeschool freedom. Through these efforts and more, they help keep Indiana as one of the best states in the country to homeschool your children.
In gratitude for the many individuals and volunteers that have served Indiana homeschoolers for 38 years, we celebrate IAHE's birthday and the freedom that we have to educate our children at home. We are blessed!
---
Save on a New Premium Membership

Through Sunday, June 27th, use this discount code to save $5 on a NEW IAHE Premium Membership: birthday-bash-5

 

Everyone Saves 15% On Homeschool Gear

Through Sunday, June 27th, everyone can save 15% on homeschool gear from the IAHE Shop with this discount code: homeschool-gear-15

 

My Homeschool Planner – FREE For Premium and Supporting Members

Whether you have younger or older students, there are planning pages for you. With 43 pages to choose from, this customizable planner enables you to think through your children's education and design their school schedule in a way that fits your family. Find pages for: Weekly At-a-Glance, Loop Scheduling, Daily Task List, Delight-Directed Planning, 4-Year High School Plan, and more.

My Homeschool Planner is FREE for Premium and Supporting Members. Find the planner in the IAHE Shop.

 

New FREE Workshop Bundle For Premium and Supporting Members

Over 45 workshop sessions from the 2019 IAHE Convention are included in this bundle. Learn from experts like Israel Wayne, Diana Waring, Woody Robertson, Diana Ruark, and many more! Their are topics for every homeschooler at every stage. Let's never stop learning and striving to be the best homeschool teacher possible. Let these speakers bless, encourage, and equip you! Check out the workshop bundle.

 

Premium and Supporting Members Save 25% on Start Strong Indiana Course

Take your homeschooling to a new level! Start Strong Indiana, presented by the Indiana Association of Home Educators and Homeschool University, is a two-week crash course to help you cut through the confusion. Available now, this unique 14-day online course is designed to help homeschoolers take flight. Find out more about Start Strong Indiana. 

Find the coupon code on your Premium and Supporting Members Page.

 

Print Homeschool Indiana Magazine—FREE for Premium and Supporting Members

Homeschool Indiana, published three times per year, is full of insight, information, and practical ideas and lessons for you to take straight into your homeschool. One of the joys of homeschooling is being a lifelong learner and continuing to seek out the best ways to educate our children. Become a Premium or Supporting Member today and get Homeschool Indiana delivered right to your door. Join today!

 

Perks from IEW for Premium and Supporting Members

IAHE Premium and Supporting Members are eligible for these great perks from IEW: 

Free portable walls (just pay shipping)

Three months of premium membership – FREE

A class with Mr. Pudewa on July 31, 2021 or December 4, 2021

 

Win a One-Year Ultimate Membership to SchoolhouseTeachers.com!

Who wants to win a one-year Ultimate Membership to SchoolhouseTeachers.com valued at $224.97?

We have 2 of them to give away next Monday, June 28th, to 2 lucky IAHE members (Basic, Premium, or Supporting). To be eligible to win, sign up for membership by Sunday, June 27th. All current and new members will be eligible. 

SchoolhouseTeachers.com offers Christian, self-paced, online homeschooling courses  with customizable curriculum. With 400+ online courses for PreK through High School, there is something for everyone. Sign up for IAHE membership today and you could be one of the lucky winners who gets to try this curriculum for an entire year FREE!

 

The IAHE Depends on the Dedication of People Like You

Are you looking for a way to make a difference in the lives of Indiana homeschoolers? Do you have a desire to help ensure homeschooling freedoms for future generations? The IAHE can use your help. We have a wide variety of teams that operate year-round and we are always looking for willing individuals. We provide all the necessary training. Join #teamIAHE today!