At the beginning of every year, dozens of homeschool students across the state pull out their cameras, computers, pencils, and paintbrushes; and let their creative juices flow. And every year, at our annual statewide homeschool convention, we get to witness the terrific results of their efforts. This year was no exception, and it was a blessing to see their excellent work along with increased participation! Participants range from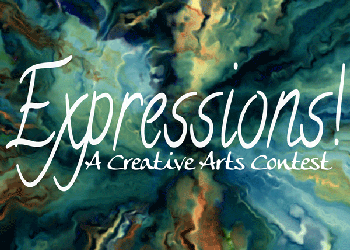 seven to nineteen years old and participate for a variety of reasons. Some do it as part of their homeschool curriculum, some as part of a co-op class, and some just because they love what they do!
The IAHE Expressions! contest consists of four categories: Art, Photography, Writing, and Video; and within those categories, several different mediums, styles, and topics exist from which to choose.
All Art, Photography, and Writing entries will be on display at the 2017 IAHE Home Educators' Convention.
The Video contest winner's entry can be viewed below.
The IAHE's desire for this contest is to help provide an avenue in which students can better develop their knowledge, talents, and ability to communicate in order to serve God and those around them. Regardless of whether you are a creative writer, a cinematographer, or a painter, we would love to see your work next year! And just in case you were unable to attend this year's convention, here is a list of this year's winners!
Writing Contest Winners

Age/ Division
Place
Name
Age 7-10
1st
Lauren Warner
Age 11-14
1st
Caleb Wright
Age 15-19
1st
Hannah Creekmore
Age 7-10
2nd
Faith Sydow
Age 11-14
2nd
Dahlia Goeglein
Age 15-19
2nd
Caleb Weaver
Age 7-10
3rd
Timothy Blattert
Age 11-14
3rd
David Hallett
Age 15-19
3rd
Danielle Anderson

Photography Contest Winners

Age/ Division
Place
Name
Age 7-10
1st
Jubilee Georgen
Age 11-14
1st
Abby Warner
Age 15-19
1st
Naomi Dumitrescu
Age 7-10
2nd
Josiah Georgen
Age 11-14
2nd
Madison Flewelling
Age 15-19
2nd
Olivia Eaker
Age 7-10
3rd
Benjamin Hallett
Age 11-14
3rd
Liliana Georgen
Age 15-19
3rd
Makinzie Nies

Art Contest Winners

Age/ Division
Place
Name
Age 7-10
1st
Madeline Vida
Age 11-14
1st
Aubrey Branch
Age 15-19
1st
Kristin Branch
Age 7-10
2nd
Kaitlin Flewelling
Age 11-14
2nd
Riley Schauer
Age 15-19
2nd
Ezekiel Fredrickson
Age 7-10
3rd
Andrew Blattert
Age 11-14
3rd
Heidi Blattert
Age 15-19
3rd
Annie Mounsithiraj

Video Contest Winners

Age/ Division
Place
Name
Junior
1st
John Jordan