On February 25, 2015, Indiana homeschoolers had a large presence at the Indiana Statehouse.
Legislators were able to see a well-organized, professional group of home educators and EACH representative or senator was given a packet about home education in Indiana, personally handed to them by a homeschooling family or homeschooling teenager in many cases.
Below are some highlights of the day with testimonials from homeschoolers that attended.
President Benjamin Harrison posed beside his bust in the Capitol Building after speaking to homeschoolers.
Debi Ketron, IAHE Board Member and Government Affairs Director, gave a talk in the Supreme Court entitled The Missing Piece of the Puzzle: Threats to Homeschool Freedom.

Comments from a parent: It's a BIG eye-opener to another side of our homeschooling world – a world we really need to be aware of.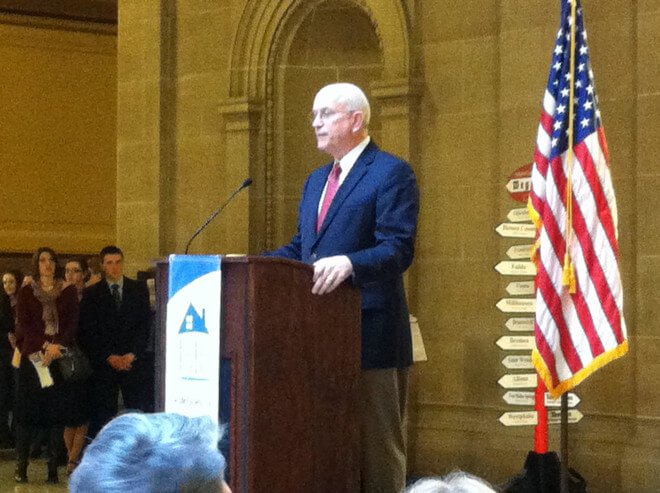 Thank you to Senator Kruse for sponsoring Home School Day at the Capitol.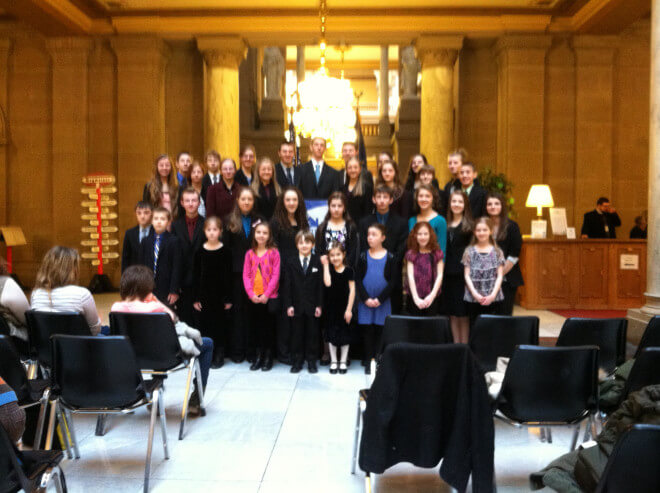 Listen to the Homeschool Rhetoric Speech and Debate Club.
Comments from a parent: This was very impressive… brought tears to my eyes!
President Abraham Lincoln spoke to the crowd and was available for photos afterwards.
Peter Heck led the main rally in the North Atrium of the Statehouse and challenged homeschool families.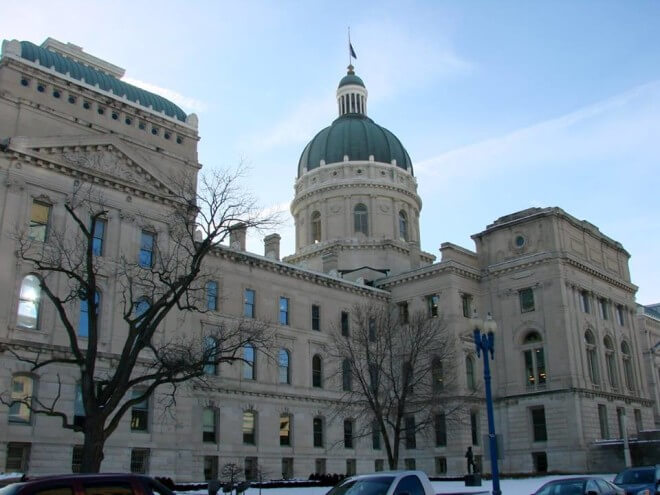 Thank you to everyone who attended.  YOU were a very important part of the day!
Testimonials from Indiana homeschoolers…
It was a great day filled with seeing friends and making new acquaintances, while we were reminded of the need to be proactive when it comes to maintaining our religious and parental rights. Thank you for putting this day together!

I was glad I joined. I really enjoyed the Lincoln speech. I don't have kids but I want the right to homeschool to continue……so I wanted to be another "face in the crowd" for our public officials to see.

My daughter and I were there for the first time today. We enjoyed hearing (Debi) and Peter Heck speak. Bless you and the IAHE volunteers for all that you do!

We were glad to hear

Debi Ketron

speak. It really made us think a bit more. And the kids were happy to meet Senator Kruse.

(The event)

exceeded all expectations. IAHE is an impressive organization, without doubt. Thank you to all who clearly worked very hard to make this happen.
Don't miss this blog post by an Indiana homeschool blogger mom.