This article first appeared in The Informer Magazine, Summer 2014.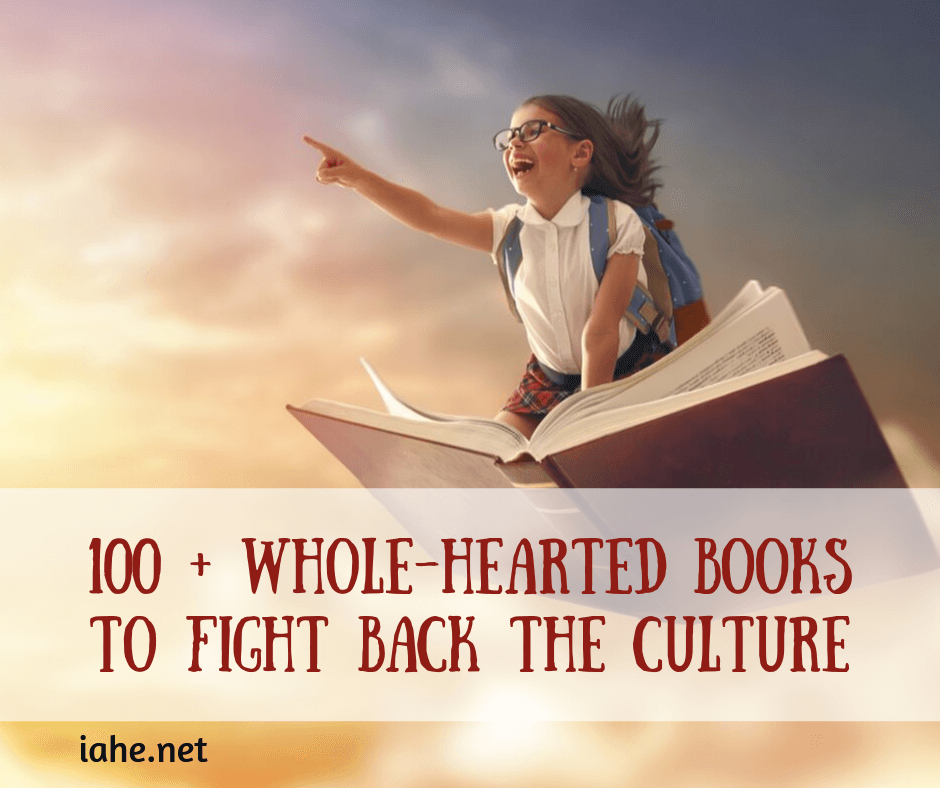 Have you been searching for a great reading list of books for children? The kind of books that contain wholesome stories full of adventure that inspire a young heart to courageous living? I had fun creating this list of over 100 wonderful books that have been favorites for our own family.
We are all aware that there is a battle raging in our culture for the minds and hearts of our children, but how do we as parents prepare them to live in the world? How do we teach values and build character at home on a day to day basis to equip them for a lifetime? One of the best ways is to choose and read books that will champion and uphold what is noble, good, right and true.
If you want even more book recommendations, be sure to check out Sarah Clarkson's Read for the Heart: Whole Books for WholeHearted Families. From timeless classics to modern favorites, from picture books to adventure novels to read-aloud favorites, Sarah's book contains more than 1,000 wonderful story recommendations for young people of all ages.
In her book Sarah Clarkson says, "The first thing a young heart needs is an education in all that is good. The classic children's stories are a persuasive picture of beauty and goodness. They create an inner world that is a secret world for children's souls, showing them through thrilling stories and stouthearted characters exactly what it means to be noble, good, and even holy.
"My parents… began with the great story of Scripture, filling my mind with the hero tales of the Bible. To this they added the innocent beauty of classic children's books, never underestimating the power of a good story to affirm and further illuminate the truths they were teaching me from Scripture. I was formed in my earliest childhood by an imagination filled with stories, Biblical and classic, that set my appetite for all that was righteous, true, and lovely.
"Great literature also guides children through the second and harder wakening to an awareness of what is wrong. Insightful stories gradually confront children with the power of sin as it enters the tale of their lives and the stories they love. Characters like brave Lucy from The Chronicles of Narniaor David Balfour from Kidnapped who value what is beautiful and defend what is right will teach children that evil is something to resist and help them perceive the choice that must be made between right and wrong."
"Books can become powerful companions – teachers that will fan the flames of your child's heart and mind to life! Great stories, first in the Bible and then in classic literature can tune the inner workings of the heart from which, even in adulthood, one will make decisions and form values."
~S.Clarkson from Read for the Heart: Whole Books for WholeHearted Families
IMPORTANT NOTE:
The age designations for this list are only approximate. A child's listening level will often be several grades higher than their personal reading level–it is OK to choose books from an older list if you're planning on reading aloud to your children. I began reading aloud to our children from chapter books (such as Mr. Popper's Penguins) before their third birthdays. Often I would take one at a time until they were hooked on wonderful stories and snuggling on the couch! Don't underestimate your child's ability to comprehend or listen to fairly advanced material.
What follows is a listing of just a few of the beloved books that we have read over the years. These are the books that our children will be reading to their own children some day.
Preschool (read-aloud)
The Hat, by Jan Brett (boardbook)
Richard Scarry's Best Word Book Ever, by Richard Scarry (our favorite pre-reader ever)
Good Night Moon, by Margaret Wise Brown
The Runaway Bunny, by Margaret Wise Brown
Aesop's Fables, illustrated by Jerry Pinkney
The Very Hungry Caterpillar, by Eric Carle
Storytime and the Millers, by Mildred A. Martin
The Complete Tales of Peter Rabbit, by Beatrix Potter
Read-aloud/ Grade 1 (beginning reading)
Bob Books, Set 1: Beginning Readers – Box set by Bobby Lynn Maslen (what we used in part to teach our children to read)
The Little Engine That Could, by Watty Piper
The Little House, by Virginia Lee Burton
Wisdom and the Millers: Proverbs for Children, by Mildred A. Martin (all the Miller Family series are excellent for many ages!!)
Maybelle the Cable Car, by Virginia Lee Burton
Blaze and Thunderbolt, a series by C.W. Anderson
Mike Mulligan and His Steam Shovel, by Virginia Lee Burton
The Snowy Day, by Ezra Jack Keats
Caps for Sale, by Esphyr Slobodkina
Amelia Bedelia, a wonderful series by Peggy Parish
Curious George, by H.A. Rey
Blueberries for Sal, by Robert McCloskey
Bread and Jam for Frances  (I Can Read Book 2), by Russell Hoban
Loving One Another, by Neta Jackson
Frog and Toad All Year, by Arnold Lobel
Make Way for Ducklings, by Robert McCloskey
Story of Ferdinand, by Munro Leaf
Lentil, by Robert McCloskey
Grade 2
Autumn with the Moodys (5 book series is wonderful), by Sarah Maxwell
Love You Forever, by Robert Munsch
The Boxcar Children, by Gertrude Chandler Warner
Mr. Popper's Penguins, by Florence Atwater Richard Atwater
Sarah, Plain and Tall, by Patricia MacLachlan
James Herriot's Treasury For Children, by James Herriot
The Courage of Sarah Noble, by Alice Dalgliesh
Missionary Stories and the Millers, by Mildred A. Martin
Little House on the Prairie boxed set, by Laura Ingalls Wilder
The Velveteen Rabbit, by Marjery Williams
Town Mouse, Country Mouse, by Jan Brett
Winnie the Pooh, by A. A. Milne
Roxaboxen, by Alice McLerran
Grade 3
Caddie Woodlawn, by Carol Ryrie Brink
Sarah Whitcher's Story, by Elizabeth Yates
Thee, Hannah!, by Marguerite De Angeli
The Bears on Hemlock Mountain, by Alice Dalgliesh
Paul Bunyan and His Great Blue Ox, by Wallace Wadsworth
Dangerous Journey: The Story of Pilgrim's Progress, by Oliver Hunkin
Pollyanna, by Eleanor H. Porter
Twig the Collie, by Craig Massey
The Borrowers, by Mary Norton
Mountain Born, by Elizabeth Yates
Stuart Little, by E.B. White
Story Times With Grandma, by M.E. Yoder
More Story Times With Grandma, by M.E. Yoder
Grade 4
Brighty of the Grand Canyon, Marguerite Henry
Treasures of the Snow, by Patricia St. John
Scout: The Secret of the Swamp, by Piet Prins
A Little Princess, by Frances Hodgson Burnett
Little Lord Fauntleroy, by Frances Hodgson Burnett
Mary Jones and Her Bible (true story), by Mary Ropes
Shepherd of the Highlands, by Lily A. Bear
Mama's Bank Account, by Kathryn Forbes
Twenty-One Balloons, by William Pene du Bois
The Wind in the Willows, by Kenneth Grahame
Tell Me About Heaven, by Randy Alcorn
The Yearling, by Marjorie Kinnan Rawlings
Grade 5
Run For Your Life, by Betty Swinford
The Secret Garden, by Frances Hodgson Burnett
The Swiss Family Robinson, by Johann Wyss
My Side of the Mountain Trilogy (My Side of the Mountain / On the Far Side of the Mountain / Frightful's Mountain), by Jean Craighead George
The Bronze Bow, Elizabeth George Speare
King Of the Wind, Marguerite Henry
Anne of Green Gables, by L.M. Montgomery
Black Beauty, by Anna Sewell
Cheaper by the Dozen, by Frank B. Gilbreth, Jr.
Gentle Ben, by Walt Morey
Heidi, by Johanna Spyri
Johnny Tremain, by Esther Forbes
Freddy The Detective, by Walter R. Brooks
Old Yeller, by Fred Gipson
Robinson Crusoe, by Daniel Defoe
Treasure Island, by Robert Louis Stevenson
Where the Red Fern Grows, by Wilson Rawls
Grade 6
The Door in the Wall, by Marguerite De Angeli
Robin Hood: Children's Classic, by Louis Rhead
Around the World in Eighty Days, by Jules Verne
Paul Bunyan and His Great Blue Ox, by Wallace Wadsworth
A Christmas Carol, by Charles Dickens
Huckleberry Finn, by Mark Twain
The Chronicles of Narnia (all 7 books in one), by C.S. Lewis
The Sign of the Beaver, by Elizabeth George Speare
Encyclopedia Brown (older books of the series only), by Donald J. Sobol
Ester Ried's Awakening, by Isabella Alden
Mr. Pipes and the British Hymn Makers, (series of 4) by Douglas Bond
Amos Fortune, Free Man, by Elizabeth Yates
Little Women, by Louisa May Alcott
The Yearling, by Marjorie Kinnan Rawlings
Grade 7
Safely Home, by Randy Alcorn
I, Juan de Pareja, by Elizabeth Borton De Trevino
In His Steps, by Charles M. Sheldon
The Hawk That Dare Not Hunt by Day, by Scott O'Dell
Dr. Oma: The Healing Wisdom of Countess Juliana von Stolberg, by Ethel Herr
Carry On, Mr. Bowditch, by Jean Lee Latham
The Pilgrim's Progress, by John Bunyan
The Prince and the Pauper, by Mark Twain
I Dared to Call Him Father, (true story) by Bilquis Sheikh
The Ocean of Truth  (The Story of Sir Isaac Newton), by Joyce McPherson
Grade 8
David Copperfield, by Charles Dickens
Oliver Twist, by Charles Dickens
Endurance: Shackleton's Incredible Voyage, by Alfred Lansing
Whatever Happened To Penny Candy, (An Uncle Eric Book- indispensible to give understanding of how to think about money from an early age), by Richard J. Maybury
Anne Frank: The Diary of a Young Girl, by Anne Frank
Hittite Warrior, by Joanne Williamson
The Hiding Place, by Corrie Ten Boom
The King's Shadow, by Elizabeth Alder
A Piece of the Mountain (The Story of Blaise Pascal), by Joyce McPherson
Peace Child (Sharing the Gospel with Cannibals), by Don Richardson
Grade 9
The Chosen, by Chaim Potok
To Kill a Mockingbird, by Harper Lee
The Eagle of the Ninth, by Rosemary Sutcliff
The Three Musketeers, by Alexandre Dumas
Through Gates of Splendor, by Elisabeth Elliot
Evidence Not Seen -the Jungles of World War II, by Darlene Deibler Rose
Gulliver's Travels, by Jonathan Swift
Moby Dick, by Herman Melville
Pride and Prejudice, by Jane Austen
Uncle Tom's Cabin, by Harriet Beecher Stowe
Grade 10 – through adult
A Tale of Two Cities, by Charles Dickens
Ben Hur, by Lew Wallace
The Count of Monte Cristo, by Alexandre Dumas
Les Miserables, (Focus On the Family Radio Theatre Audio)by Victor Hugo (*the book is extremely difficult, however, worth it! Possibly the best redemption story after the Bible.)
Great Expectations, by Charles Dickens
Hinds' Feet on High Places, by Hannah Hurnard
The Robe, by Lloyd C. Douglas
The Lords of the Earth: An Incredible but True Story from Papua's Jungle, by Don Richardson
Nicholas and Alexandra, by Robert K. Massie
The Screwtape Letters, by C.S. Lewis (almost better in audio)
Silas Marner, by George Eliot
Jackie Franks has been a wife to her husband and a teacher of her children in the home for 40 years. Now a new season has come, and with the blessing of her husband, she writes her blog as an encouragement to herself and others. (Titus 2:3-5) The habits of the home in one generation become the morals of society in the next. As William Ross Wallace said: "The hand that rocks the cradle, rules the world."
Reprinted with permission. This post originally appeared on Jackie's blog at: http://www.deeprootsathome.com.